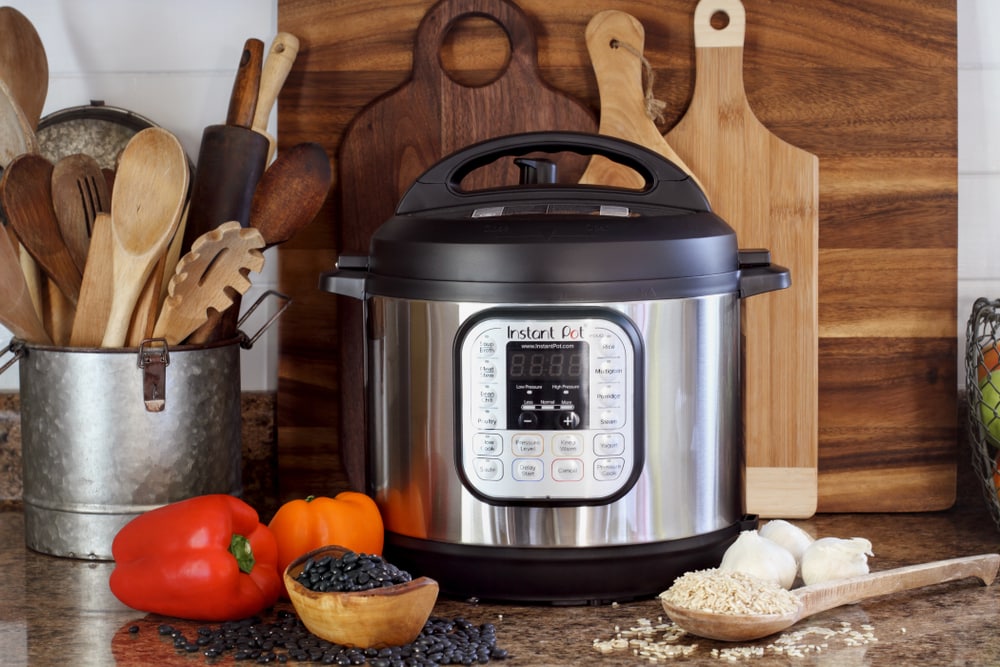 DISCLOSURE: This post may contain affiliate links, meaning when you click the links and make a purchase, I receive a commission. As an Amazon Associate I earn from qualifying purchases.
When a person is in search of an instant pot pressure cooker, it can be hard to find exactly what they are looking for. There are a wide variety of products on the market, each with their own special set of unique features. When considering which product to buy, it's important to take quite a few things into consideration.
Special Features
Everyone has specific features that they are looking for, and it's important to keep that in mind when searching for the perfect pressure cooker. The best features on instant pot pressure cookers include:
Rice cooker
Steaming setting
Warmer setting
Various temperature settings
Touch screen display
Delayed cooking setting
Some pressure cookers include 90 different ways to cook things. While this might seem like a bit much it can save the customer a wealth of money if they need several different kitchen gadgets. It can also save them quite a bit of cabinet space.
When considering special features, customers are also encouraged to consider the possibility of a simple pressure cooker. There are plenty of products on the market that do not have a ton of buttons or programs. Those that are looking for a simple yet effective pressure cooker can also find one of those.
Size
Size is one of the most important things to consider. Customers that are cooking for one or two people will need a smaller pressure cooker than those that will need one for a larger family. It's important to consider what the cooker will be used for before looking at products available. Consider whether it will be used for:
Dinner for two
Dinner for the whole family
Larger family gatherings, such as a family reunion
Pot lucks at work
When a person considers what they will be using it for, it will give them a better idea of what size they will need.
Inside Liner
Different products have different materials used inside. Some come with a stainless steel liner. This is more durable than other materials that are used, can hold up in the dishwasher and most customers trust that it will last for years. Other products have a non-stick insert on the interior. While this material is easier to clean, it often does not last as long as other liners. It has to be cared for carefully to make sure that it stays in good condition.
Best Instant Pot Pressure Cooker: Our Top 7 Picks
Here are some of the best instant pot pressure cooker:
1. Instant Pot Duo 7-in-1 Electric Pressure Cooker
The Instant Pot Duo is available in three different sizes. Those that need a smaller size can opt for the six-quart or they can enjoy the mini version, and those that need a larger size will also have options available for them. It has seven different ways to prepare food, including a yogurt maker, which is cool. It also has a warmer, steamer, rice cooker, and a few other features.
Customers that pick up one of these get to enjoy the app that comes with it. This app is packed with recipes that most people enjoy so that customers can really have fun with their new purchase.
It does have a stainless steel insert for increased durability. Customers that are not accustomed to cooking with stainless steel might experience a bit of a learning curve. Also, on the downside, the accessories can be on the pricy side.
The steam pressure valve is another learning curve. If it is not properly adjusted, it will not work properly which leads to the food boiling instead of being properly pressure cooked.
This one is rather easy to use. The limited settings mean that those that are technologically inclined will not have a hard time learning to use it, however, there are enough features to make it better than basic models.
2. Instant Pot Duo Nova 7-in-1 Electric Pressure Cooker
The instant one-touch is only available in a six-quart size, which is great for customers that need that size. Those that are interested in something larger or smaller are encouraged to browse other products.
The interior lining of this instant one-touch pressure cooker is stainless steel and approved by the FDA. This means that it is safe to be used in the dishwasher and will last for years to come. It does tend to get hotter than pressure cookers with a non-stick coating on the inside, so it's important to remember that when cooking with it.
Frozen food can easily be cooked in the instant one-touch pot, and that is stated in the directions. This is one of the special features that help this one stand out from the rest. The steam pressure valve automatically puts itself in place before you use the pressure cooker, too.
It's important to acknowledge that, as with any new cooking product, there is a learning curve. This particular pressure cooker cooks items faster than one might expect due to the stainless steel liner. It also tends to cook things differently than other pressure cookers, such as cooking rice quicker. When first using this one, make sure to do it on a day off so that there is plenty of time to learn.
3. Instant Pot Duo Plus 9-in-1 Electric Pressure Cooker
The Instant Pot Duo is just like the Instant Pot, but with a little extra. It comes with 15 different programs, safety features such as a locking lid and overheating protection, and it is available in several different sizes to make sure that a person can find exactly what they are looking for.
One of the cool options available to customers that they won't find with other products is the option for an air fryer lid. This helps them use this product as an air fryer instead of a pressure cooker to make meals that are healthier and delicious.
Another great option found on the Instant Pot Duo is that it can be used as a sterilizer for bottles, nipples or anything else. This helps save parents money because they will not have to purchase another sterilizer for their baby items.
The primary downside to this product is that the return policy is only 30 days. Most people assume that brand new products have a longer return policy or extended warranty, but this one does not. It is important to read the fine print before purchasing this one.
However, most people find that a product will malfunction within the first month, so this might not matter to you. Take this into consideration, but don't let it be a deal-breaker if it doesn't matter to you.
4. Instant Pot Lux Mini 6-in-1 Electric Pressure Cooker
The Instant Pot Mini is a miniature version of the Instant Pot. it provides meals at a cheaper price and has the perfect size for a meal for two. Those that are interested in a larger product will enjoy that there are different sizes available, like 6 or 8 quarts.
It comes with 10 different programs, but they each have their own button. This makes it easy for someone to use them without having to read through the manual to learn how they work. Instead, they can simply push the button.
The inner lining of this pressure cooker is stainless steel, making it more durable than those with a non-stick coating. This material is dishwasher safe and is approved by the FDA.
A few accessories, such as a rice paddle and soup spoon are not necessary, but it's a nice touch that they are included in the box.
The Instant Mini Pot is great for taking meals on the road. The safety features, such as a locking lid and handles that do not get hot, guarantee that a person can take this with them to family gatherings or work events. It will sit perfectly on the floor of the car without the contents spilling out.
One of the main downsides to this pressure cooker is that it is not extravagant. Those that are searching for a device with 90 different functions will find that this is a bit basic compared to what they want. Those that want a basic pressure cooker that is easy to use will appreciate it though.
5. Instant Pot Duo Plus Mini 9-in-1 Electric Pressure Cooker
At three quarts, this one is ideal for smaller meals, such as a dinner for two or a small batch of dip to take to the cookout. The small size might not work for those that are looking for something for large family dinners or a family reunion, however.
Those that are looking for several products in one will enjoy that the miniature version can also function as a rice cooker, steamer, warmer and sterilizer. Although it is small, it has the potential to replace several different things, including a sterilizer for equipment or infant items, such as bottles and pacifiers. This can help save both money and counter space.
The buttons on the front of the Instant Pot Duo Plus Mini are designed to make this product easy to use, even for customers that have never used one before. Buttons that are clearly labeled "cake", "eggs", "simmer", etc. make it easy to cook whatever a person wants with the touch of a button.
This can be especially nice for individuals that do not want to have to read the instruction manual every time they want to use their pressure cooker.
When it comes to cleaning, there are certain parts that are easy to clean and ones that are not. The interior is stainless steel, and can simply be thrown into the dishwasher. The outer rim, however, has several indentions that make it more difficult to clean.
6. Instant Pot DUO80 8 Qt 7-in-1 Multi- Use Programmable Pressure Cooker
The Instant Pot renewed version is the exact same thing as the Instant Pot, but it has been used. This has several benefits and downfalls. It's important to keep both in mind when considering whether purchasing a renewed product is the way to go.
First, customers should consider the benefits. One of the biggest advantages of purchasing a renewed product is that it is more affordable. Customers can enjoy the same product that they would normally get for a fraction of the cost. Every product is inspected by a team of professionals to guarantee that it works before it is sold, too.
The primary downside to purchasing a renewed product is that customers will get a more limited warranty. Most renewed products only have a 90-day warranty, although this can change depending on the manufacturer. Returns also do not have the same conditions as they do with new products. It's important to read the fine print or contact the marketplace to inquire about this before purchasing.
It is also important to note that some products may come in a blank box instead of the manufacturer, and accessories might not be the same brand. They will function the same and work with the product, but they also only have the same limited warranty.
Most customers will find that they can purchase a renewed product and the accessories separately and still not spend as much money as a brand new product would cost.
7. Instant Pot Duo Plus 8 Quart
This Instant Pot has many of the same features that other pressure cookers of the same brand are known for. It can serve as a rice cooker, a steamer, a sterilizer and more. Fifteen programs guarantee that anyone can find a setting they are in love with.
The eight-quart size makes this product a good option for people that prefer to cook large meals and freeze them, anyone that plans to use it to cook for family gatherings or those that simply need a large sterilizer. It is going to be a bit large for someone that plans to use this to make meals for one or two people, however.
The fingerprint-resistant exterior is a nice touch and saves on time spent cleaning. The interior is stainless steel, which makes it easy to clean as well. It is also more durable than products that have a non-stick coating. On the other hand, the rim of the pressure cooker can be a pain so it seems to balance out.
The primary downside to this pressure cooker is that it is not Alex and Wi-Fi enabled. People that are accustomed to using smart devices will find this annoying as they have to sit with the pressure cooker. Those that have yet to adjust to smart products will not be bothered with this minor inconvenience.
Choosing the Best Instant Pot Pressure Cooker
Buying a pressure cooker is something that someone should put thought into before buying one. They should consider the size, features and other things that might be important to them, such as how easy it is to clean. The interior lining is another important feature to consider. Before deciding on a product, consider what you want in one.
Then, find one that meets those needs. For example, if you simply want a pressure cooker but do not need a rice cooker, sterilizer, etc. then there is no need to spend money on one with all of those special features. All of these pressure cookers are built to last, so customers can find one that will meet their needs perfectly.
It is important to note that manufacture warranties vary depending on the product, and on whether it is renewed or not. Before buying a product, carefully read the product description and the fine print. This will help guarantee that you are able to return the product if you are dissatisfied.