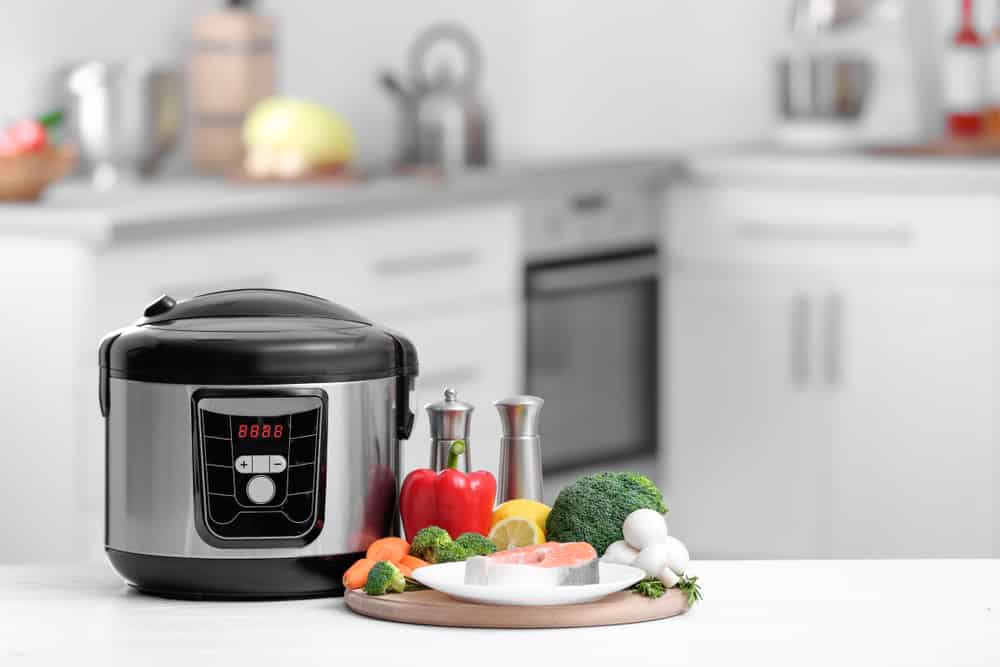 Pressure cookers dominate all other appliances in many different aspects. Speed, health, ease-of-use, and safety are all parts of cooking that pressure cookers excel in. Many also have a slow cooking ability, which ensures a deep and thorough cook for pot roasts, stews, and bone-in meats.
The temperature simmers and takes hours to cook, but creates meat that falls right into your mouth. How a pressure and slow cooker works is quite simple; put your recipe in the pot, seal it airtight, let it build up steam, and wait.
What are the Best Instant Express Pressure Cooker Combo?
1

2

3

Product
Yedi 9-in-1 Total Package Instant Programmable Pressure Cooker, 6 Quart, Deluxe Accessory kit, Recipes, Pressure Cook, Slow Cook, Rice Cooker, Yogurt Maker, Egg Cook, Sauté, Steamer, Black
Yedi 9-in-1 Total Package Instant Programmable Pressure Cooker XL, 8 Quart, Deluxe Accessory kit, Recipes, Pressure Cook, Slow Cook, Rice Cooker, Yogurt Maker, Egg, Sauté, Steamer, Stainless Steel
Crock-pot 8-Quart Multi-Use XL Express Crock Programmable Slow Cooker with Manual Pressure, Boil & Simmer, 8QT, Stainless Steel
1

Product
Yedi 9-in-1 Total Package Instant Programmable Pressure Cooker, 6 Quart, Deluxe Accessory kit, Recipes, Pressure Cook, Slow Cook, Rice Cooker, Yogurt Maker, Egg Cook, Sauté, Steamer, Black
2

Product
Yedi 9-in-1 Total Package Instant Programmable Pressure Cooker XL, 8 Quart, Deluxe Accessory kit, Recipes, Pressure Cook, Slow Cook, Rice Cooker, Yogurt Maker, Egg, Sauté, Steamer, Stainless Steel
3

Product
Crock-pot 8-Quart Multi-Use XL Express Crock Programmable Slow Cooker with Manual Pressure, Boil & Simmer, 8QT, Stainless Steel
Many are now realising just how beneficial pressure cookers are. It sits right on your countertop, taking up little space, while proving to be a wonderful appliance for your kitchen. I will be going over three top pressure cookers with slow cooking capabilities, but before, here is a guide to show you the benefits of owning a pressure cooker and slow cooker.
How Fast?
Pressure cookers are quick and will have your favorite chicken, beef stew, or rice recipe made, ready to eat in no time. Chicken, for example, takes only 10-15 minutes in a pressure cooker, compared to oven cooking, which takes 35-40 minutes. That is more than twice as fast! Slow cooking on the other hand, takes hours longer. A much more tender result is made though.
What are the Health Benefits?
When you cook meals in your pressure cooker, steam gets built up and seeps into the food. This results in higher digestibility, so foods that are known to be hard to break down, are digested easily when cooked in a pressure cooker. Phytic acid is considered an anti-nutrient since it reduces mineral absorption, causing mineral deficiencies if your diet mostly consists of phytic acid foods.
Pressure cookers calm this fear by reducing the amount of phytic acid when cooked. A study by "Plant Foods for Human Nutrition" shows that the phytic acid content in peas are reduced by 25% if you pressure cook them when compared to boiling them.
How Easy is it to Use?
Pressure cookers may be new to you, but many can be used just as easily as a microwave. There are buttons available for the most common meals such as rice, chicken, and fish. For meals without a preset, charts can be found online for pretty much any food. A great chart offering a long list of various vegetables and meats can be found here.
Best Express Pressure Cooker: Our Top 15 Picks
Here are some of the best slow cooker pressure cooker combo:
1. IAIQ Premium 6 Quart Pressure Cooker
This 6 quart pressure and slow cooker is built for safety, with 11 features specificalldesigned for safety. This cooker packages 6 appliances in one, including a smart slow cooker, rice cooker, food warmer, pressure cooker, steamer, saute pan, and yogurt maker.
While this is lower than some others on this list, the IAIQ cooker makes this up in safety. The safety features included are a safety cover lock, so you are ensures no steam will come out while cooking. One touch pressure handles and wide vents for an easy and quick steam release. To clean, all you have to do is rotate it open and use soap and water.
This appliance is made with intricate technology to preserve the great taste and health benefits of foods being cooked. It uses Vitaplus technology, which cooks 70% faster while preserving 40% more nutrients than other cookers on the market.
This cooker brings health, safety, and efficiency all together in one cooking appliance. With its exclusive technology and engineered safety features, this cooking appliance will ensure you safety and quality.
2. Yedi 9-in-1 Total Package Instant Programmable Pressure Cooker
This all black stainless steel comes with 9 high functioning options for cooking in one appliance. You can pressure cook and slow cook mainly, but also sauté, steam, make cakes, pasteurize, make yogurt, cook rice, and warm.
If you want pre programmed settings for meals, there are 15 to choose from. The wide variety of buttons allows you to cook your favorite meals instantly. To create a specific recipe, you can manually set the time and pressure levels. The value in this pressure and slow cooker really comes with the immense accessories included.
The package includes a tempered glass lid, which is a wonderful option if you are slow cooking. 2 egg racks, a ladle, rice paddle, cooking mitts, an extra silicone sealing ring, stainless steel steaming basket, stainless steel inner cooking pot and a measuring cup also come with your purchase.
If you don't have many supplies for cooking in your kitchen, then these accessories may appeal to you. If you are starting out cooking and want to expand into other meals and cooking style, this purchase sets you off in the right direction.
3. Crock-pot SCCPPC800-V1 8-Quart Multi-Use XL Express Crock
This massive stainless steel slow cooker has the ability to slow cook, pressure cook, brown, sauté, steam, boil, and simmer. The sheer size of this cooker is where a lot of the value lies. It is 8 quarts, which is quite large compared to the average pressure and slow cookers on the market.
The pressure and temperature are able to be set manually, so you can make a large variety of different recipes. There are preset buttons that are programmed to cook meals such as chilli, soups, and grains perfectly. If you are just starting out and are unfamiliar with recipes, this Crock-pot includes a recipe book with your purchase, as well as accessories such as a steaming rack and a serving spoon.
Start your meal later in the day with the delay start button. This will save you stress and do the work for you. For safety, an easy release is included at the top of the pot to release the hot, built up steam from inside the pot.
4. COSORI CP016-PC Electric 6 Qt 8-in-1 Instant Stainless Steel Pot Pressure Cooker
This is a cooker that is able to bake, sauté, boil, steam, pressure cook or slow cook, so its functions will fit many recipes. For safety reasons, the clear digital display shows whether the lid is locked or not.
Although many cookers offer pre-programmed settings to choose from, this pressure and slow cooker allows you to create your own programmed setting, so you can go back to it at a later time. Some functionalities that are subject to customization are pressure, temperature, and time.
Once you start cooking, you can still change each setting. This will save you time by letting you bypass a wall many other cookers have. 10 safety features have been added to give this pressure cooker a safe look.
Pressure and temperature control, anti-clog prevention, lid protection, and electric current monitoring are some safety features in place to give a pleasant experience to the buyer. If a safety threat is detected, the cooker will shut off or release pressure as a programmed safety protocol. Safety is a key feature in this cooker, as well as the ability to customize your own recipe.
5. Mueller UltraPot 6Q Pressure Cooker Instant Crock 10 in 1 Pot with German ThermaV Tech
This stainless steel nickel 6 quart appliance brings ultimate convenience to your kitchen with its 10-in-one functionality. You can save yourself some time and money by purchasing this appliance that works as a pressure cooker, slow cooker, rice cooker, yogurt maker, cake maker, egg cooker, sauté/searing, steamer, warmer, and sterilizer.
By simply pressing a button, you have the ability to cook foods such as oatmeal, soup, poultry, yogurt, egg, beans/chilli, rice, meat/stew, and cake instantly. This appliance is made durable with the rubber seals around the edge to prevent any wear and tear.
To cook two meals at once, there is an extra stainless steel basket included. Along with that, a silicone gasket, ladle and measuring cup come with it. The panel control are extremely modern, enabling you to monitor pressure and temperature as well as adjust time, heating intensity, and duration.
This pressure cooker and slower cooker has everything in one package, allowing full functionality in one.
6. Potastic 6Qt 10-in-1 Programmable Pressure Cooker
The first noticeable feature of this 6 quart stainless steel cooker is the advanced LCD display on the front. There are 16 smart programs on the display, as well as adjustable pressure, cooking time, and delay time.
The settings you customize are remembered the next time you use this appliance, so you don't have to readjust everytime. The LCD display is taken to the next level by including a progress indicator, while also displaying time, pressure, cooking status, and lid status. This cooker includes 10 appliances in one.
Choose from pressure cooker, slow cooker, sauté, rice cooker, steamer, yogurt maker, food warmer, cake maker, sterilizer and egg cooker. When cooking with this appliance,you can use the instant cook feature that cooks meals twice as fast.
This purchase is beginner friendly, offering a recipe book, silicon sealing ring, stainless steel steam rack, stainless steel inner cooking pot measuring cup, rice paddle, soup ladle and oven mitts. You can even cook two dishes at once with the included steamer rack.
You will find a recipe book and cheat sheet for those common dishes you need to cook. Potastic is modernized by implementing an iOS and Android app that shows recipes updated every week.
7. BLACK+DECKER 6 quart 11-in-1 Cooking Pot
This brushes stainless steel cooking pot is a pressure cooker, slow cooker, and browner in one. Black+Decker added features such as white rice, brown rice, beans, meat, steaming, soup, and manual programming to give customers extra functionality when cooking their meals.
For safety, 9 safety features that have been carefully engineered to put the customer at ease when using this product. Slow cooking is a main focus on this appliance, with integrations such as high heat, low heat, browning, and warming for flexibility on meals.
With the package, recipes designed for this pressure cooker, additionally, a trivet, rice-measuring cup, and nonstick-friendly serving spoon are all included with your purchase. This is a simple yet functioning cooking pot that you can't go wrong with.
8. prepAmeal 6QT ( 3 Speeds Options ) Pressure Cooker Multi-Use Programmable
Instant Cooker Pressure Pot
This kitchen appliance is an 8-in-1 cooking pot. Options for cooking include pressure cooker, slow cooker, rice cooker, sauté, yogurt maker, steamer, warmer, and egg cooker. A clear digital display allows you to choose 16 smart programs. When slow cooking, you can put the slow cook on high or low. This allows or increased variability when slow cooking, which is very useful when making stews or pot roasts.
This inside cooking pot is made from food grade 304 stainless steel, so you are completely safe. The gasket that wraps around is designed to be tight, so all steam is trapped inside, leaving a flavorful taste at the end.
Some features convenience when using thisappliance are the delay timer and the warm button. The delay timer is available for use up to 8 hours, and the keep warm feature can reheat food or keep food already inside warm for a longer period of time. The extra accessories included are a rice paddle, measuring cup, and a basic instruction manual.
9. DEENKEE 10-in-1 Multi-Function Pressure Cooker 6 Quart
This beautifully designed 10-in-1 kitchen appliance is not only a pressure cooker, but also a rice cooker, slow cooker, sauté, yogurt maker, baker, egg cooker, hot pot and steamer. Although you can manually set cooking times to the desired recipe, you have the ability to choose from 16 pre-programmed buttons that automatically make popular dishes.
This cooker is durable, it is made from full high quality rubber seals, and ceramic interior coating. This helps preserve the flavor and makes the appliance useful long-term.
The lid is made for easy opening and closing, as well as mobile carry. It uses an orbit design, and works with just one hand. The lid tightly locks on, and you can use the handle to bring it with you on the go.
When releasing pressure, a visible button will dispel all steam immediately, saving you the worry of harming yourself or somebody else. What is interesting about this pressure and slow cooker is the smart feature of keeping memory once the power goes out.
If the power to the cooker suddenly goes off, if its turned back on within 20 minutes then the previous cooking process is resumed. This multi-function appliance is smart, and perfect for those that are mobile.
10. MICHELANGELO 6.5 QT Pressure Cooker Air Fryer Combo
This unique electronic cooking pot is an air fryer, pressure cooker and steamer all in one. The cooking technology in this appliance is different from others on the market, in that it specializes in tenderizing the food to make it crispy when it's finished.
When using the air fryer, you can use less oil and still make it crispy, which is extraordinarily healthier. 14 smart programs are available right on the display, with popular meals such as beef stew, salmon, steak, and pizza.
This cooker claims to cook frozen food to crispy in just 20 minutes. Cook a variety of different meals right out the box with the included steam rack and roast rack. Feel safe when cooking with this appliance.
It is ETL certified and has more than 11 safety features in place. Automatic pressure and temperature control, overheat protection and safety lock are just some of the main features that makes this cooker foolproof. For a healthier option, this pressure cooker and air fryer combo is your choice.
11. Elechomes Electric Pressure Cooker 6 Qt
The Elechomes introduces this appliance that houses 9 cooking settings in one for a wide range of cooking styles. Your options are pressure cook, slow cook, sauté, meat/stew, steam, poultry,rice, bean/chili, soup/broth, cake, yogurt, multigrain, porridge,and egg cooking programs.
Speed and efficiency are main features of this appliance, recording an 80% decrease in cooking time with this 6 quart pot. This pressure and slowcooker is FDA and ETL certified, so the safety of this cooker has been tested and approved.
More on safety, features include 10 protective mechanisms to prevent any accidents such as burns. You don't have to worry about contamination since all parts in contact with food are made of food grade 304 stainless steel.
You have the ability to start cooking anytime with the 24 hour delay start function, or you can choose to keep warm for 24 hours. This allows for all-day flexibility when cooking. Each component is detachable, so this is perfect for cleaning the ins and outs of your cooker.
12. Gourmia GPC965 Digital Multi-Functional Pressure Cooker
This appliance offers multiple functionalities containing slow cook, meat, soup, beans, poultry, sterilize, and others. When cooking with this cooker, pressure is automatically released, so you can forget the extra step of releasing hot steam when your food is done.
The Gourmia pressure and slow cooker is built for speed and accuracy. It utilizes 1000 watt speedsense technology to cook 70% quicker than other cookers on the market, and keep all healthy nutrients and flavor in your dish.
You can safely step away from the cooker and let it run itself, with its automatic temperature and pressure regulator technology. This appliance is ETL certified, so you can be confident in its safety. The Gourmia pressure cooker brings speed and convenience in one appliance.
13. Crock-pot MINI Express
This 4 quart stainless steel pressure cooker is the ultimate versatile appliance for cooking nearly any recipe. Features include pressure cooking, slow cooking, sauté, steam, boil and simmer. The slow cooking ability of this Crock-pot allows for an even cook all the through, giving you a delicious tender pot roast, rice, or any meal of your choice.
The pressure is adjustable, so this allows you to adapt to any recipe, or even mix it up and add your own style. A delay timer is available to give you the option to start the cooking process at a later time. The cooking pot is made simple and easy to clean. It is non-stick and 100% dishwasher safe.
This pressure cooker is beginner friendly, they even include a recipe book as well as a steaming rack and a serving spoon. The front display clearly shows you the pressure and the preheat process, making it convenient to track the progress.
To release the steam, you Crock-pot makes it safe by adding a steam release that disperses the hot steam away from your arm. This pressure cooker is extremely flexible for those that love variety in their kitchen. If you are a beginner just starting out, then this is a great package to get you started.
14. Crock-pot MINI Express Black Stainless Steel Edition
The polished look of this pressure cooker adds an elevated design to your kitchen. While having most of the same features as the previous Crock-pot MINI Express, the black redesign may catch your eye. It is beginner friendly, having safety features in place such as the airlock lid, and an easy-release valve to safely release the steam.
It is 4 quarts, so you know you can feed a group of people. Offering the same variety and flexibility as the previous pressure cooker + slow cooker, the manual pressure function and delay start timer are included with your purchase. Start a slow cook completely hands-off, or you can time it to start later in the day to accommodate for a busy schedule.
To keep your food from becoming cold, use the warm setting to allow low heat. Clean-up is made easy with the non-stick pot and the dishwasher safe feature. If you are looking for a redesign to your appliances, the all-black look may appeal to you.
An astonishing way to totally revamp your kitchen is to get a variation of color. Not only is this pressure cooker great for those with little experience since it comes with a recipe book, steaming rack, and a serving spoon; it gives a glistening touch to your overall look.
15. Cuisinart CPC-400
This silver and black pressure cooker is available in 4, 6, or 8 quarts. Button controls are able to switch between high and low pressure. Options when cooking with this pressure include browning, simmer, slow cooking, sauté and keep warm settings for maintaining a ready-to-eat meal.
A front LED display is included that shows the remaining time, which goes up to 99 minutes. The side handles are insulated to ensure a safe touch. Messes are virtually non-existent since the pot is non-stick.
No matter the food, you won't have to worry about any time-consuming gruesome work to take off the remaining food. When you're finished, it is as easy as putting it in the pot in the dishwasher.
With this pressure cooker, you really can't go wrong. It includes all the main features you need to cook your favorite recipes. A durable stainless steel build will keep this pressure cooker lasting long.
The various sizes give the customer options depending on the size of the meal they need. Whether you have a large family, or 1-2 people, you can go with the Cuisinart pressure cooker and get a size that fits your needs.
Choosing the Best Express Pressure Cooker
Pressure cookers are becoming increasingly popular due to the convenience and versatility they have. You have the choice between an extremely quick pressurized cook, or a slow cook for certain recipes that require this.
In this day and age where time is precious, people value quick and efficient cooking appliances, as well as the choice to have a hands-off approach to making your favorite stew with the slow cooking capabilities. Microwaves have limited use, and often produce undesirable food. Ovens are immobile, and take a long time to cook thoroughly.
Pressure cookers are healthy, are flexible for your recipes, and have your meal cooked at a speedy pace. They truly outperform other cooking appliances that do not have the ability to cook the various recipes pressure cookers can. The steam that gets trapped in the sealed pot results in a delicious, savory meal.
All the flavorful components do not escape, leaving your meat or vegetables to retain that rich taste that satisfies your taste buds. If you are a complete beginner to cooking in general, there is no need to be daunted. No matter your cooking experience, helpful guides and recipes are at your fingertips. The simplicity pressure cooking offers is unbeatable and unmatched.