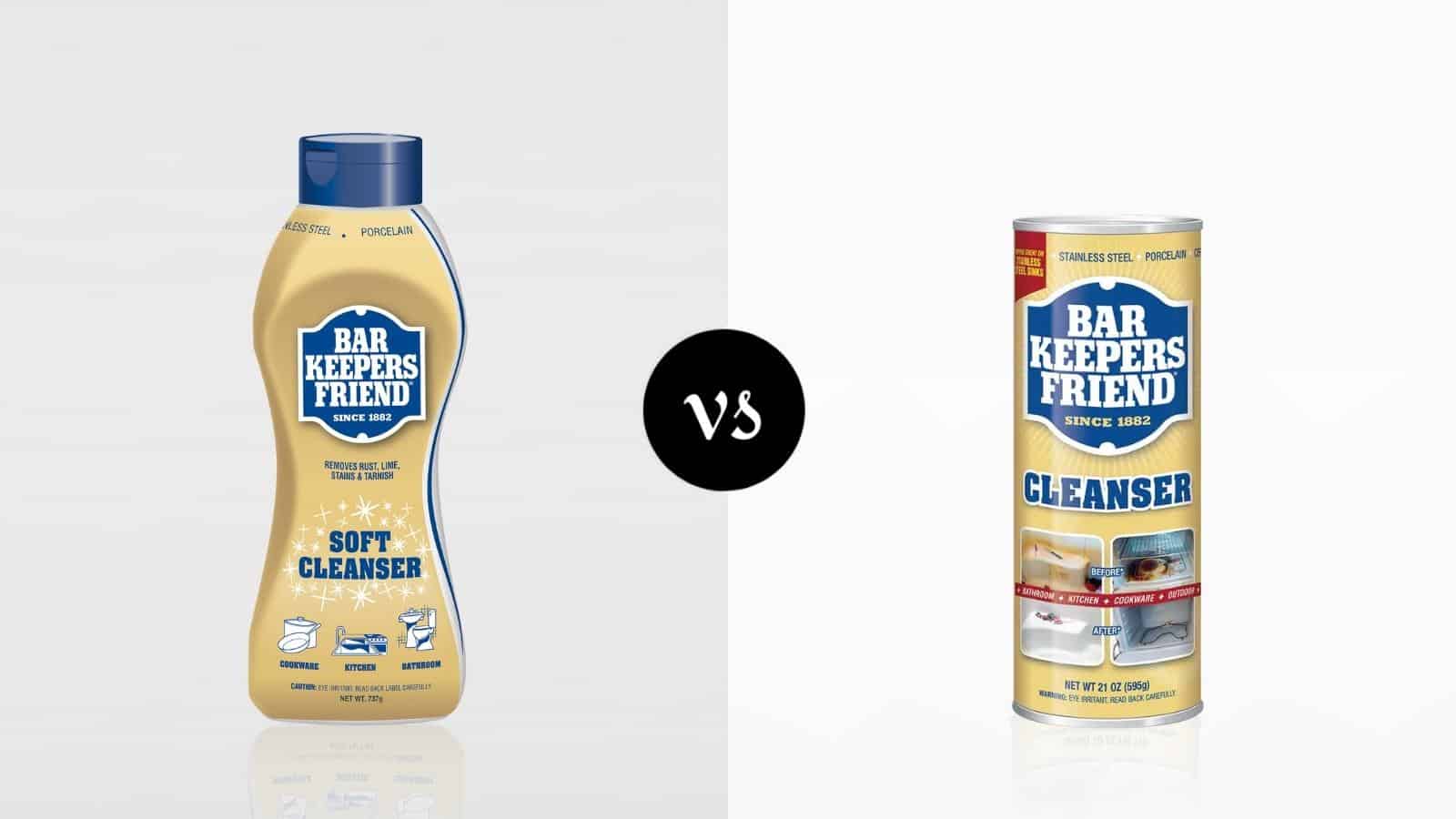 The United States cleaning agent giant Bar Keepers Friend was founded in 1882. The company is still active, and its items are sold in three countries, namely the US, UK, and Canada.
The reviews of the loyal customers showcase the fine quality Bar Keepers friend has maintained over the years. Their cleaning agent relies on oxalic acid to guarantee effort cleaning no matter how stubborn the stain, dirt, or grime.
We'll be taking you through a comparison of Bar Keepers Friend liquid vs. powder so that you know which cleaning agent is the right choice for whatever you intend to clean.
Bar Keepers Friend Liquid Vs. Powder Comparison
| | Bar Keepers Friend Soft Cleanser Liquid | Bar Keepers Friend Cleanser Powder |
| --- | --- | --- |
| Uses | Removing Grime, Stains And Tarnishing From Delicate/Non-Delicate Hard Surfaces While Disinfecting Simultaneously | Cleaning Resistant Stains, Cleaning Metals, Cleaning Grime & Staining On Discolored Hard Surfaces, Removing Rust, Removing Lime Stains, Removing Mineral/Hard-Water Deposits, Industrial Cleaning, Cleaning Floors |
| Versatility | Light To Medium Stains, Any Surface, All Industries, General Purpose And Professional Cleaning Applications | Tough Stains On Tough/Metal/Stone/Ceramic/Tile Surfaces Including Stovetops, Pans, Appliances, Dishwashers, Bathroom Surfaces, Chrome, Garage Cleaning Applications, Outdoor Cleaning, Reliable Commercial Cleaning |
| Ingredients | Water, Mineral Abrasive, Citric Acid, Oxalic Acid, Surfactant, Citrus Fragrance | Glass Oxide, Oxalic Acid, Surfactant |
| Considerations | Don't Clean Gold, Silver, Pewter, Polished Stone, Lacquered Metals, Anodized Aluminum | Surface Test Sensitive Areas Before Use | Clean Fiberglass, Plastic & Aluminum Gently While Using Minimal BKF | Highly Abrasive - Don't Use On Scratchable/Delicate Surfaces | Always Perform Concealed Area Surface Test First | Refrain From Cleaning Colored Grout |
| Sizes | 26-Ounce Bottle, 40-Pound Drum | 12-Ounce Container, 40-Pound Drum |
| Affordability | +-$3/26-Ounce Bottle | $5-$6/12-Ounce Container |
Bar Keepers Friend Liquid vs Powder
Two of the very best cleaning products available to home users and professionals alike come from Bar Keepers Friend.
The Soft Cleansing Liquid and Powder Cleanser never cease to amaze, managing to stay ahead of the competition in terms of usability and sheer cleaning power year after year.
Let's look closer at the individual characteristics of each product.
Bar Keepers Friend Liquid
Bar Keepers Friend introduced the liquid form recently. Loyal customers want to know whether it is good enough. As per the experts from the company, they say liquid form is used for everyday use.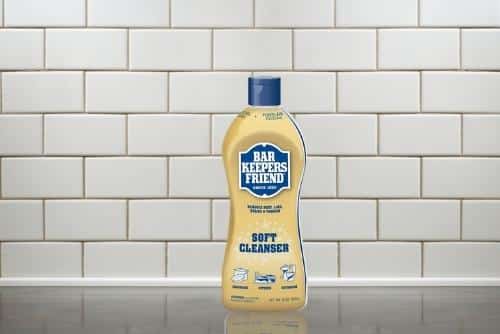 It is better for light cleaning than deep cleaning. Light cleaning classifies items that do not have hard, stubborn stains.
Uses
Bar Keepers Friend is beyond handy at cleaning the most resistant stains while working wonderfully as an everyday cleaner as well. This kitchen-friendly agent can remove stains from your dishes and make them look brand new.
Additionally, Bar Keepers Friend soft cleanser liquid removes rust, lime, stains, and tarnishing from indoor and outdoor surfaces. Say goodbye to the flatware in your kitchen looking dull due to repeated, prolonged use.
Bar Keepers Friend will make them shine again in no time. It is safe to use Bar Keepers Friend Soft Cleanser Liquid on stainless steel, copper, brass, chrome, porcelain, ceramic, fiberglass, and the vast majority of hard non-stone surfaces.
This useful cleaning agent also prevents the growth of harmful microorganisms and, at the same time, deodorizes the surface.
Versatility
Even though you can technically use Bar Keepers Friend liquid anywhere on any surfaces or stains, it offers the most promise when used in the kitchen.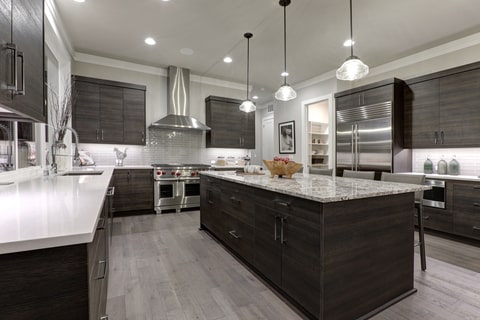 The lack of abrasiveness makes it ideal for delicate and rugged surfaces alike. Even though stains are typically removed with a little elbow grease.
Bar Keepers Friend recommends its powerful but gentle cleaning liquid for various individuals and industries, namely cleaning services, metal fabrication, marina and boat work, schools, health care facilities, government institutions, and all similar commercial enterprises.
It's professional cleaning power you can rely on.
Ingredients
Bar Keepers Friend Soft Cleanser liquid contains water, a mineral abrasive, citric acid, oxalic acid, a surfactant, and a citrus fragrance. As one will notice, the cleaning power comes from the inclusion of naturally-derived oxalic acid.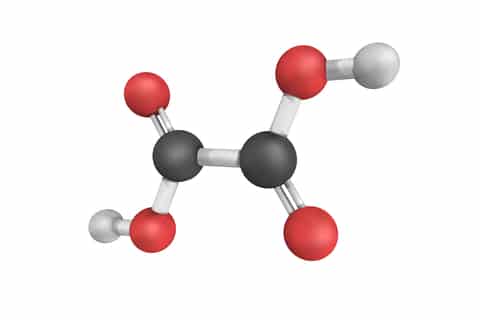 This is largely why the brand is preferred over other bleach-based cleaners.
Considerations
Do not clean gold, silver, pewter, marble, polished stone, lacquered metals, or anodized aluminum using Bar Keepers Friend Soft Cleanser. It may be gentle, but it's not gentle enough to clean these surfaces without causing damage.
If in doubt, perform a surface test on a concealed area by rubbing BKF on the surface and letting it sit for a minute, then thoroughly rinsing the area off and wiping it dry.
Although suitable for fiberglass, plastic, and aluminum, please use as little Bar Keepers Friend as possible and clean gently with the help of a sponge.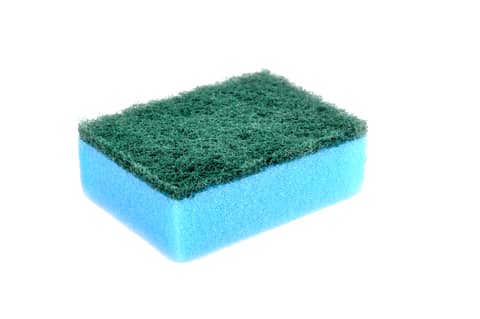 Sizes
Bar Keepers Friend Soft Cleanser is sold in 26-ounce bottles. There is also an institutional-grade BKF Soft Cleanser available in a 40-pound drum.
Affordability
Bar Keepers Friend Soft Cleanser comes in a 26-ounce bottle that retails for between $2.70 and $3.50 on average. Expect to pay closer to the $3 mark in most stores.
Bar Keepers Friend Powder
The original Barkeepers Friend Cleanser Powder has been based on the same winning formula since 1882. Throughout its history, BKF has proven itself as one of the USA's very best non-bleach cleaners.
Its balance of aggressive abrasiveness and deep surfactant cleaning power is a guaranteed fix for just about any stain without being so harsh that it hurts your skin and lungs. Let's take a closer look at what makes the powder so effective.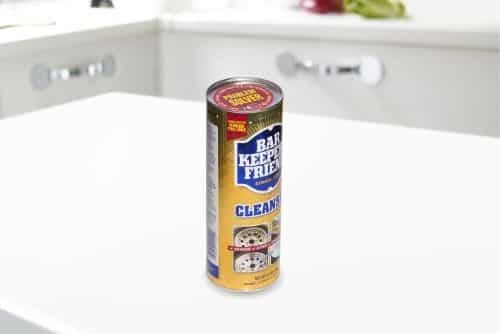 Uses
The primary use is to clean the most resistant stains, taking advantage of the mild abrasiveness. Bar Keepers friend leaves everything shiny. Your metallic and reflective finishes will look like a newly bought mirror.
Opt for the powder when trying to remove any deeply set stains that have been present for a long time. The powder is the cleaner of choice for plant stains, grime, general staining, and any discoloration on hard surfaces.
It's ideal for cleaning away rust, lime, hard water, and mineral deposit stains, and all high cleaning difficulty industrial applications.
From cookware, tableware, and cutlery to grout, deep cleaning floors, stained stainless steel, and chrome, Bar Keepers Friend Cleanser is the ultimate product.
Versatility
Bar Keepers Friend powder is ideal for cleaning stovetops, pans, and appliances like dishwashers. Another exciting benefit is cleaning bathroom accessories like shower tubs, sinks, and chrome taps.
No matter what you want to clean in bathrooms, kitchens, the garage, or outdoors, BKF powder has you covered. It's the most reliable choice for commercial cleaning and those who don't want to fuss with stains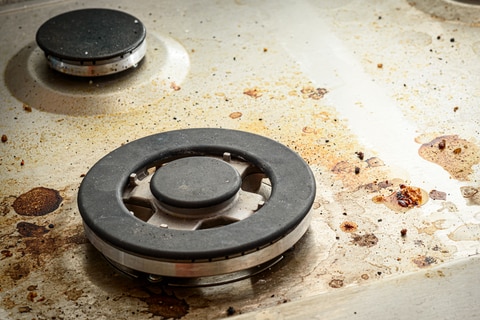 Ingredients
Glass oxide abrasive, oxalic acid, and a surfactant are the only ingredients in Bar Keepers Friend Powder. As a powder containing glass oxide, it is far more abrasive than the soft cleanser.
Firstly, the concentration of oxalic acid is strong. Glass oxide is an aggressive abrasive, whereas the mineral abrasive in the liquid breaks down much quicker and easier.
Considerations
The powder is more potent than the liquid and contains abrasive chemicals. Do not use it on surfaces that run a risk of being scratched. Test with extreme care when performing a surface test.
Most stains don't require anything more than light scrubbing. Work gently around grout, and don't use Bar Keepers Friend powder on colored grout, or it'll spoil the color and effect.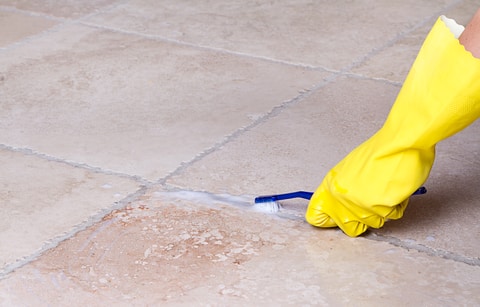 Sizes
Each cylindrical container of BKF Cleanser contains 12 ounces of powder. Bar Keepers Friend All-Purpose Cleaning Powder is also available as an institutional product in a 40-pound drum.
Affordability
Bar Keepers Friend Powder Cleanser comes in a 12-ounce container that retails for an average of $5 to $6 in most stores and online.
Which Is Better Between Bar Keepers Friend Liquid Vs. Powder?
The liquid form has the added benefit of convenience. You just have to apply it to the area without worrying about wetting the surface beforehand.
However, there are times when the liquid simply doesn't have enough abrasiveness and cleaning power to remove deeply set stains in metals. This is when the powder shines.
The liquid is best used for light general-purpose applications, whereas the latter is best for deep cleaning. There is not a single item that Bar Keepers Friend cannot clean.
It is potent but makes sure not to leave it on the surface for more than a minute. Otherwise, the area may dull and lose its color. Follow the instructions, and Bar Keepers Friend will wow you with cleaning power that works so well you'll think it's magic.