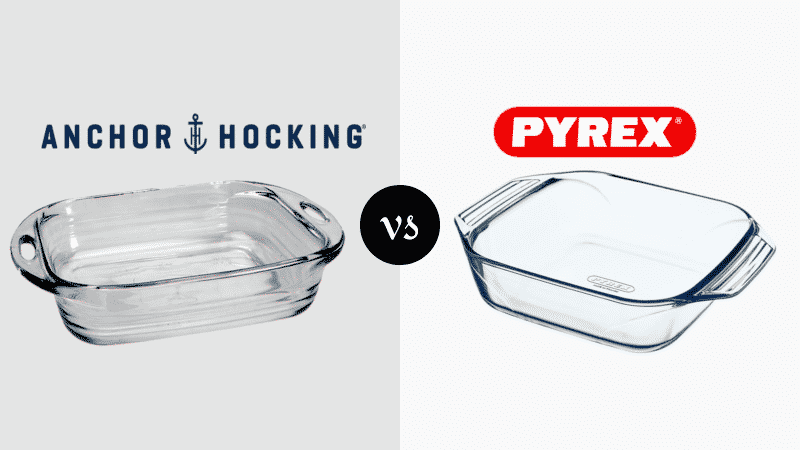 DISCLOSURE: This post may contain affiliate links, meaning when you click the links and make a purchase, I receive a commission. As an Amazon Associate I earn from qualifying purchases.
Glass containers have been an indispensable part of kitchens and households for a very long time.
Glass contains many advantages over plastic containers, starting with just how much better they are for the environment.
Furthermore, glass containers make sure that your food or drink is never contaminated with harmful chemicals.
Plastics release chemical compounds when they are heated, particularly the cancer-causing agent Bisphenol A (BPA.)
Over time, plastics wear down, and the wear and tear lead to even greater leaching of chemicals. Glass suffers from no such issues and is completely safe.
Glassware is the far more reliable choice, never retaining the taste of any items previously stored in the container.
If you've ever tried saving leftover chopped onion in a plastic dish, you'll know all too well just how much that smell sticks.
Plastic is porous and absorbs odors easily, retaining them even after washing. These are just a few of the many advantages of glass over plastic.
Now that you know why you have to have glassware in your home for storage, we'll be taking a closer look at two of the world's most prominent glass manufacturers.
A comparison between Anchor vs. Pyrex will explain why these two competitors have such a massive loyal customer base.
Despite the leading all-around quality, there are differences between the two, and we'll be showing them all to you so that you know which is best for your kitchen.
Pyrex vs Anchor
| | | |
| --- | --- | --- |
| | Pyrex | Anchor |
| Location | Brooklyn, Global Manufacturing | Tampa, U.S. Manufacturing |
| Origin | 1915 | 1905 |
| Products | Glassware, bakeware, and laboratory items made from borosilicate glass and soda-lime glass | Glass storage containers, glass for beer, beverage, spirits, and food industries |
| Quality | Soda-lime explosions have occurred in isolated incidences | Flawless track record but susceptible to same thermal explosions |
The brand name Pyrex is so prominent and popular that it has become synonymous with heat-proof glassware for many people worldwide.
Boasting a broad product range and two main types of trusted glass, Pyrex food containers and bakeware are affordably available and showcased in high-end varieties.
As a brand of Corning Inc., Pyrex is headquartered in America after being founded in Somerville, Massachusetts, and then later moving to Williamsburg, Brooklyn, New York.
Pyrex has manufacturing facilities, offices, and distribution centers worldwide, including several locations in North America, Europe, Japan, and several other countries.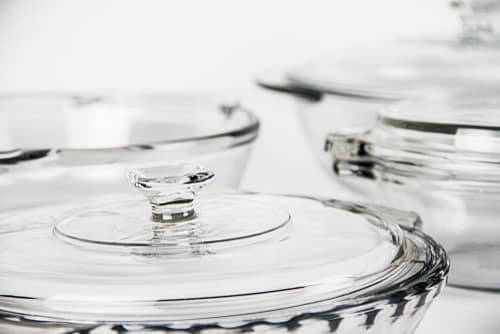 Pyrex started as a Corning Inc. brand in 1915, offering heat-resistant borosilicate glass for laboratory use and kitchenware.
It was the first brand to market borosilicate glass products just 22 years after being invented by a German scientist named Otto Schott.
Pyrex still sells clear, low-thermal-expansion borosilicate glass, but they've expanded their range to include products made from soda-lime glass as well.
Expect to find Pyrex food storage containers, bakeware, cookware, measuring vessels, and snapware for your home and kitchen, all readily available.
There are also bottles, beakers, pipets, funnels, and all types of specialty glass for laboratory use manufactured.
Pyrex products made from borosilicate glass are widely trusted and among the highest quality glassware available to customers.
However, when Pyrex began to dabble with soda-lime glass, it spurred controversy.
There have been isolated cases where soda-lime pyrex glassware has exploded after being exposed to extremely high temperatures for a very long time.
Explosions do happen, but they're extremely scarce, occurring in extreme situations only, making up a fraction of hundreds of millions of products sold.
Few glassware manufacturers can compare to the long lineage of good service and high-quality products from Anchor.
The Anchor Glass Corporation prides itself as the U.S.'s premier provider of glass manufacturing and solutions.
Headquartered in Tampa, Florida, Anchor is one of the longest-running glass manufacturers in the United States.
Today, Anchor has production facilities in Shakopee, Henryetta, Lawrenceburg, Warner Robins, Elmira, Jacksonville, and Tampa.
The Anchor Glass Container Corporation was established in 1893 but founded itself as the manufacturer that we know today officially in 1905.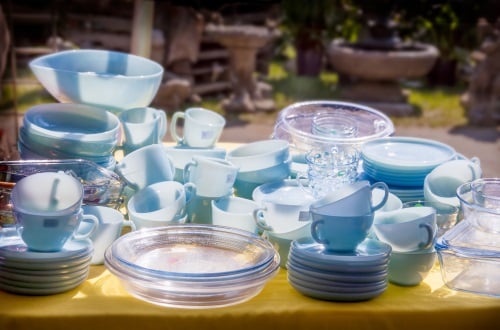 You can expect to find high-quality glassware for home and commercial purposes. Anchor manufactures depression glassware, glassware for kitchen storage purposes, and glassware for use in the oven.
Additionally, they also supply glass for the beer, beverage, spirits, and food industries. Home glassware lacks the variety of Pyrex but still puts forth a popular collection of products.
The quality of Pyrex glassware and Anchor are on par with each other. Unlike Pyrex, not all Anchor glass is made to withstand heat.
However, the glass that does is flawless and an equal match to their competitor.
One of the prime quality highlights of Anchor is their thick lids and TrueSeal technology. A 100% airtight seal is guaranteed on each of their products.
Considerations
The Anchor Glass Container Corporation boasts consistently high quality without breaking its flawless track record of prime quality manufacturing.
There have been no manufacturing faults and very few complaints compared to Pyrex.
Anchor vs Pyrex – Which Is Best?
Glassware products from both Pyrex and Anchor are good choices. However, they do offer a few trade-offs, but that is something that brings it down to personal choices and preferences.
Also, the only thing is that glass breaks when compared to plastic. It is all uphill other than that.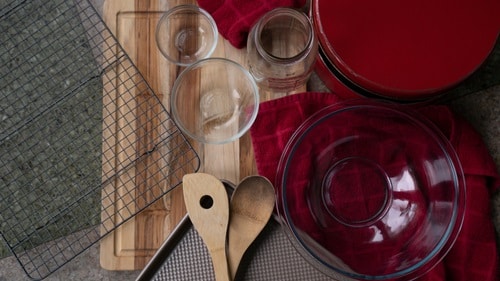 The glass will not explore if used carefully – the trick is to avoid placing it where it will experience a rapid temperature change. Both of these companies offer good products with great safety features.
They both stand out as front-runners in the glassware industry, and that makes them the best choices around.
Get Yourself Good Glassware Today
Therefore, if you are a glass user and have not tried these companies yet, or are someone who has never used glassware before, this would be the time to switch.
These glassware options are reliable, practical, and affordable. Furthermore, glassware has a lot of advantages over plastic storage containers.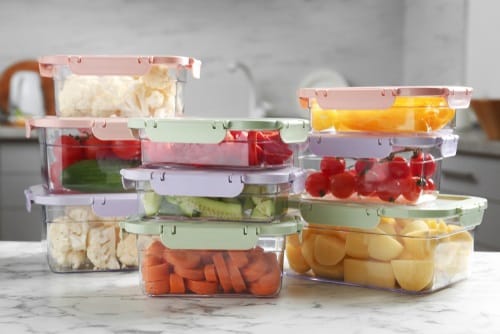 They are better for your food storage and the environment as well. They do not leach chemicals or experience wear and tear over time.
They are also more durable, and many studies show that glassware users save a lot of money per year compared to plastic storage container users.
Therefore, head to your nearest household/glassware store and check them out now!