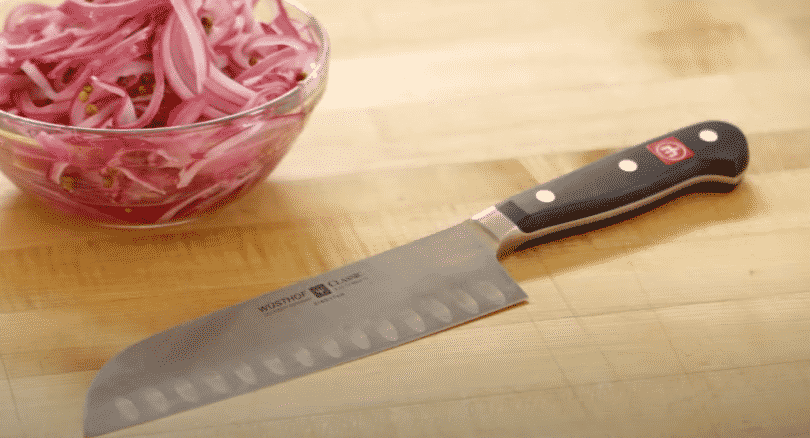 A high professional knife with exceptional cutting and dicing features is extremely important to facilitate your cooking skills. From cutting and dicing to chopping and slicing, a well-crafted professional knife really makes the job easy and efficient in the kitchen. Wusthof is a commendable knives manufacturing company that produces blades with high quality German stainless steel.
One of the popular knife lines of Wusthof is Santoku hollow edge knife which has indentations on its surfaces. If you are perplexed about whether to buy this knife or not. We will recommend to buy it on the first chance as you wouldn't want to miss out on this knife's great cutting and dicing features.
Wusthof Santoku knives have become high in demand these days because of their exceptional features and easy cutting techniques. In this article, we will review the classic knife of the Wusthof Santoku Hollow Edge Knife series. Read on.
What Is Wusthof Santoku?
Wusthof is among the best crafters of professional and easy home knives. They have variety so big that you wouldn't cease to wonder about which knife you should get. This ancient yet successful and equally reliable company has been around for 200 years.
Being a high renowned company, Wusthof has great knives with precision forges and laser cut stamps. The excellent series of Wusthof knives continued to give the consumers another great line, Santoku. Wusthof Santoku has the best hollow edge knives that are exceptionally great for advanced cooking in relatively busier kitchens.
Wusthof Santoku knives have:
Commendably strong steel blades.
Forges with high carbon stainless steel made in Japan.
Great chip resistance.
State of art polymer which ensures great durability and strength.
Moreover, the Santoku knives have the best features for professional knives as well as regular kitchen knives. The Santoku line of Wusthof is the best hollow edge knife in the market.
Pinpoint Review Of Wusthof Santoku Classic Hollow Edge Knife:
Forged with high carbon German stainless steel, Wusthof Santoku Classic Hollow Edge Knife is definitely one of its kind. There are lots of appealing characteristics of this knife that would insist you add it to your cart anytime soon.
Here are the features of the Wusthof Santoku Classic Hollow Edge Knife you need to know before you buy it:
High Carbon Stainless Steel:
This Wusthof Santoku knife is made and forged well with high tempered and high carbon German stainless steel which resists rust and corrosion to great extent. This high-end steel ensures a good life.
High-End Performance:
The Wusthof Santoku Classic Hollow Edge Knife is meant for easy and clean cutting. The finest and thinnest edge makes sure the slicing is as thinner as possible. With high precision, you can dice and slice the perfect shaped vegetables and meat as well as other edibles.
Hollow Edge Bade:
This Wusthof Santoku Classic Knife has indentations or depressions at the edges of the blade which are ideal for preventing the food from getting stuck to the knife. The hollow edge is also an advanced feature of knives these days.
Sharpness And Blade Retention:
Another feature that every quality knife must-have is a sharp edge that ensures good blade retention. This knife comes equipped with Wüsthof's Precision Edge Technology (PEtec) which gives you a much sharper blade with a double of edge retention. This feature prolongs the life of the blade and performance.
Handle Of The Knife:
The full tang of Wusthof Santoku Classic Hollow Edge is triple riveted which makes the handle much durable and strengthened to handle. The material also makes the grip of the knife much balanced and sufficient. This also provides a good hygienic fit.
The handling and carrying of knives become much easier with polypropylene handles.
What Are The Pros And Cons Of Wusthof Santoku Classic Hollow Edge Knife?
There are lots of strengths and very few weaknesses of the Wusthof Santoku Classic Hollow Edge knife
Pros
Forged with precision by high quality, high carbon stainless steel.
Laser tested cutting.
Skilfully hollow edge knife.
Exceptionally sharp.
Easy to use.
Fully tang triple vetted knife handle.
Cons
Edge might dull with time.
Extremely sharp that you can be hurt.
Requires great care.
Not feasible for beginner cooks.
We hope that you find Wusthof Santoku Classic Hollow Edge review helpful.