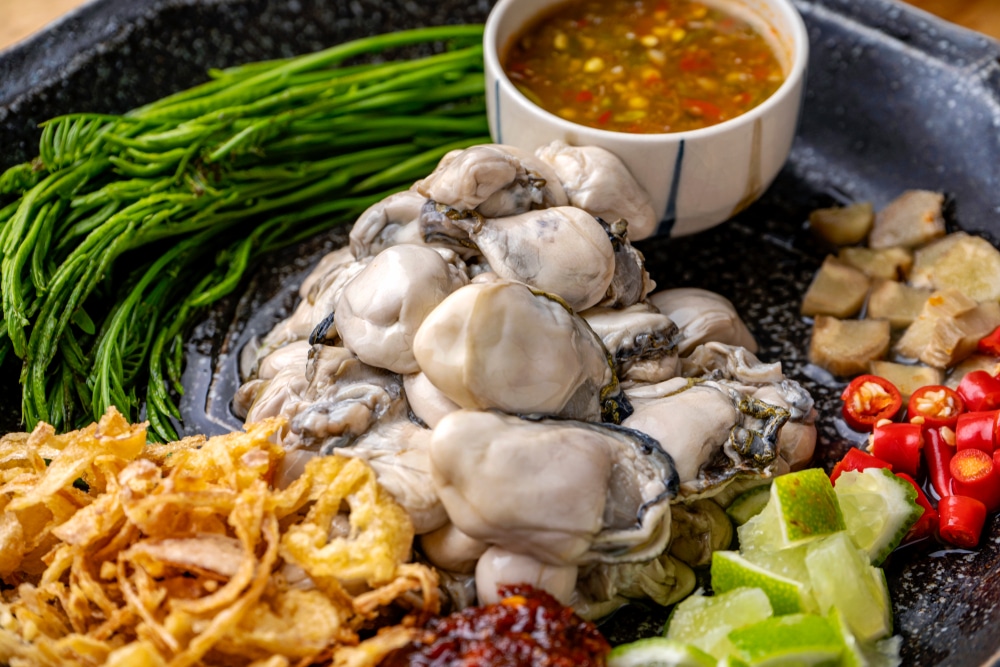 Oyster salad is one of the best American delicacies, which is perfect for people who like seafood. The oyster salad has a very savory, sour, and salty flavor. For the oyster salad, the oysters have to be tender, which is why the correct cooking method is required. In most cases, oyster salads are served in high-end and fine-dining restaurants. So, if you want to know more about oyster salad, we are sharing the best ways of preparing the oyster salad!
What Is Oyster Salad?
Method One – Steaming Oyster Salad
There are different ways of preparing the oysters for the salad but steaming is the most common method because it helps retain the real and tender texture. For this purpose, you have to steam the oysters until they are plump and throw them in cold water. Once the oysters are cooled down, you have to cut them in half and sprinkle them with salt. Then, cut four heads of celery and mix them into the salad.
To prepare the salad dressing, you have to beat four eggs to achieve the creamy texture, add a teaspoon of dry mustard, half a cup of sugar, and one teaspoon of cornstarch. Mix all these ingredients to make the dressing. To add some spice to the salad, you have to add a bit of cayenne pepper and a cup of vinegar. Once the ingredients are mixed up and cold, just add some sweet cream on the top and serve the salad.
Method Two – Boiling Oyster Salad
If you don't want to steam the oysters, you can also boil them in their own liquor and plunge them into cold water to make sure they are white and plump. Once they are out of the water, season them with salad oil, butter, salt, lemon juice, and cayenne pepper. Once the oysters are seasoned, you need to cut and add other salad vegetables and stir everything together with mayo dressing.
When it comes down to oyster salad, there are multiple recipes that you can try. However, the majority of oyster salad recipes result in tangy and sour salads because the oysters have a slightly salty flavor, and the ingredients like lemon juice and vinegar pair up well.
Mistakes To Avoid While Preparing Oyster Salad
Preparing the oyster salad is not always easy, especially for beginners who are preparing the salad for the first time. This is because oysters are seafood, which means you've to prepare them properly to achieve the right flavor and texture. In the section below, we are sharing some mistakes that you've to avoid while preparing the oyster salad;
First of all, make sure you do not add surimi to the salad. Many oyster salad recipes call for this imitated crab meat but it's not healthy, so it's recommended that you stay away from it
Secondly, never use frozen oysters to make the salad because it can lead to a weird flavor. In addition, the frozen oysters will increase the water content in the salad, which is why you should always use fresh oysters
It's common for people to season the oysters with salt, vinegar, and cayenne pepper but you should also add herbs to the salad to add a bit of warmth to the salad
Never cook the oysters with other ingredients to prepare the salad. That's because every ingredient in the salad has its own cooking method and joint cooking will adversely impact the flavor and texture. So, make sure you prepare the oysters separately and cool them down before you mix oysters with other ingredients
Lastly but not least, always clean the oysters before cooking them
Best Ways To Prepare The Oysters
We have already mentioned that you've to use fresh oysters to make the salad, which means you've to cook them. For this reason, we are sharing some ways of preparing/cooking the oysters, such as;
Smoking – you can use a smoker to cook the oysters at a low temperature for a long time. It will result in a smoky and savory flavor
Pan-frying – you have to shuck the oysters before pan-frying them and make sure you dredge the oyster meat in an egg bath. This process will make the oyster meat crispy, which goes well with the greens