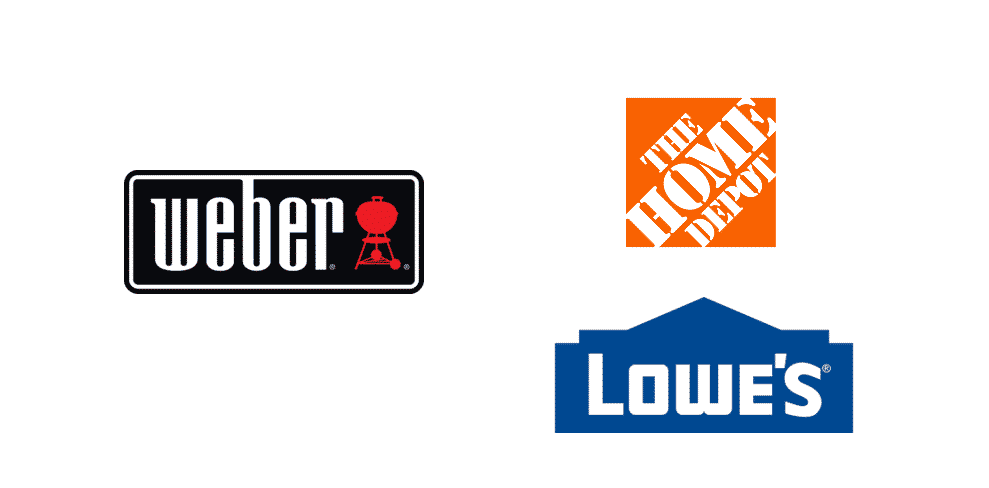 The grills have become important for everyone who loves crispy veggies and perfectly-cooked steaks and meat. But again, using the right grill will directly influence the grilling experience and quality of food.
Also, what can be better than Weber grills, right? In this article, we are sharing Weber grills Home Depot vs. Lowe's, so you know which Weber grills are available at Home Depot and Lowes!
Weber Grills At Home Depot vs Weber Grills At Lowes
Weber Grills At Home Depot
According to stats, more than 50% of grills sold in the United States are sourced from Home Depot. For the same reason, they have dozens of Weber grills available. To be honest, the Weber grill range at Home Depot is extensive. Before we begin with the availability of Weber grills at Home Depot, you can order the grills online and in-store; however, you prefer. Now, let's move to the grills!
Weber Q1400 Electric Grill
This is the first Weber grill available at Home Depot that we would like to talk about. To begin with, this is the electrical grill for delivering high-end performance. Truth be told, it's the powerful yet compact grill that promises flavor and won't even need charcoal or propane for operating. This grill has a 169 square-inches cooking area that makes it perfect for cooking food for one to four people. The grates are perfect since the cast-iron construction promises even heat distribution. All in all, this grill has quick assembly and is easy to move around.
Weber Spirit II E-310 3-Burner Grill
This is the second Weber grill available at Home Depot and has a propane gas fuel design. This grill is famous for the cooking grates that deliver a consistent heating surface. The construction is top-notch, and the compact design makes it easy to handle and transport. It has a special scale fuel which is incredibly easy to read and keep an eye on fuel level. All in all, the grease management system promises quick and easy cleaning.
Weber Original Kettle Premium Charcoal Grill
If you love the smokey flavor in your food, this charcoal grill is the perfect choice for it. The classic and compact design will promise an easy cooking experience. This grill has the tried & true cooker that promises perfect food. There is an ash catcher in this grill that delivers quick and convenient cleaning. Also, the heat retention is promising with porcelain enamel on the bowl and lid.
Weber Q2200 Liquid Propane Grill
For everyone who needs a portable grill, this Weber grill is the ultimate choice. To be honest, this grill can be pretty expensive, but it's worth it. The grill has an electronic ignition that promises quick startup and heating. Even more, there are two tables in the grill for easy preparation. That being said, it's a lightweight and compact design!
Weber Grills At Lowe's
Lowe's is one of the most promising places for everyone who needs Weber grills. The Weber grills aren't only high-performance but have higher quality as well. In case you need to buy Weber grill from Lowe's, we have some top-notch options, such as;
Weber Spirit E-310 Black 3-Burner Grill
This grill is one of the most promising options designed in the Spirit series. The grill is designed with three burners, and the porcelain enamel on cooking grates and flavorizer bars will help retain heat. The electronic ignition system in this grill promises quick and easy heat-up. There is a built-in thermometer that helps keep an eye on the temperature.
Weber Genesis II E-315 Black 3-Burner Grill
If you want the Weber grill and can only visit Lowe's, this three-burner grill from Genesis is a perfect choice. The grill is integrated with stainless-steel burners for high-end heating capacity. Also, the grilling system is perfect since it has a GS4 grilling system. In addition, the cooking grates have porcelain enamel for even and consistent heat distribution. Above all, it has a warming rack to keep your food warm and fresh!
Weber Spirit E-210 Black 2-Burner Grill
This grill from the Spirit series is our best bet designed by Weber and available at Lowe's. The grill has a sufficient cooking area to cook for ten people at a time. The flavorizer bars will help sizzle and smoke your food perfectly. Also, the ignition system promises a reliable cooking experience with a quick startup. There are grease trays for easy cleaning and cabinets for convenient storage!
The bottom line is that many more Weber grills are available at Home Depot and Lowe's, but these are the best choices from the collection!