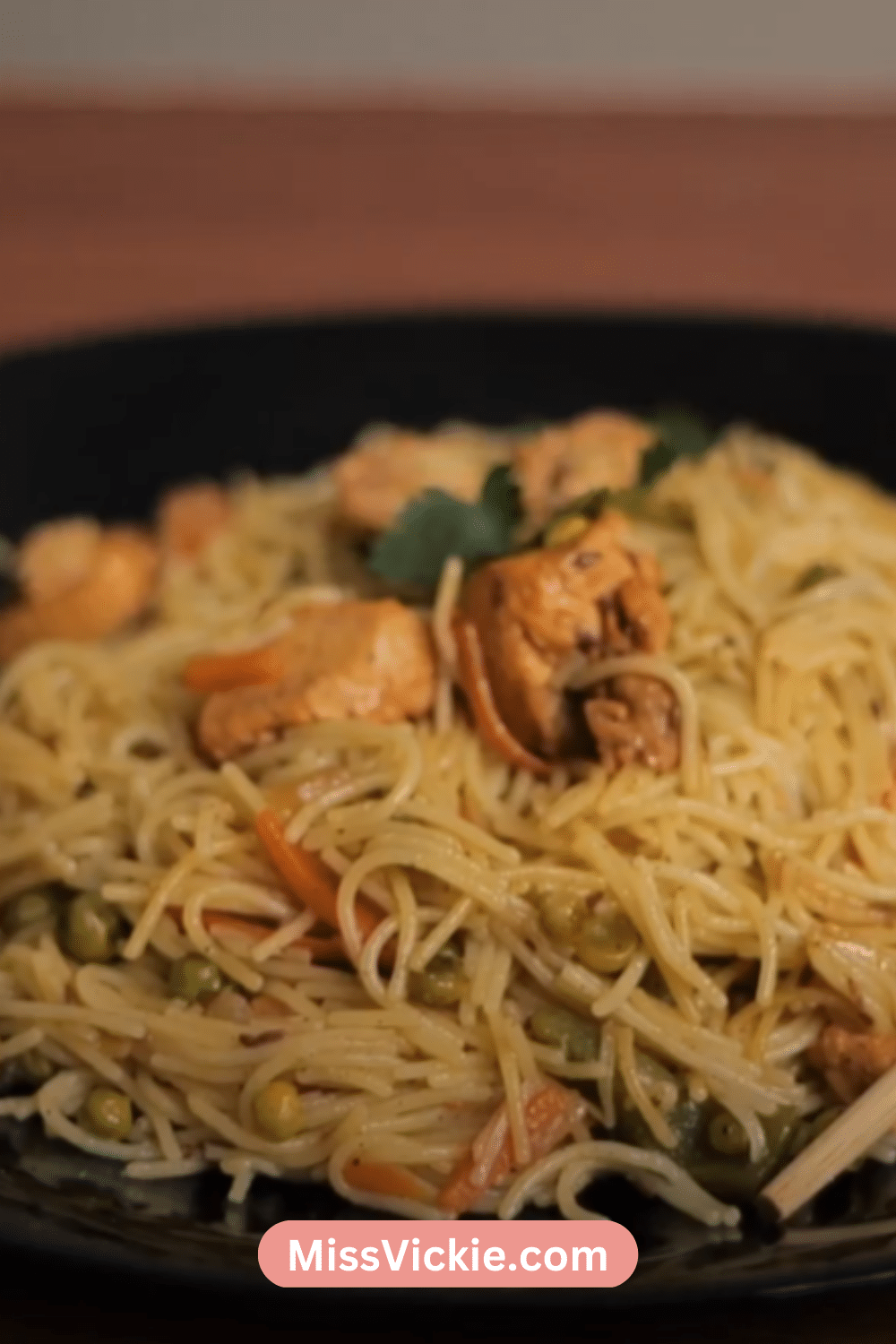 Vermicelli is a type of pasta that people in Italy have been enjoying since the 1300s. Nowadays, it has a much more global reach. You'll see it being prepared in all kinds of ways at homes, restaurants, and cafes around the world.
If you're looking to make some for yourself and want a good recipe to help you with that, I've got you covered! Today, I'll go through the best vermicelli pasta recipe for when you want something with just the right amount of flavour and spice, but without having to work yourself to death in the kitchen.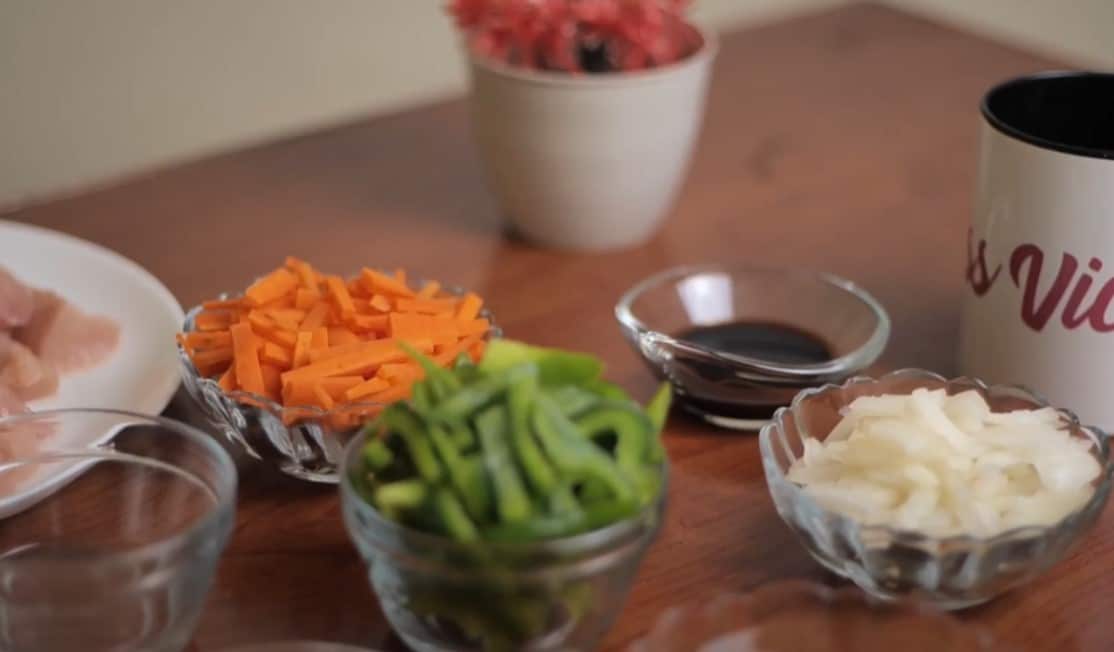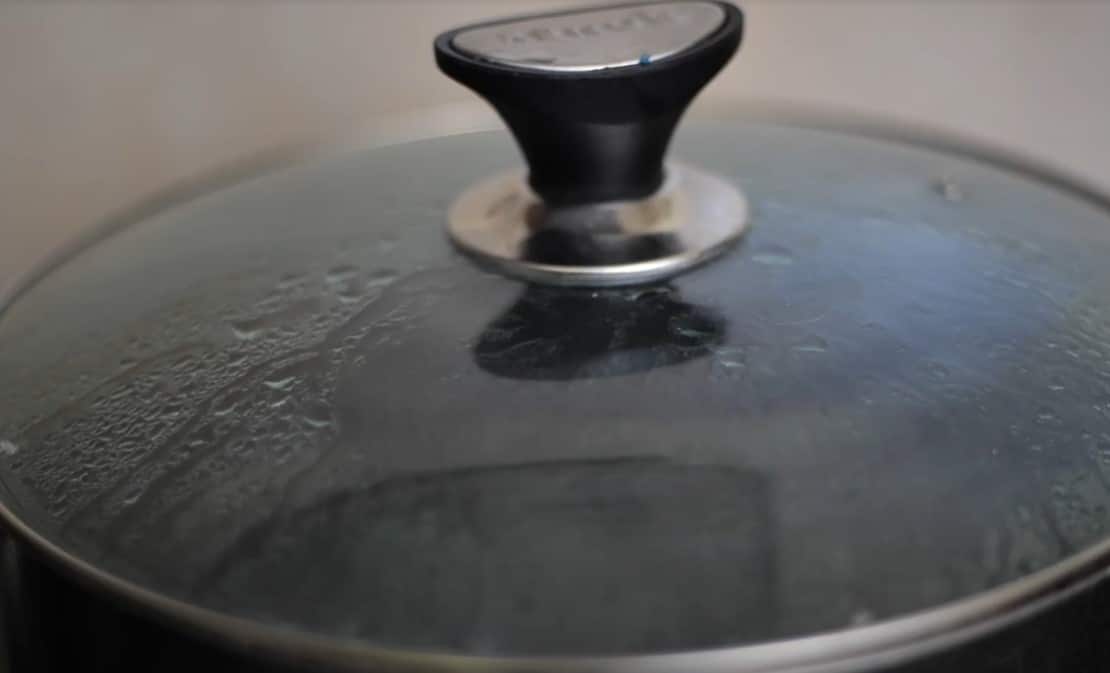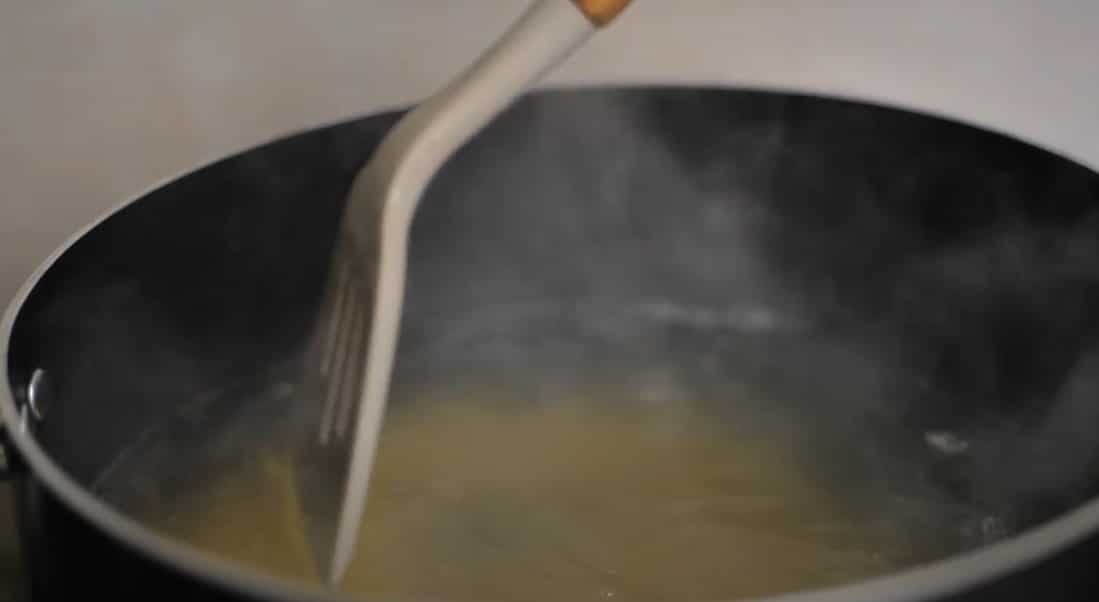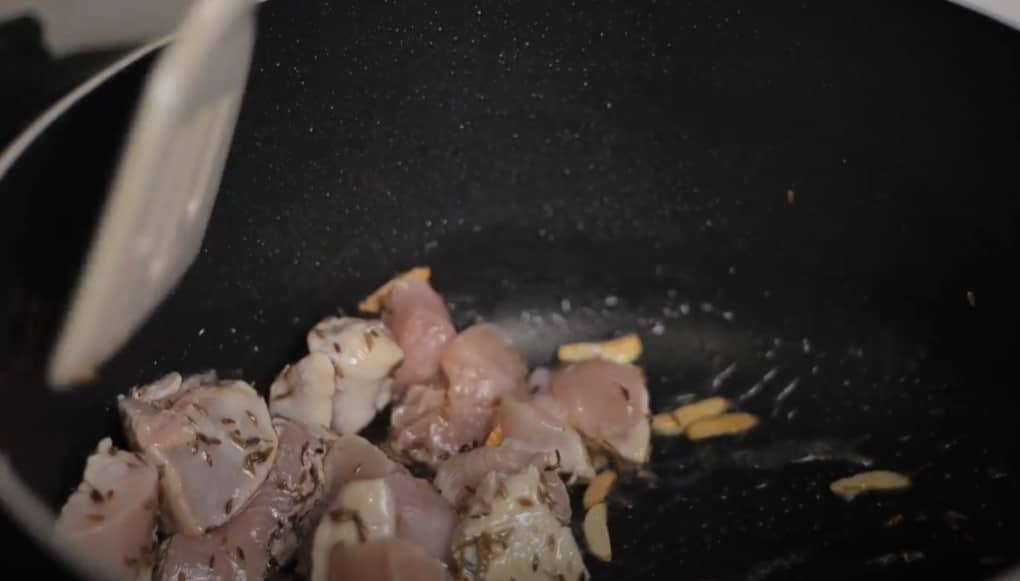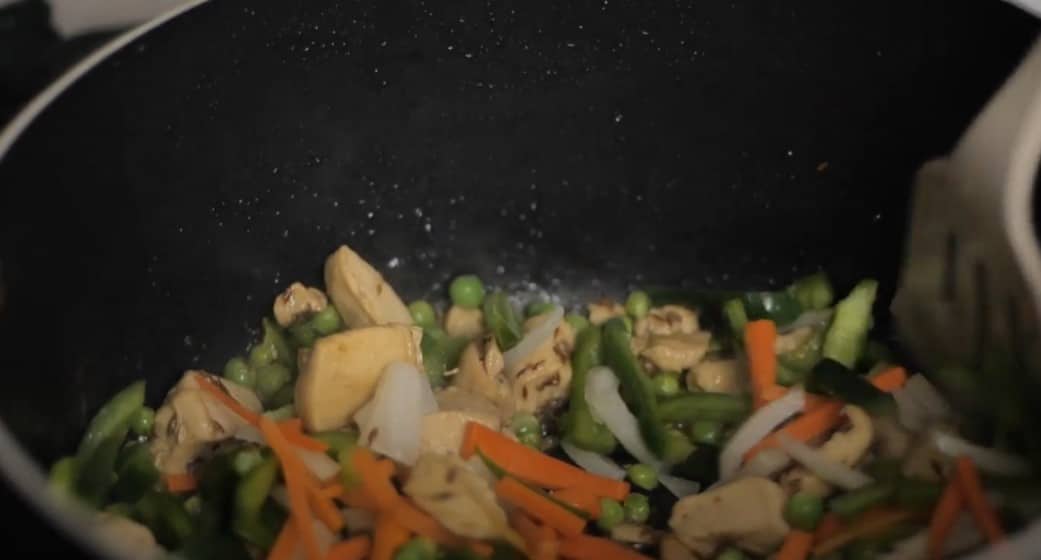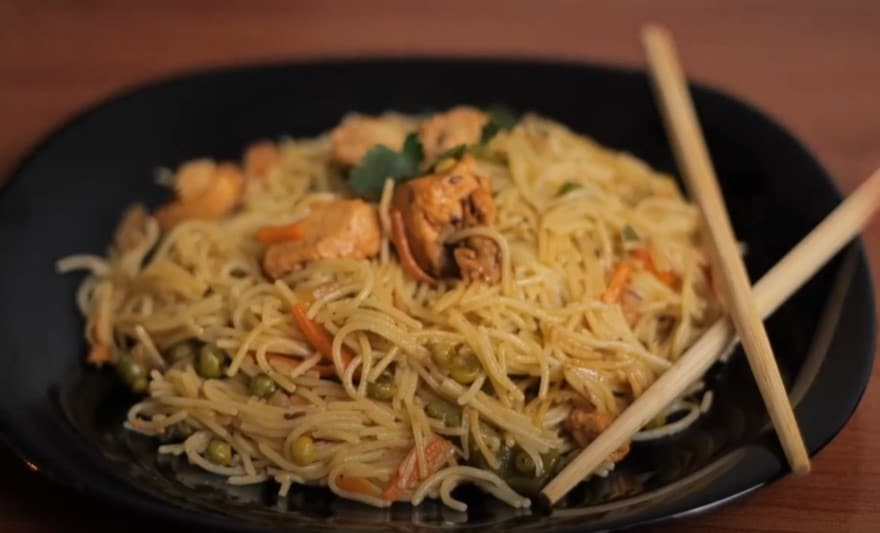 Print
Delicious Vermicelli Pasta Recipe
Try this vermicelli pasta recipe if you want something that'll taste great and impress any guests you invite over to your place!
We create amazing recipes. Gain FREE access to Miss Vickie's special recipes.
We won't send you spam. Unsubscribe at any time.
Author:
Prep Time:

10 minutes

Cook Time:

30 minutes

Total Time:

40 minutes

Yield:

2

1

x
Category:

Dinner

Method:

Chop, Boil and Cook

Cuisine:

Italian
It doesn't matter how easy a recipe is, you're still going to need the right ingredients to make it work. That said, here's the specific set of ingredients you're going to need for this recipe in particular:
4 cups

of water

3 tablespoons

of oil

1 teaspoon

of salt

250 grams

of vermicelli pasta

5 teaspoons

of cumin seeds

3

pieces of garlic julienne

250 grams

of boneless chicken

1/2 cup

of green peas

1/2 cups

of carrot julienne

1/2 cup

of onion slices

1/2 cup

of capsicum

1 tablespoon

of vinegar

1 tablespoon

of soya sauce

2 tablespoons

of chilli sauce
Salt, to taste

2 teaspoons

of black pepper
Once you have everything on the list above, you can start cooking.
Instructions
After all the ingredients are ready for the recipe, most of the hard work is already done. Now it just takes some careful steps and patience. Just do as I say and you're sure to have a great meal by the end of it! So, let's start with…
Put Water On Boil: Add 1 tablespoon of oil and 1 teaspoon of salt to 4 cups of water inside of a pot. Cover the pot, and wait for as long as it takes for the water to come to a boil.

Prepare The Pasta: Dump the 250 grams of vermicelli pasta inside the water you just boiled. Prepare this according to the instructions given on the pasta's packaging. After you do everything the packaging says and the pasta is ready, drain the water out. You can use a colander for this, as it'll make sure none of the pasta is wasted and the water is drained properly.

Prepare Base For The Chicken: Get a clean pot and add 2 tablespoons of oil inside it. Once the oil is given some time to warm up, add 1.5 teaspoons of cumin seeds inside and stir them around. While the cumin seeds heat up in the oil, sauté 3 pieces of garlic julienne and put it inside the pot too.

Add The Chicken: Now that you've prepared a base for the chicken to cook on, add 250 grams of boneless chicken inside of the pot with cumin seeds and garlic. Make sure that you dice the chicken up into small chunks before putting it in.

Cook and Cover: Keep stirring and cooking the chicken inside the pot until the colour is noticeably white. Then, stir it some more and cover the pot. Let it cook for at least 4-5 minutes before doing anything else.

Add Peas and Cook: Before you start adding the other ingredients, you need to put just ½ cup of green peas in the pot. Stir it a little so it mixes well with everything inside, then cover it up again. Cook everything for 4-5 minutes once more before moving on to the next part of the recipe.

Add Vegetables and Cook: Now you can add the rest of the vegetables that were in the ingredients list from earlier. Start by putting ½ cups of carrot julienne inside. Then, toss ½ cup of onion slices and ½ cups of capsicum too. Mix all the ingredients together so it's all evenly divided. One more time, you need to cover and let it all cook for 4-5 minutes.

Add Spices and Sauces: Now that the vegetables and other important ingredients are all inside, you can start giving the recipe its real flavour by adding the necessary spices and sauces. Start off with the sauces. This means 1 tablespoon of vinegar, 1 tablespoon of soya sauce, and 2 tablespoons of chilli sauce, all on top of the chicken mixture. Stir this together, and then start sprinkling the spices on top. This includes salt as per your taste, and 2 teaspoons of black pepper along with any additional spices you want to add. Mix it all well, and you're nearly done!

Mix It All With The Pasta and Cook: Everything you need is ready! Now you can just put the pasta you boiled earlier inside of the pot with all the ingredients and mix everything together. Sprinkle on a bit of oil on top of it all once it's stirred, and then cover the pot once again. Let it cook for 4-5 minutes one final time, and your pasta will be all set!
Notes
A lot of the things given above are common ingredients that don't really need alternatives, which is why I didn't list any since they aren't necessary.
However, you can feel free to add additional vegetables or spices if you think they'll fit the recipe.
Nutrition
Serving Size:

2

Calories:

1652 Kcal

Sugar:

53.65 g

Sodium:

3136 mg

Fat:

49.53 g

Saturated Fat:

8.151 g

Unsaturated Fat:

36.634 g

Trans Fat:

0.235 g

Carbohydrates:

238.25 g

Fiber:

19.5 g

Protein:

64.13 g

Cholesterol:

183 mg
Keywords: vermicelli pasta recipe