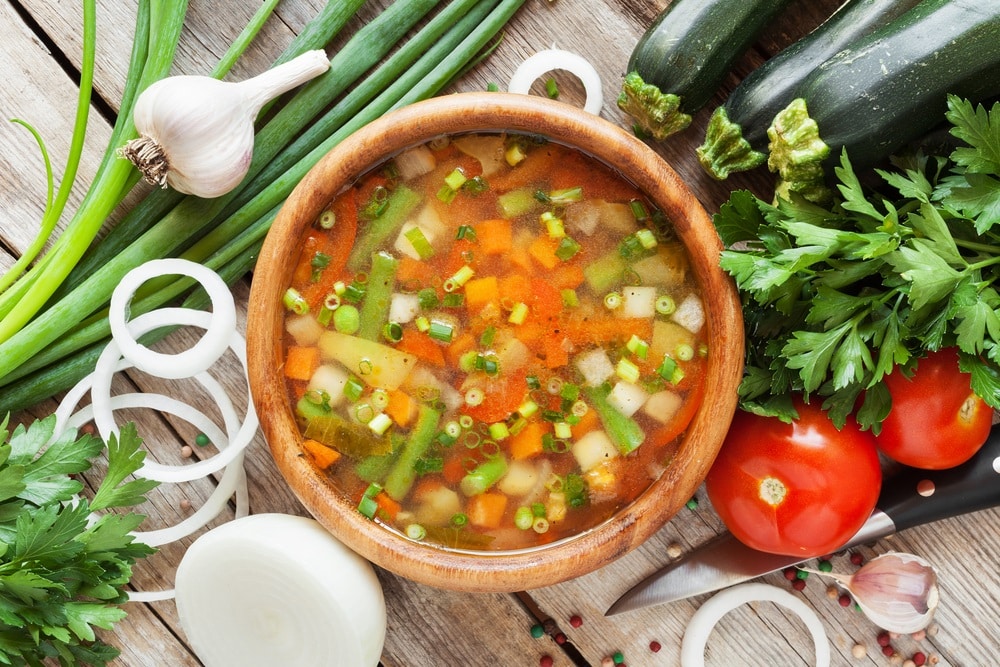 Eating a bowl of hot vegetable soup is a wonderful way to warm up on a cold winter's day. It's also an easy way of incorporating more vegetables into your diet.
By having a bowl of vegetable soup every day for lunch, you get your entire day's veg allowance in one easy go. This is perfect for those of us who don't particularly like green smoothies!
Most vegetable soup recipes call for the addition of a can or two of tomatoes. While tomatoes make a great addition, the soup can sometimes be left tasting a little too "tomatoey" or acidic.
We create amazing recipes. Gain FREE access to Miss Vickie's special recipes.
We won't send you spam. Unsubscribe at any time.
Let's have a look at the reasons for this and what you can do about them.
Vegetable Soup Tastes Too Tomatoey: Reasons & Solutions
There are three main reasons why vegetable soup tends to taste too tomatoey, and we'll be going over them all here.
1. Too many tomatoes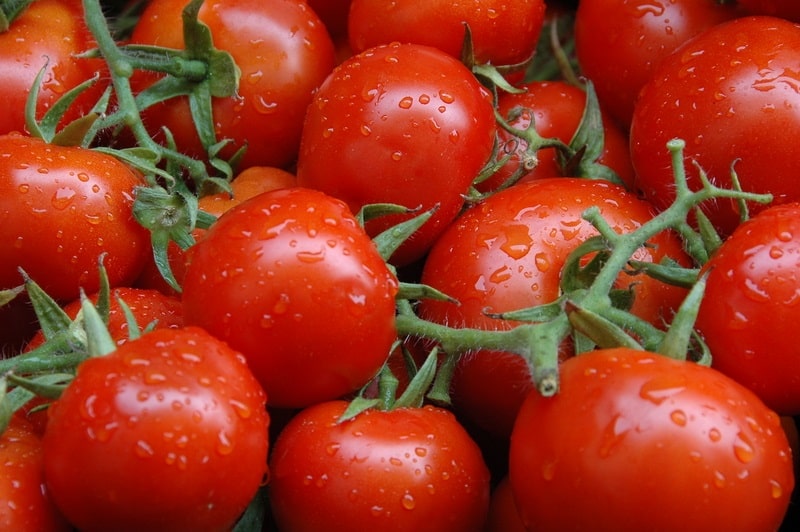 The first and most obvious reason for the problem is that you've added many fresh tomatoes or cans of tomatoes to the pot. This leads to the taste of them being much more dominant in the soup compared to other ingredients in it.
In this case, the overpowering taste is easily avoidable in the future by simply making sure that you only add the number of tomatoes necessary instead of overdoing it. If you're using fresh tomatoes, be aware of their size.
Your recipe may call for "three tomatoes" meaning three medium-sized tomatoes. If you add three enormous ones, you are in effect doubling the amount of tomato in the soup.
If you need to fix an existing pot of soup that has too many tomatoes in it, simply add a little more of each of the other ingredients to make more soup with fewer tomatoes overall.
2. The soup is already acidic
The second reason is probably the most common. It has to do with the overall acidity of the soup. If your tomatoes are acidic rather than sweet and the soup contains other acidic ingredients, the result will be a very dominant tomatoey taste.
To fix this, add some more sweet vegetables such as carrot, sweet potato, butternut, or slowly-fried onion. All of these contain sweetness that will help to balance out the acidity of the tomatoes.
You can also try adding a teaspoonful or two of white sugar. In the future, try to use only very ripe tomatoes, which are sweeter, in your soup.
3. Wrong choice of tomato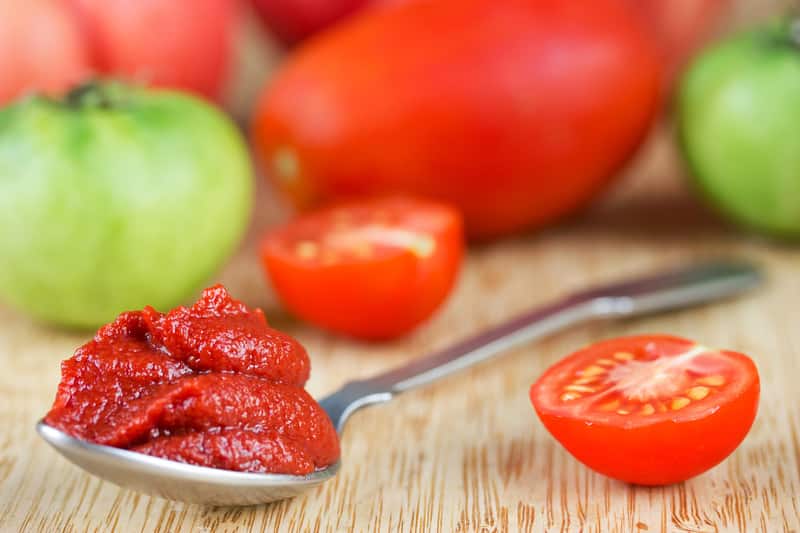 The third reason for your soup tasting too "tomatoey" is that you may have added tomato paste instead of ordinary canned tomatoes or passata. Tomato paste is highly concentrated and a tablespoon or two at the most should be added to a large pot of soup.
If you have already made the mistake of adding it, the best solution is to divide the soup into two pots. Add more of the other ingredients to double the batch of soup but do not add any more tomato.
This will dilute the strong tomatoey flavor. You will end up with a lot of vegetable soup but you can freeze it for later use.
Delicious Vegetable Soup Recipe
Try our yummy, healthy vegetable soup recipe that has just the right amount of tomato in it and lots of sweet vegetables to counteract the acidity.
Ingredients
1 small butternut squash, peeled and diced
2 celery sticks, leaves included, finely chopped
2 medium-sized carrots, peeled and finely diced
1 medium-sized sweet potato, peeled and diced
2 corn cobs, kernels removed
2 handfuls of fresh baby spinach
1 onion, finely diced
2 garlic cloves, crushed
Enough vegetable stock to cover everything…about 1 liter
2 handfuls of small pasta shapes
1 can white beans, drained
1 can tomatoes, do not drain
2 tablespoons olive oil
1 teaspoon dried basil
1 teaspoon dried oregano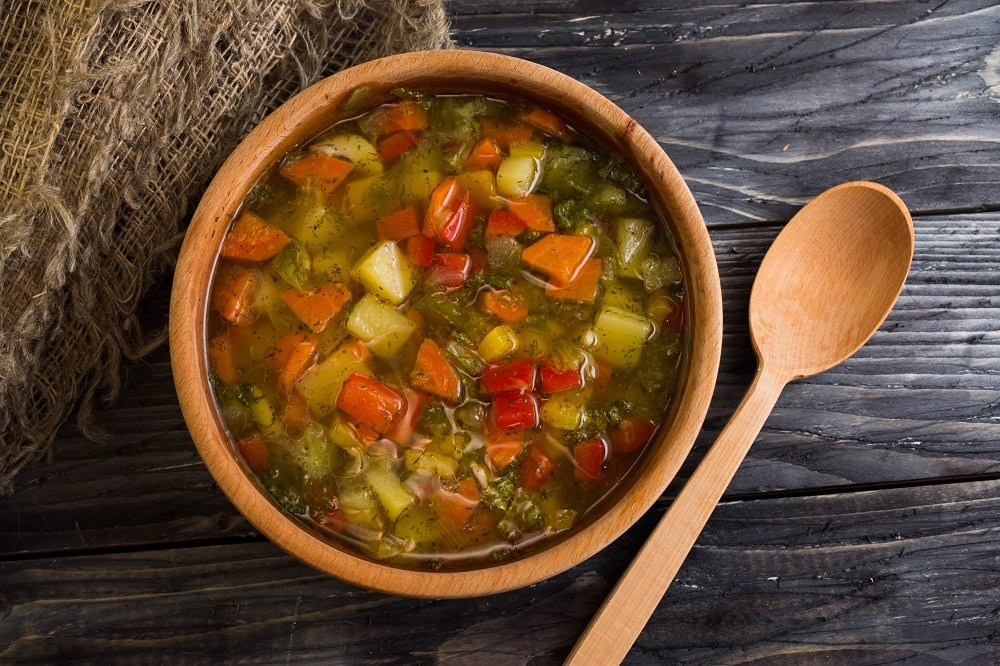 Instructions
Prepare all the vegetables.
Take a big soup pot and heat the olive oil.
Saute the onion and garlic until soft.
Put in all the other vegetables except for the spinach.
Add the beans, pasta, tomatoes, and enough vegetable stock to cover everything.
Bring to a boil over high heat then turn the heat down, put the lid on, and leave the soup to simmer until everything is soft. This should take about 20 minutes.
Add the herbs, seasoning, and spinach. Simmer for a further 10 minutes.
Taste and adjust seasoning. Mash the soup slightly with a potato masher if you prefer it a little thicker and finer. Serve hot.