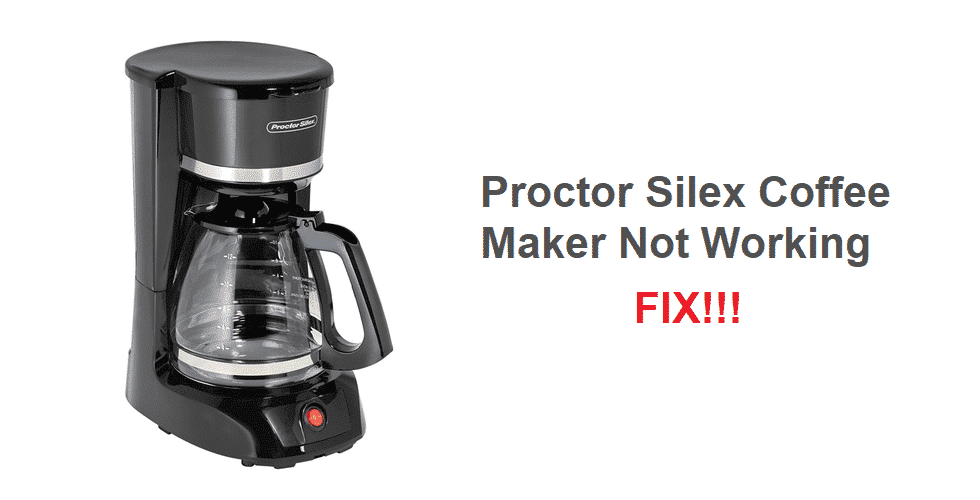 Coffee makers are heaven for coffee lovers. First thing in the morning, a real coffee lover would love to drink is nothing but a piping hot cup of coffee. In the same way, having your coffee maker not working at all is very frustrating for coffee lovers. Proctor silex coffee making machines are the compatible devices that are quite popular in the market and are great competitors of KitchenAid and Ninja coffee brewers.
No matter how exceptional Proctor silex coffee makers are, they can still go into trouble. But getting around the issues isn't very hard. In this post, we will walk you through some troubleshooting solutions that you may use when your Proctor silex coffee maker is not working. Read on.
Troubleshoot Proctor Silex Coffee Maker
Your coffee maker's main function is to brew coffee and if it doesn't do that properly then you need to quickly find the causes. Then figuring out the solutions becomes easy.
The main reasons for your Proctor silex coffee maker not work are insufficient power supply, damaged power outlet and cord, clogged machine, improper assembly, etc.
Now that you know the possible reasons, troubleshooting would be handy.
What To Do When Proctor Silex Coffee Maker Is Not Working?
Try following troubleshooting solutions if you see your coffee maker not brewing the coffee at all.
Check power outlet
Checking the power outlet is the first thing you need to do when your coffee maker stops working. Plug another kitchen appliance into the same power outlet and check if it is running fine. Otherwise, you need to have your outlet fixed.
Check power cord
The next thing you need to do is check if the power cord isn't damaged. If you see it has damaged, have it replaced with a new one as soon as possible.
Adequately fill the water reservoir
Insufficient water in the reservoir container will trouble you in brewing. The coffee maker won't work fine. This is exactly why you need to adequately fill the water reservoir so the coffee brews perfectly.
Remove debris from the tube
Jammed machine tubes don't let the coffee maker work smoothly. Make sure to remove the mineral deposits off of the tube by tapping it slow. You may also use a wire to eliminate the debris.
Unclog your coffee maker
Proctor Silex is no doubt an amazing kitchen appliance but the clogging might be a big turn off. Make sure to have an equal quantity of a solution of water and vinegar. Brew them for few minutes and then rinse the maker with warm water.
After that, rinse the Proctor silex coffee maker again with the lukewarm soapy water so it gets cleaned properly and becomes unclogged.
Bottom Line:
To have your Proctor silex coffee maker working on the best potential, always keep clean. Make sure to wash it after each use so the clogs don't appear. If none of the above solutions fixes your machine, then it is time you contact an electrician.