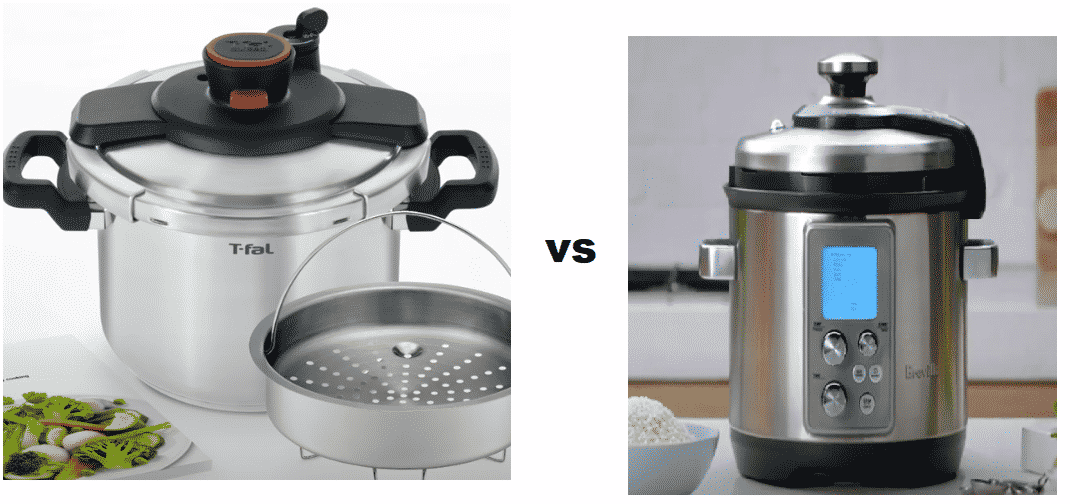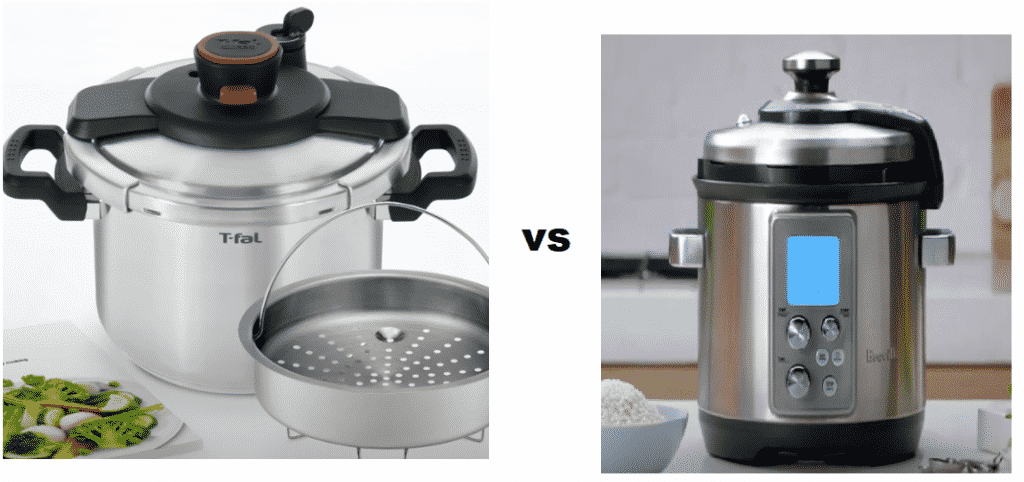 There is always a debate when you are going to choose a pressure cooker for your kitchen. It is one of the most discussed things among kitchen lovers. The worst thing happens when you have decided to get a pressure cooker, but you cannot choose among the pressure cooker categories.
So, we have brought the two best available pressure cookers to suit your kitchen for your ease. Through this article, we will help you to choose the best pressure cooker for you. So be with us if you want to get the best pressure cooker.
T-Fal Pressure Cooker vs Breville
T-Fal Stainless Steel Pressure Cooker
When we talk about kitchen appliances, then no one stands even close to the T-Fal products. Their products are reliable, durable, yet they are available at a reasonable price. This particular pressure cooker will let you cook everything with ease due to its encapsulated base. It distributes the heat perfectly to each corner of the pressure cooker.
Along with it, the pressure cooker comes up with two handlebars that make it easy for you to carry the cooker. The pressure cooker is made up of a stainless steel frame that adds a few more years to this pressure cooker's life, making it one of the most durable cookers.
The best thing about the T-Fal pressure cooker is its safety. This T-Fal pressure cooker is designed in a way that will not let the cooker open when in use. It provides you one-hand system for risk-free opening and closing.
This cooker comes up with a gasket and pressure valve, a steam basket, and a stand. Furthermore, the T-Fal pressure cooker is good to go with any cooktop, including induction.
Final Remarks
The T-Fal Stainless steel pressure cooker is one of the best kitchen gadgets to get for cooking purposes. This cooker has an Encapsulated base, comfortable grip, and a stainless steel frame, making it the perfect kitchen beast. So, if you are going to spend some bucks on a pressure cooker, then do not forget to review the T-Fal stainless steel pressure cooker.
2.Breville Multi-Function Cooker
Breville is one of those brands whose products every kitchen master love to have in his/her kitchen. This manufacturer always come up with great ideas and design to craft their products. If you know a little bit about pressure cookers, then you will never doubt the quality that Breville Provides. These products are designed in Sydney, and then they are sent to China for manufacturing.
In this particular pressure cooker, for your ease, you will get a color-changing LCD when the pressure cooker is pressurizing the food, releasing steam, or cooking the food. The LCD lets you know about what is going on inside the pressure cooker. The thing that makes this cooker unique is coming up with 11 pressure cooking settings and a custom setting for your favorite recipe.
Furthermore, this cooker introduced an automatic touch-free steam release for assuring your safety. It also comes up with a safety lid locking and a safety valve. Unlike most conventional cookers, this cooker has something that everyone will love. This cooker has a keep warm setting that keeps your food warm even after hours of cooking.
Along with it, this cooker has a separate bowl with ceramic coating for making your food cook well.
Final Remarks
This Breville pressure cooker is something that no one can resist buying; it has all qualities that a pressure cooker needs to have. This particular pressure cooker fulfills all the safety precautions that a pressure cooker needs. If you need a durable pressure cooker that cooks good food and provides extra safety, you must spend on the Breville pressure cooker.
Conclusion
In the article, you will get to know about two of the best pressure cooker. By giving a good read to the draft, you will conclude that which of these two pressure cookers will suit your kittening style. If it is about our choice, then Breville cooker will be something that will assure quality and security at the same time. But, there is no such thing that the T-Fal cooker is a bad one. Both of the products have their own merits and demerits. So, think wisely before choosing any of the two cookers.