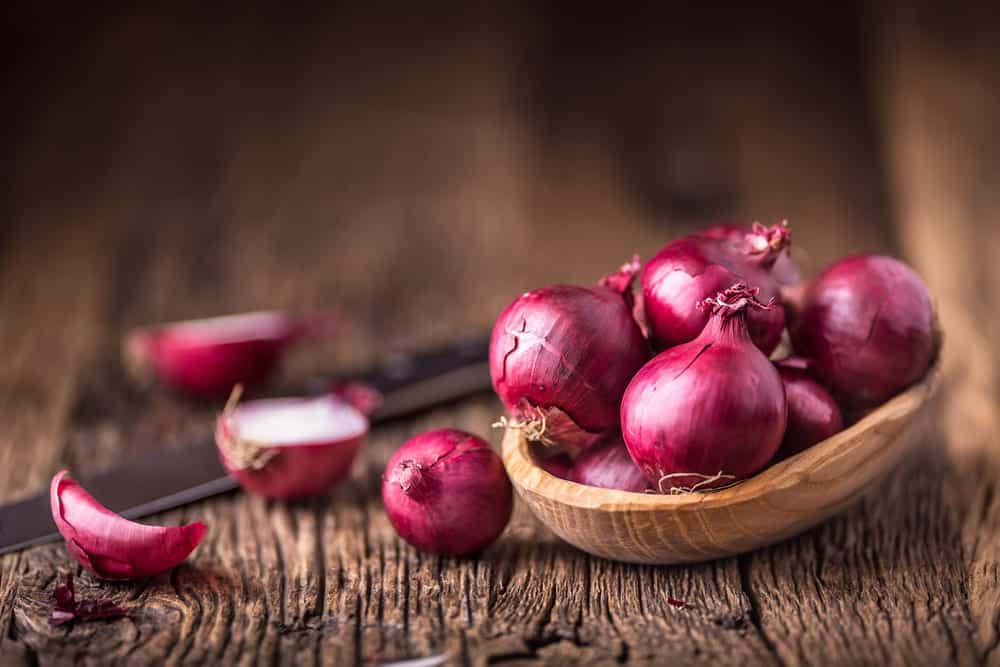 If you are from the Indian or Asian sides of the world, you would know that onions are a crucial part of every recipe. That being said, there are multiple varieties of onions out there, and red onions are the most common ones. On the other hand, if you have run out of red onions, we are sharing the substitutes for red onion!
Substitutes For Red Onion
Red onions are famous for the reddish flesh with deep purple skin. When cooked, red onions will have a similar flavor as yellow onions when they are cooked. In the case of raw red onions, they will be way milder. The red onions have a deep color which makes them a suitable addition to salads and other recipes for adding a pop of color.
Red onions are widely used in culinary arts. In addition, its skin is often used for dyeing purposes. The red onions have a medium to large size with a sharp flavor. Generally, red onions are consumed raw, cooked with other foods, and grilled. These onions can be easily found all around the year. Now, we can check out the substitutes!
1) Yellow Onions
The yellow onions are also known as brown onions. These are dry onions and have a strong flavor. These onions have slightly yellow and white flesh. Some of them can also be greenish-white. These onions have a pale brown or golden yellow color with paper-like skin. There are different varieties of yellow onions out there, and all of them are suitable for replacing red onions.
The yellow onions are available all around the year. As far as the flavor is concerned, the yellow onions have rich onion flavor and are great for soups, braises, and stews. In addition, it can be used in sauteed dishes. The yellow onions can be caramelized and lead to a sweet and sticky texture.
2) White Onion
The white onions are milder as compared to other types of onions. This is why white onions will go fine in sandwiches and salads. White onions are great for eating raw since it has a mild flavor. When soaked in water, the flavor will be on the sweeter side. With the less sharp flavor profile, you will need to add them more to the dish while substituting red onions.
3) Onion Juice
If you don't have any type of onions, you can always opt for onion juice. In addition to onion juice, onion powder and onion flakes can also be used. As far as onion juice is concerned, it can easily replace the chopped onions. The onion juice is readily available in grocery stores. However, the juice or powder will have a stronger flavor, so add them in moderate quantities. Also, you can opt for pre-fried onions.
4) Leeks
If you want the non-onion substitutes, the leek is the fine substitute to opt for. For this purpose, you have to use the finely chopped and cut leeks. The leeks have a dense and firm texture as compared to onions. As far as the flavor is concerned, it has a milder flavor. However, you can only replace red onions with leeks in the cooking recipe's preparation.
5) Chives
For everyone who wants to replicate the complex flavor of red onions, they can opt for chopped chives. These chives can be added to the recipe after cooking (for garnishing or presentation purposes). It can replace onions in sauces. In addition, we love the amazing flavor of chives in quiche and frittatas.
6) Green Onions
The green onions are also known as scallions and can be added in place of red onions. The green onions have a fresher and milder flavor as compared to red onion. However, it can still replace red onions in the majority of recipes. These onions can be chopped and added to the dish before serving. Also, the sharp and fresh flavor is a great thing for raw consumption. On top of everything, green onions have thick leaves, which means stalks and bulbs can be used.
7) Celery
If you want to add the background flavor to stews and soups, celery can replace red onions. Also, it can be added to stocks and slow-cooking recipes. You can use the 1:1 ratio for replacing red onions. It is known to be an aromatic vegetable, hence a fine addition to recipes.