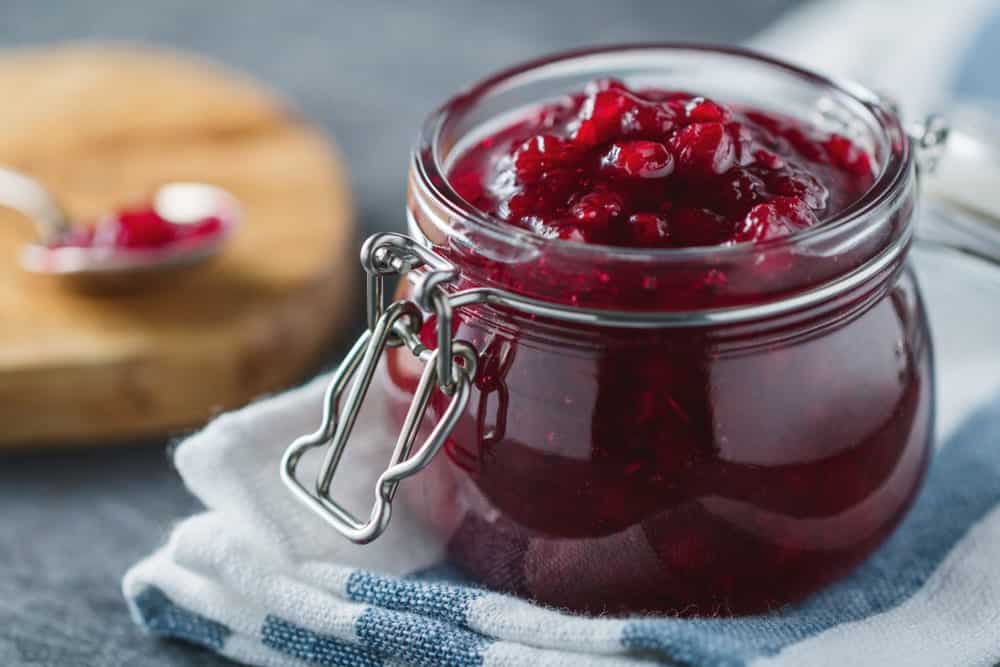 This wonderful delight comes from Sweden. Lingonberry jam and juice are an essential component of Swedish cuisine. Thus, if your nearest grocery store is short on it or you do not have time to rush for the jam, go for the below-mentioned substitutes for lingonberry jam.
The versatility of this jam makes it a treat even for an amateur chef. The jam partners perfectly with the meat. So, the Swedish people use it in fried herring. Other traditional dishes like potato cake, blake pudding, and oatmeal porridge also utilizes these ruby-colored berries. You can add it while making meatballs, beef stew, and Norwegian pancakes.
In baking, you can add it to a doughnut or a sweet cake. If you just want to spread it on a toast, you will still enjoy it.
The jam is easy to prepare and requires sugar, water, and lingonberries. Thanks to the high amount of benzoic acid, the jam does not need additional preservatives.
This fruit is expensive owing to its wild cultivation. The sweet and sour taste profile makes it a people's favorite.
Furthermore, it is a great source for treating urinary tract infections. If your years-long problem is hard to handle, try lingonberries to relieve the situation.
Substitutes For Lingonberry Jam
1) Apple Sauce
Are you looking for a substitute that you can use with meat? Then, apple sauce comes into play. The taste of the sauce depends on the making process. Unlike lingonberry jam, the apple sauce is a more affordable option. The major benefit is easy availability.
The taste profile is slightly different but the usage of both is the same. In addition to meat, you can add it to different desserts. It is versatile and is common in European and North American cuisines.
2) Cranberry Jam
The closest substitute for lingonberry jam is cranberry jam. The reason is the similar sweet and tart taste profile. They are replaced in a one-on-one ratio in recipes. The general taste of cranberries is sour in comparison to lingonberries. However, when you make the jam, the sugar balances out the extra sourness. You can eat it with meat dishes especially the birds. Use it as a spread on bread or in desserts.
Cranberry and lingonberry even have the same health benefits. Both can treat urinary tract infections effectively.
3) Currant Jam
The next replacement is the red currant jam. Currants contain pectin and acidity. It allows the jam to gel well without adding preservatives. The taste profile will not disappoint you as it is sweet and tart like lingonberry jam. This tasty jam goes well with roasted lamb or as a topping on ice cream. The vibrant red color spread will satisfy your taste buds on the bread too.
Again, the nutritional benefit makes the currant jam a source of antioxidants and tannins.
4) Pomegranate Molasses
This deep red colored syrup is a part of Middle Eastern cuisine. The flavor adds to soups, cocktails, and various dressings. The texture is thick and viscous. The diversity and taste make it one of the best options on our list.
You can replace lingonberry jam with this in meat dishes or even desserts. It is easy to make at home. So, if you have some pomegranate juice available at home, you can easily substitute lingonberry jam. Reduce the juice with sugar and lemon juice. It has a high amount of tannins and antioxidants.
5) Rowanberry Jam
Another type of berries is the rowan berries. It is a major part of British and Scandinavian cuisines. So, you can also use its jam to substitute for lingonberry jam. You can utilize its sweet and sour taste in meat dishes like lingonberry jam. Its jelly is a treat as soon as it reaches your mouth.
The nutritional value is great as it also treats urinary tract infections owing to the tannins. It is rich in Vitamin C, iron, and antioxidants.
So, we can say the delicious lingonberry jam has many substitutes. You can choose the replacement you can easily get and use it in the recipe calling for lingonberry jam. The closest one is the cranberry jam or you can even try its sauce. The interesting thing is that almost all the alternatives give the same nutritional value, so you won't be missing out on not using lingonberry jam.