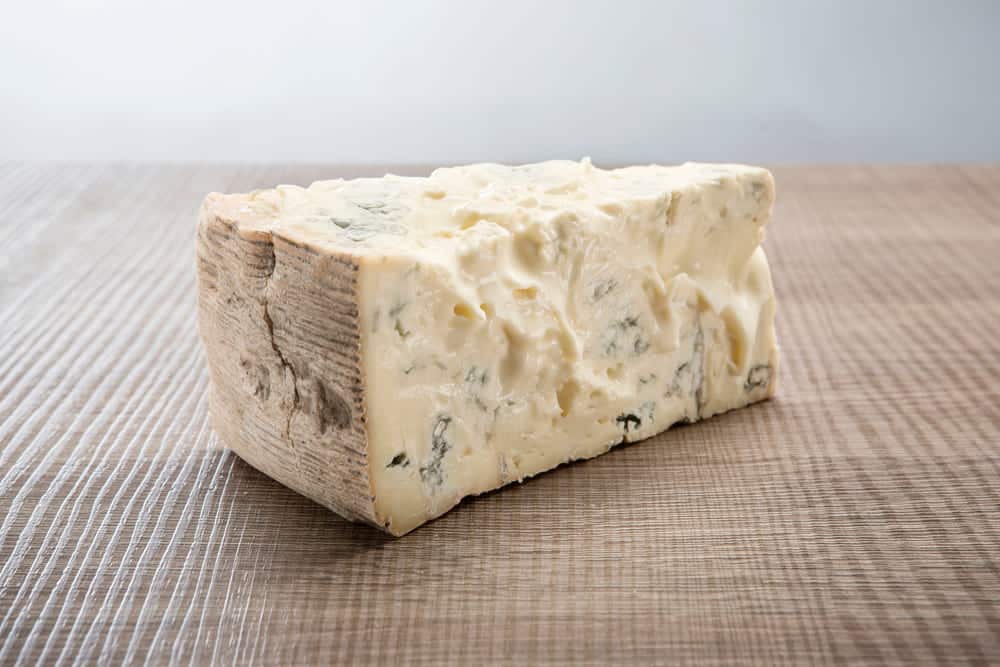 Gorgonzola cheese has a sharp, unique, and spicy flavor that differentiates it from other types. It is characterized by the unique veiny, blue-colored appearance. The presence of greenish-blue penicillin mold gives a spicy and sharp flavor along with the creamy texture of this cheese.
It is one of the famous kinds of cheese that comes from northern Italy. Gorgonzola has a recognizably different taste when compared with other cheeses.
Traditionally, gorgonzola cheese comes from dark and wet caves. It takes almost a year to mature. Nowadays due to the use of Penicillium Gorgonzola, it can be prepared within 2-3 months. Gorgonzola has two most common types that are Piccante and Creamy Gorgonzola.
The creamy gorgonzola is soft having a creamy texture. Chefs and everyday cooks use it extensively in sauces or cooking. You can use Gorgonzola cheese in a wide range of dishes such as desserts, soups, pasta, salads, etc.
The addition of gorgonzola in the recipe is a valuable input as it contains calcium, iron, phosphorous which makes it a healthy diet. It also contains lactic ferments that are essential to protect the intestinal flora.
Substitutes For Gorgonzola Cheese
If you are making a recipe that calls for Gorgonzola cheese, and do not have it then what to use in place of this cheese? Here is the solution for the non-availability of gorgonzola cheese. Choose any substitute and use it in your recipes to replace Gorgonzola.
1) Blue d' Auvergne
This cheese has similarities to gorgonzola as both are made from cow's milk. The flavor of Blue d' Auvergne is slightly spicy than gorgonzola. You should choose a longer-aged Blue d' Auvergne as a substitute for gorgonzola cheese. The reason behind this is that a mature age Blue d' Auvergne can better replace the intensity of gorgonzola cheese.
2) Roquefort Cheese
It is a creamy white cheese that utilizes ewe's milk. Roquefort cheese is made from sheep's milk and its name is derived from its place of origin. It is tangy, crumbly cheese that resembles gorgonzola. You can substitute Roquefort cheese for gorgonzola in your recipes. Roquefort cheese is a little bit creamier and more bearable in comparison to gorgonzola cheese. Roquefort cheese ages within dark caves. The aging requirement of this cheese is almost 9 months.
3) Goat Cheese
It is a creamy cheese that goes well with many foods. Goat cheese does not have as much strength as Gorgonzola, but it gives a creamier texture to recipes. Therefore, it is a good option to replace Italian cheese. The benefit of using goat's cheese is that it has a lower fat content.
4) Gorgonzola Dolce
It is a soft blue, buttery, and soft cheese made from cow's milk. It is comparable to gorgonzola since both kinds of cheese use the milk of a cow. Gorgonzola dolce is sweet but not much intense as Gorgonzola. So, if you are looking for an option to replace gorgonzola in salads or pasta sauces then Gorgonzola dolce is the best substitute. The texture of this cheese is slightly softer than gorgonzola cheese.
5) Danish Blue
Danish blue is also known as Danablu that is made from cow's milk. Danablu belongs to the family of blue cheeses. The taste of this cheese is sharp and salty containing 25-30 % salt. Danish blue is a good source of protein and calcium. The addition of this cheese will enhance the nutritional strength of recipes.
6) Stilton Cheese
You can substitute blue stilton for gorgonzola cheese. It is a blue cheese having a strong taste and aroma that offers a tangy finish. The blue Stilton cheese has a bluish appearance and strong flavor. Stilton cheese can replace gorgonzola in hot and cold recipes.
Other alternatives
In case of the absence of other options of substitutes Parmigiano-Reggiano or a Pecorino Romano are a good choice to replace gorgonzola for salads. Likewise, crumbled feta can be a good choice to replace gorgonzola cheese in recipes. But it will not provide you the strong flavor of blue cheese.
It is not hard to replace Gorgonzola due to the availability of various substitutes. You can easily replace Gorgonzola cheese with other options, and you will not have to stop following a recipe due to its absence. So, enjoy making cheesy food!