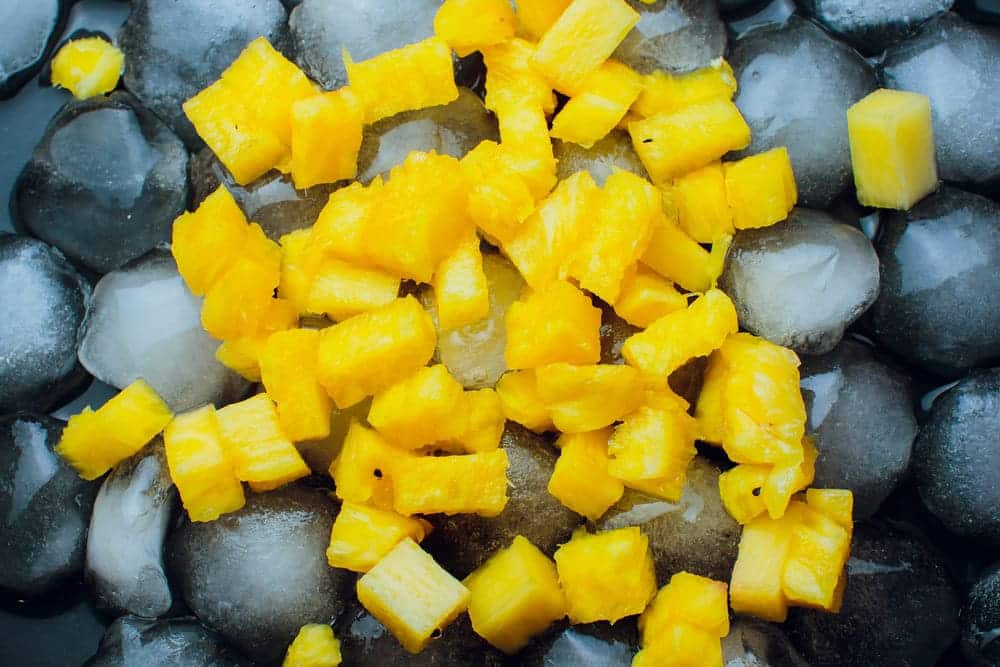 Pineapple is the perfect tropical fruit, and the taste is equally tropical. Fresh pineapple is easily available, but it can be hard to prepare (who can cut the scaly skin, right?). For this reason, people use crushed pineapple, but if you cannot find it, we are sharing the substitutes for crushed pineapple!
Substitutes For Crushed Pineapple
Crushed pineapple is basically the fresh pineapple that's cut and crushed for easy usage. The crushed pineapple can add tropical flavor to the dish and makes a great snack as well. For the most part, pineapples can be crushed at home, but it takes too long. Pineapple has a tropical flavor in the juice and flesh. Crushed pineapple can be added to recipes, salads, and desserts.
In addition, crushed pineapples can be used in savory dishes, such as grilled pineapples on hamburgers and pizza topping. The crushed pineapple is suitable for sweets, yogurt, ice cream, and jams. It can be added to beverages for adding tropical flavor to the cocktails. Now that you are clear about crushed pineapple, we are sharing the substitutes for you!
1) Canned Apple Pie Filling
Whenever you have to replace crushed pineapple, you can use canned apple pie filling. This is because it will add a similar texture and flavor. However, we suggest that you add some apple juice to the filling to gain the right volume and consistency. Some people make apple pie filling on their own, but it's best to use the canned form.
This is because the canned apple pie filling has a better flavor. Canned apple pie filling can be made with apples, butter, spices, and brown sugar. The canned filling is perfect for pastries and desserts. However, if you want to increase the thickness and density, you can add a bit of cornstarch. So, just hit the market and buy canned apple pie filling for replacing crushed pineapples.
2) Grapefruit
Sure, grapefruit is the citrus fruit, but it has a tropical flavor that can help copy the crushed pineapple flavor. Grapefruit will have a hint of sweet flavor and a dominant sour flavor (yes, just like pineapple). It can be easily used for replacing crushed pineapples in desserts and cakes. However, there are different varieties of grapefruit out there, but you should use pink grapefruit.
3) Passion Fruit
If you want to replicate the tarty and sweet flavor of crushed pineapple, you can opt for passion fruit. Passion fruit has a sour and sweet flavor but will have a juicier form. The best part is that passion fruit is readily available (it's available around the clock). It has different varieties, but you can also use passion fruit with purple or yellow flesh for replicating the flavor of crushed pineapple.
4) Lime
In case you just wanted crushed pineapple to improve the flavor and taste of the recipe, you can opt for lime. The best thing about lime is that it is rich in nutrients. However, you will need to use fewer lime slices while replacing crushed pineapple. This is because lime can have a tarter flavor, so keep a tab on the quantity. For adding the sweet flavor, you can drizzle some honey or sugar.
5) Orange
If you cannot find lime or don't want too much tartness, orange makes a great replacement for crushed pineapple. In addition, it is readily available. Orange will deliver a well-balanced flavor and aroma, which is actually great. However, it has a high citric acid content, so you have to use the slices soon after cutting them out. Orange slices can deliver a combination of slight bitterness and sweetness. Lastly, it can only be used to replace crushed pineapple in desserts.
6) Papaya
When you are trying to copy the sweet flavor of crushed pineapple, you can use papaya fruit. This fruit has a buttery texture and will literally melt in your mouth. It has slight bitter undertones, so you have to add additional honey. When you are trying to replace crushed pineapple, it's better to use papaya in raw form because it has a better flavor.
The bottom line is that these substitutes for crushed pineapple are great desserts and cakes. However, for savory dishes, you can use canned apple pie filling. So, which substitute are you going to use?