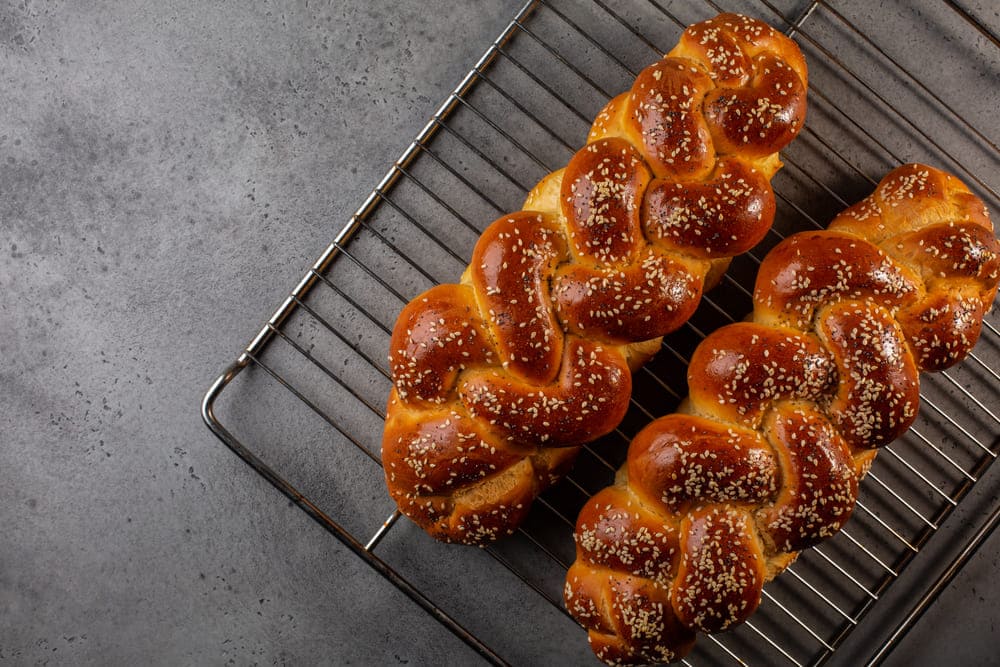 The Challah bread is more of a tradition followed in the Jewish religion. It looks like braided bread and is made from the simplest ingredients available in the kitchen. The color of the bread is golden yellow owing to the large number of eggs used in it. The Jewish people set out a small amount of dough before baking the bread, and then give that bread to the priest. However, if you are looking for better options for a meal or dinner, then go through our list of substitutes.
There are various recipes to make Challah bread, but the main ingredients remain the same. These are yeast, eggs, salt, sugar or honey, flour, and oil. The bread dough contains the rich flavor of eggs and oil, whereas the sugar adds a sweet taste.
The making process is not very hard. First, add yeast to warm water and sugar until it becomes frothy. Add three eggs and egg yolks of two eggs with all the other ingredients in the mixer. Add the rest flour afterward to make a soft dough. Knead it properly and cover it with plastic wrap for 1.5 hours. Then make ropes out of the dough and make a braid. Cover the loaves for some time to let them rise more. Apply a mixture of water, egg white, and honey on the loaves and bake.
Substitutes For Challah Bread
1) Brioche
We can term Brioche as the most appropriate substitute for Challah bread. The biggest similarity between the two is the high number of eggs, while the difference is that brioche contains butter, unlike Challah. Butter gives the bread a rich, fluffy, and light texture.
It is a nice blend of sweet and savory flavor. Brioche is gluten-free making it a great choice for celiac disease patients to enjoy the buttery, rich taste of this bread. You can serve it with anything you like. Add some chocolate spread, jam, or enjoy it as a plain piece of bread. Brioche these days are used for rolls and hamburger buns.
2) Hawaiian Bread
This is also a soft and fluffy bread made with simple ingredients. However, an additional element is the pineapple juice, if you do not want to use yeast. Along with flour, milk, sugar, eggs, you can add some vanilla.
3) Portuguese Sweet Bread
This sweet bread is made from flour, sugar, milk, yeast, and lemon. The airy Portuguese bread has maintained the tradition of Portugal in other parts of the world too. A hard-boiled egg is often part of this type of bread. So, you can also try this bread in place of Challah.
4) French Bread
French bread is often known as Baguette, but it is just a type of French bread. The items you need to make it are water, salt, flour, and yeast. You have to use an electric oven to bake French bread. The crispy crumb and sweet taste make it a unique type of bread.
It is a long and narrow bread with diverse uses in the kitchen. You can use it in a homemade pizza crust, French onion soup, or in making garlic bread. French are good at baking bread and this bread can prove to be a great substitute for Challah.
5) Italian Bread
Italy and cooking go hand in hand. Italians have created many important dishes and this bread is no different. Its shape is circular and can be made from few items like water, flour, yeast, salt, sugar, milk, and olive oil.
The savory bread has a unique stone oven baking method. The bread is moist and has a thin crumb. The center is soft and fluffy. You can serve it with pasta or eat it simply with some additional olive oil and sauce of your choice. Thus, use it in place of Challah bread whenever the need arises.
Challah is a traditional bread made at events important for the Jews. The tasty and eggy bread has a rich flavor, even though the simplest kitchen items are used in its making. The process is simple but requires proper attention.
Some substitutes for Challah mentioned above make it easy for you to enjoy a meal if you can't get a hand on Challah. Try brioche, Hawaiian, French, or Italian bread and you would see how well they would replace the traditional Challah bread. These substitutes can be used for any event or a meal when you are treating yourself.