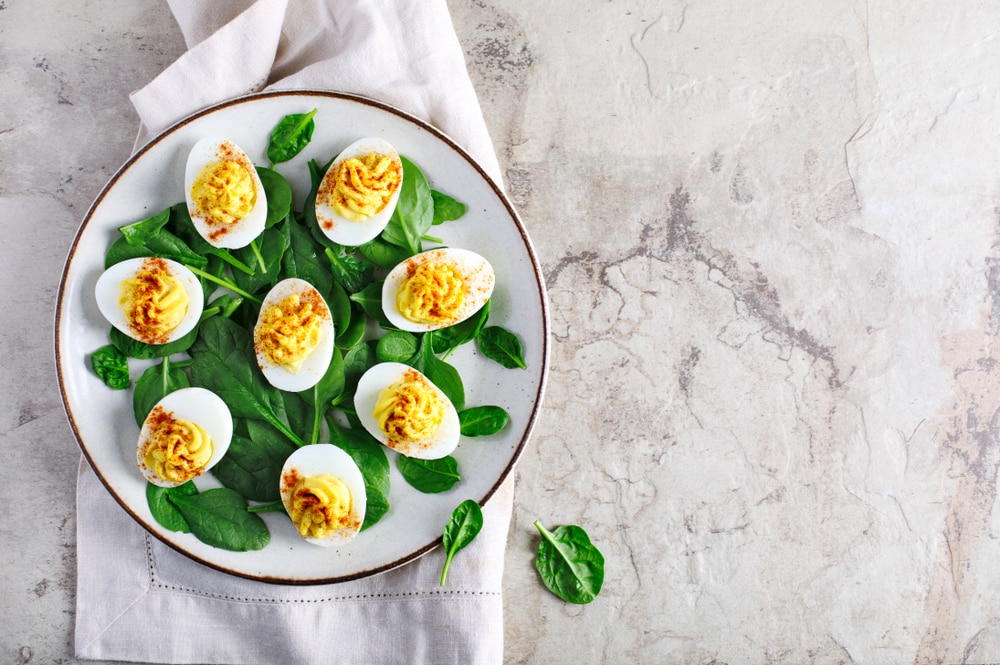 Deviled egg is one of the best ways of consuming eggs, and it's a classic recipe. It is usually made with mayo or Greek Yogurt, while the filling is seasoned with vinegar because it adds a sour yet bright flavor to the meal. However, if you cannot find vinegar to season the deviled egg filling, you can try out the substitutes mentioned in this article!
Substitute For Vinegar In Deviled Eggs
1. Rice Vinegar
Rice vinegar is one of the best substitutes available for vinegar and goes well with the deviled egg recipe. It can easily add a sweet flavor to the sauces as well as the deviled egg filling. You can opt for a 1:1 substitute ratio for rice vinegar, and you will be able to enjoy an absolute kick of flavor in the deviled eggs. On the other hand, if you cannot find rice vinegar either, we suggest that you mix one tablespoon of the same old apple cider vinegar with ¼ teaspoon of sugar, promising a better flavor in deviled eggs.
2. Apple Cider Vinegar
If you are looking for easy-to-find vinegar substitutes, you can opt for apple cider vinegar. This is because it's quite easy to find and can be added to a variety of seasonings and dressings, including the deviled eggs seasoning. The best thing about apple cider vinegar is that it's a healthier choice. However, it has a more pungent flavor and aroma, which is you should add only one tablespoon of apple cider vinegar to replace two tablespoons of your regular vinegar. As far as the flavor is concerned, it will be extremely similar, and you won't experience any difference in flavor.
3. Balsamic Vinegar
If you don't mind adding sweet hints to your deviled egg seasoning, it is suggested that you use balsamic vinegar. This is because it has a lower acidity level and tends to age like wines. For the most part, balsamic vinegar is expensive, but it'll make a delicious addition to the deviled eggs. In fact, if you are unable to find balsamic vinegar in the stores, you can make your own by mixing honey and apple cider vinegar, and the flavor will be quite similar.
4. Champagne Vinegar
It's needless to say that champagne vinegar is not a common choice, but it can be widely used in salad dressing. For the same reason, you can use champagne vinegar for deviled eggs as it adds a low acidity level and promises a bright flavor, just like white vinegar. The best thing about champagne vinegar is that it can be added to fancy meals as well and makes a great addition to meat marinade. Keep in mind that it has a mild flavor, which means it will not overpower the flavor of deviled eggs. If you are confused about the substitution ratio, 1:1 would be fine, but you can add more by taste-testing.
5. White Wine Vinegar
If you are following the deviled egg recipe that asked for white vinegar and you don't have it on hand, you can easily opt for white wine vinegar. This is because it has an acidic nature like white vinegar and makes a promising alternative. The best thing about white wine vinegar is that it has a mellow and soft flavor, which adds a rounded and nuanced flavor to the eggs.
6. Lemon Juice
Lemon juice is a non-vinegar option for people who want to replace vinegar in deviled egg seasoning. It is suggested to opt for fresh lemon juice because it will have similar acidic nature to vinegar and adds a sour and bright flavor to the recipe. In simpler words, lemon juice will make a delicious addition to the deviled eggs. The best thing about using lemon juice is that it has a less acidic nature than vinegar, but the bright flavor will be the same. Last but not least, you should use two tablespoons of lemon juice if the recipe calls for one tablespoon of vinegar. So, get back to squeezing the lemons.
7. Lime Juice
In addition to lemon juice, you can also opt for lime juice. This is because lime juice has the acidic and tarty flavor as lemon juice and has a mild hint of sweetness, which promises great taste in deviled eggs. Also, it will enhance the vibrancy and brightness of the flavor!