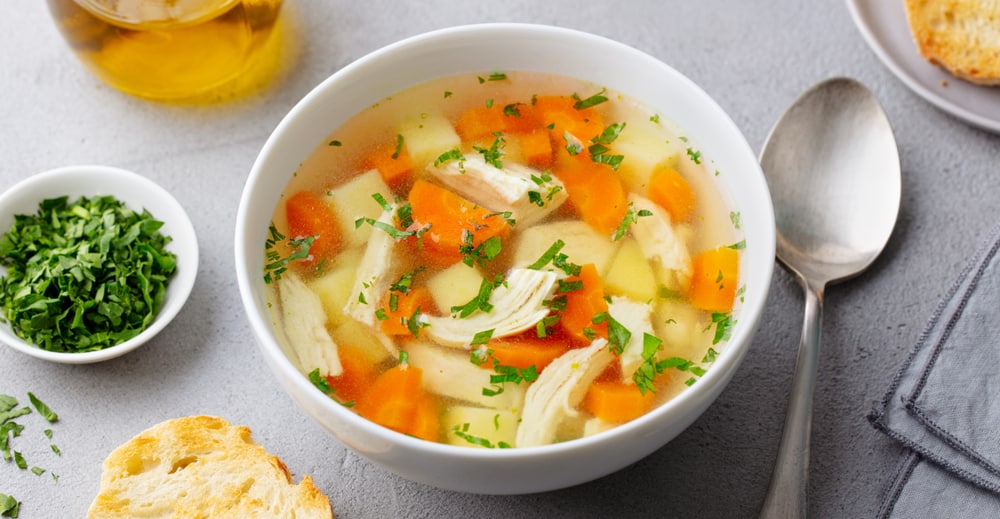 Chicken soup is the ultimate winter staple food and it's widely consumed by people who want to enjoy rich flavors of chicken while staying warm. On the other hand, some people are more into a condensed chicken soup as it's better in quality terms and is mixed with cream to create a smoother texture. However, it's generally not very easy to find which is why we are talking about substitutes for condensed chicken soup!
Substitute For Condensed Chicken Soup
Condensed Chicken Soup – What Is It?
For the most part, this is the commercially available soup that's made with double chicken strength and has higher salt content. The condensed chicken soup has more flavor as compared to regular chicken soup and can be used in casseroles and stews. In some cases, people also dilute it while some people use it in the condensed form. In fact, you can mix a can of condensed chicken soup with flour and make mild-flavored gravy. So, if you don't have access to the condensed chicken soup, we are listing some substitutes below!
1. Make Your Own
The first and the most effective choice is making your own condensed chicken soup. It is generally commercially available but if you cannot find it, it can be made in a pinch. For this purpose, just combine one part of chicken stock with one part of water, add salt according to your taste preference, and cook it. To make it more condensed, you can reduce this mixture and you can also add more chicken stock to enhance the chicken flavor.
2. Bouillon Cube
If you don't want to make your own condensed chicken soup, you can opt for the bouillon cube. For this purpose, you can simply add a bouillon cube to the can or cup full of water and let it stand for some time. The best thing about using a bouillon cube is that it doesn't impact the flavor and texture of your end meal. As far as the application is concerned, it can be used in marinades, stews, gravies, and soups without any issues. As far as the flavoring is concerned, you can add salt and seasonings according to your personal preferences.
3. Non-Condensed Chicken Broth
This is another substitute for using condensed chicken soup because non-condensed chicken broth can be used to fit the bill. This broth is easier to find in the grocery stores and it wouldn't be wrong to say that it's regular chicken soup with more water content. For this reason, you can simply use it in place of condensed chicken soup by cutting down the water content. Having said that, you only need to add the broth to the pan, heat it up to reduce it, and add water if you need it. You can also add other flavorings to enhance the flavors.
4. Vegetable Broth
If you cannot find the condensed chicken soup, using condensed vegetable broth is another amazing option. The condensed vegetable broth is available in canned form in the grocery stores but you can also use the dehydrated vegetable broth. If you are using the latter option, mix four teaspoons of dehydrated vegetable broth in two cups of water and boil it. Once it comes to boil, you can add cream to give it a condensed form and you can even add salt to enhance the sodium content. Now that you've mixed up everything, boil the mixture down to your desired form.
5. Beef Broth
Beef broth is made by heating the veggies and meat with water and is brought to a boil to make sure the ingredient excrete their flavor into the broth. For the most part, beef broth has a thinner texture but it can always be made thicker with the inculcation of flour. However, you should only use beef broth if you are fine with extremely strong flavor and a dark brown appearance. Keep in mind that it can alter the texture, appearance, and flavor of the food.
6. Cream of Asparagus
This is the last option that you can use in place of condensed chicken soup. The best thing about the cream of asparagus is that it's suitable for soups, vegetable and ham casseroles, rice recipes, and chicken recipes. However, you must remember that it can add dominating flavor of asparagus, so keep your recipe in mind.