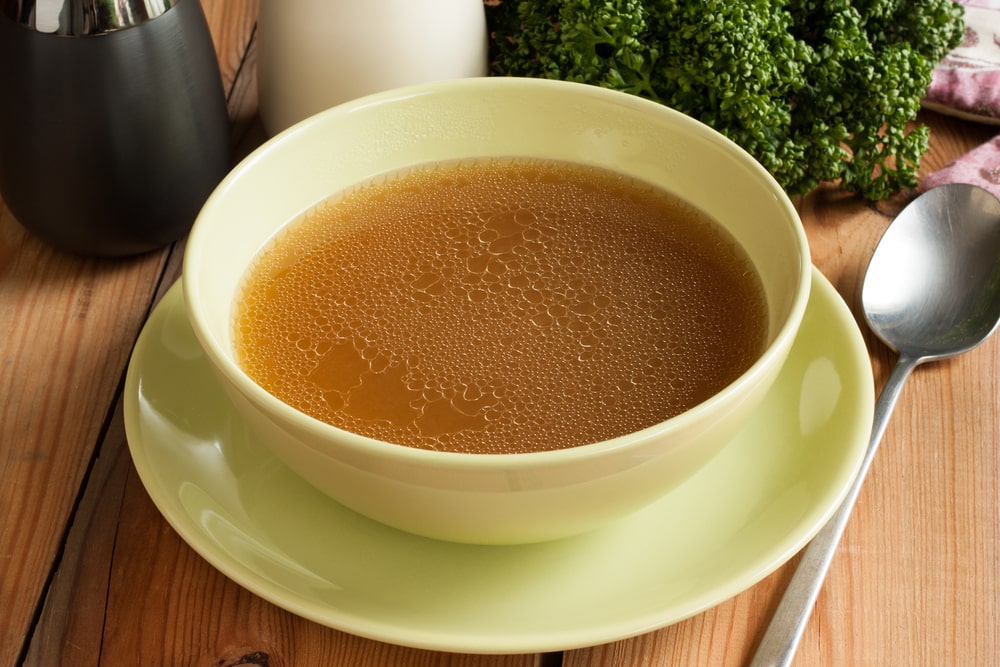 Pot roast is one of the most delicious dinner recipes out there, and the real flavor comes from the beef broth. Beef broth is usually made from vegetables and meat, which has a watery consistency, but it holds a richer flavor. In addition to pot roasts, beef broth makes a great addition to casseroles, sauces, and soups, which is why it's available in the canned section at grocery stores. However, if you are unable to get your hands on beef broth while making pot roast, we are sharing the most suitable substitutes with you!
Substitute For Beef Broth In Pot Roast
1. Beef Stock
If you aren't worried about using the beef-oriented ingredient, you can simply shift to beef stock. This is because it's the easiest substitute to find, and it can be easily found in grocery stores. The beef stock has a similar flavor to beef broth. If you are thinking about the potential differences between the two, you need to remember that beef stock is simple and plain because it is made by reducing boiled vegetables and beef bones. However, you need to remember that beef stock doesn't have a very meaty flavor, so the flavor won't be as rich.
2. Bouillon Cubes
The bouillon cubes are the flavor-packed substitute for flavoring your pot roast, especially if you don't have access to beef broth or don't want to use it. When stored properly, the bouillon cubes will remain flavorful and fine to consume. These are basically the concentrated stocks that are grounded, dried, and compressed in the shape of cubes. So, if you want to use this as a substitute, you can replace one cup of beef broth with one bouillon cube mixed in one cup of water. For making the bouillon cube in the form of liquid, you need to dissolve this in boiling water and bring it to a boil to ensure it's fully dissolved.
3. Vegetable Broth
If you are fine with the meat-less flavors, you can opt for vegetable broth, and it can be made with a variety of vegetables to bring in the rich flavor. For instance, vegetable broth is made with a combination of carrots, mushrooms, onions, and garlic to add a rich flavor. In addition, you can add bay lead, pepper, rosemary, thyme, or other Italian seasonings because it helps infuse better flavor. These seasonings have to be infused white sautéing the vegetables. To replace beef broth in pot roast, you can opt for one cup of vegetable broth. You can also enhance the flavor by adding soy sauce and red wine. In fact, some people add hatcho miso because it adds a unique flavor.
4. Mushroom Broth
The mushroom broth is one of the most convenient forms of replacing beef broth. It is made by sautéing the yellow onions, carrots, parsley springs, bay leaves, thyme, salt, peppercorns, and water along with the assorted mushrooms. Once these ingredients are sautéed, they are left for simmering to reduce. Also, if you don't have assorted mushrooms, you can opt for button mushrooms. The broth is properly done when the vegetables are soft, and it will achieve a mushroom flavor – making mushroom broth will take around one hour. In fact, you add a dash of soy sauce or red wine during sautéing to bring in better flavor.
5. Beer Or Wine
Ranging from beer or wine, you can use them for making pot roast, and it's a great choice for braising the meat as well. In addition, beer or wine can be used as a replacement for beef broth in gravy, stews, and chili. However, you need to keep in mind that it demands careful cooking because it can catch fire.
6. Soy Sauce
Soy sauce might sound like an unconventional option because it can easily replace beef broth while making pot roast. In fact, you can mix soy sauce with steak sauce to bring a unique flavor. The best thing about using soy sauce is that it will bring in color as well as flavor.
7. Beef Consume
Beef consomme is generally made by reducing the beef broth into the sauce texture. Similarly, it is pretty evident that it has a thicker consistency and rich flavor, which means little goes a long way. Also, you can try thinning the beef consomme by adding water.