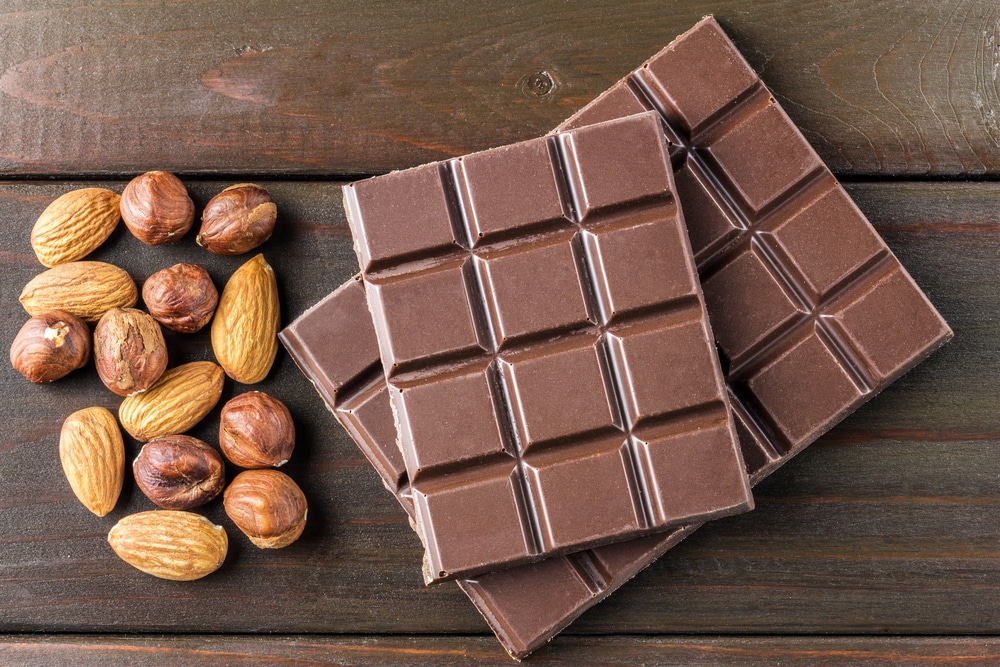 Bittersweet chocolate is a great addition to your recipe when you're going for a balanced flavor and a pleasant sweet presence of chocolate. The best thing about this ingredient is that it won't overwhelm the recipe, and you will have a perfect finish product as long as you stick with the bittersweet or semi-sweet chocolate. However, using sweet chocolate will easily mask other flavors and decrease the depth of your dishes.
Substitutes For Bittersweet Chocolate
Sadly, it is not that easy to source quality bittersweet chocolate all the time, and many people struggle to get their hands on this ingredient. If you're in the same shoes and can't seem to find a good portion of bittersweet chocolate, then the following details will help you pick the perfect substitute.
Dark Chocolate
It is not that rare for people to confuse bittersweet chocolate with dark chocolate and the main difference here is the percentage of cacao to sugar. Usually, bittersweet chocolate falls anywhere from 10 to 30 percent sugar ratio, while dark chocolate can go up to 50 percent sugar content in the chocolate bar. So, if you're not that worried about the sweetness of your dish, then going with dark chocolate is the best solution.
You won't have a hard time trying to source this item in large portions, and you can easily manage the sugar content or sweetness by adding some butter to the recipe. Moreover, you won't have to use as much dark chocolate to get the same texture and balanced flavor when developing your recipe.
Cacao Powder
If you're looking for more control over your recipe, then this is the next best thing. However, the handling can be a bit hard as you'll have to make use of equal portions of sugar and butter to develop a bittersweet flavor. It will take a few tries to get the consistency down, but once you're used to working with Cacao powder, there isn't a better option available on the market. So, go with a butter, sugar, and cacao powder mixture, and you'll have more control over the final flavor of the recipe.
Aside from the increased control over the final flavor of the recipe, you will enjoy a reasonable price tag on this item. You won't have to extend the budget in any dimension, and you'll be able to customize the recipes easily according to your preferences.
Carob Powder
If you're not a fan of the chocolate consistency and need something else to add to your dish, then Carob powder might be the right choice for you. It is a bit sweeter in taste, and you'll have to hold off on additional sugar when making use of this powder. So, keep that in mind and use minimal portions of butter and sugar as you adjust the taste to replicate bittersweet chocolate.
Milk Chocolate
When aiming for a creamier texture, milk chocolate should be your first choice. You'll still have to use cacao powder with this item, but the overall presentation and texture will be much better than a simple bar of bittersweet chocolate. Moreover, it is easier to work with milk chocolate, and it introduces a new depth of flavor to your dishes. So, try out milk chocolate if you're not a fan of the same firm structure and extra sweet flavor offered by your traditional bar.
Caramel Chips
Caramel chips are a bit sweeter in most conditions, but you can mask this increased sweetness by adding a bit of butter to your recipe. It is recommended by many experts because of the same creamy texture as milk chocolate, along with a unique rich flavor that you can find in baked items. So, give these chips a try if you're aiming for a distinct flavor that is a bit richer than bittersweet chocolate.
Unsweetened Chocolate
Lastly, you can always rely on unsweetened chocolate as a base and then keep adding sugar and butter potions to make it a bit sweeter. It is the best option for users trying to limit their sugar intake, and you can stay within the 10 percent range pretty easily when using this item. It is available in most stores, and you won't have to go through any extensive procedures to source unsweetened chocolate.