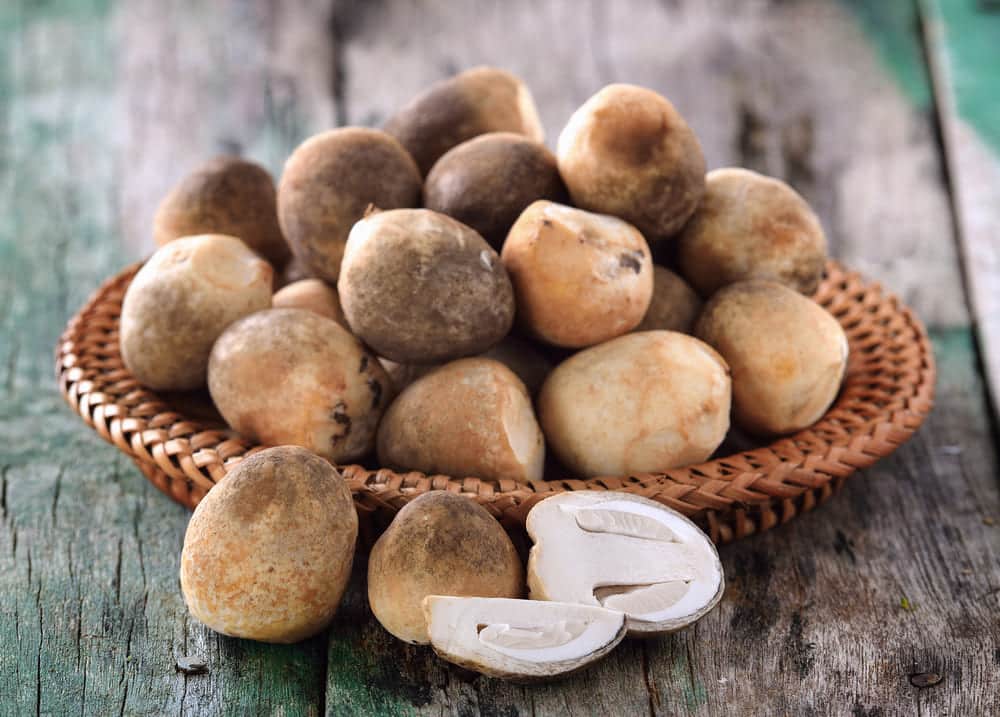 The straw mushrooms, scientifically known as the Volvariella volvacea and commonly called the Thai straw mushroom and the Paddy Straw Mushroom. These mushrooms come in a wide variety of shapes, sizes, and colors. The most commonly found color is light brown with a more delicate stem. Straw mushrooms make up an essential part of Thai cuisine. These mushrooms have a robust and distinctive taste, making them slighter tricky to cook with. Straw mushrooms might not be as common in cooking as other mushrooms, but they're still slightly heavier on the pocket.
Straw mushrooms are available in various variations. Sometimes with the cap and stem attached, at times with the stem removed. They also come with an option of peeled and unpeeled. So, before you plan to stir-fry a few straw mushrooms into your soup, figure out what kind works best for your recipe.
Although these mushrooms have been part of dishes for many years, they're more difficult to kind, and you'll find yourself in a fix looking for these at various supermarkets. If you're tired of going from store to store looking for a jar of Straw Mushrooms, try placing an online order or using one of the substitutes mentioned below.
Straw Mushroom Substitutes
1) Enoki Mushrooms
Also known as the Velvet Shank or Enokitake is famously used in Japanese cuisines. The best part about Enoki mushrooms is that you can eat them raw. They have a delicate flavor and are generally crisp in texture, unlike most mushrooms which are soft and chewy.
Enoki mushrooms are stir-fried and used in soups, noodles, baked dishes, pasta, and risottos. These mushrooms are rich in antioxidants and have a high amount of vitamins, amino acids, and fiber. If you can't get some straw mushrooms, using a few Enoki mushrooms might not be a bad idea. Enoki mushrooms are now widely available worldwide so it won't be a hassle getting your hands on them.
2) White Mushrooms
White mushrooms, also known as table, joint, button, or champignon mushrooms, are readily available and famous for being nutrient-dense. These mushrooms are among the most common types consumed in the USA. White mushrooms have a slightly sweet taste which makes them ideal for salads and appetizers.
If you're cooking a roasting, sauteing, or stewing recipe that demands some straw mushrooms, you can easily replace them with a handful of white mushrooms. You won't regret it.
3) Shiitake Mushrooms
Shiitake Mushrooms are dark brown and have a rich meaty flavor. They come in variable sizes and are among some of the most expensive mushrooms available worldwide. You can use these mushrooms both when fresh and when dried, depending on what recipe you're making. If you're using dried mushrooms, soak them in a bit of water or give them a slight boil; otherwise, it gets a little tricky cooking them. The consumable part of these mushrooms is just the cap; the stems are tougher to cook but add a wonderful flavor to gravies and stew.
While Shiitake mushrooms seem like a good option, keep in mind that some varieties of shitake mushrooms can cause a hyperreactivity reaction leading to skin rashes and digestive issues. Make sure you clean them properly and try cooking them a little before consumption. Raw Shiitake mushrooms don't seem like a good idea.
4) Portobello Mushrooms
Portobello mushrooms have a rich meaty flavor. They are ideal for vegetarian recipes where you want a good filling. Given their savory addition to the recipe, they can make anything you're cooking super tasty. When replacing Straw mushrooms instead of portobello mushrooms, make sure you adjust the spices and go a little easy on the salt.
5) Cremini Mushrooms
Like most flavorful mushrooms, Cremini mushrooms are also slightly expensive but an excellent addition to your meal. They are somewhat brown. In comparison to other mushrooms, they have a firm texture. However, give a great filling!
If you're planning on cooking a recipe that requires Straw Mushrooms, don't lose heart, you can always use a substitute. This makes cooking fun, and you don't have to restrict yourself to a few ingredients only. The good thing with Mushrooms is that you always have a wide variety to replace from instead, and similarly, in this case, try using Enoki or white mushrooms, and you'll feel like you haven't replaced anything in the recipe.