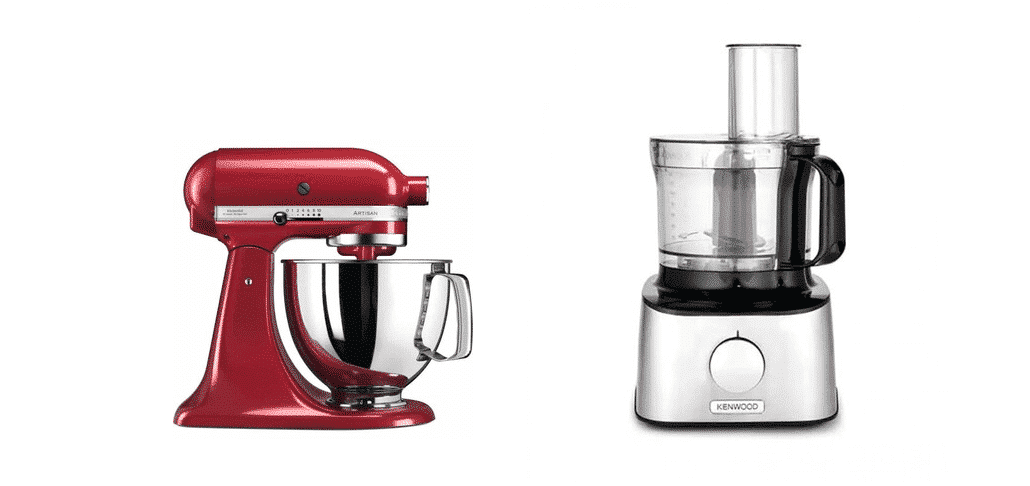 Sure, you have all the pans and pots in your kitchen, but there is always a need for some electric equipment. This is because the kitchen equipment like stand mixers, beaters, and other machines have become crucial. Similarly, people are wondering about the stand mixer vs. food processor and if there are any differences involved. So, let's get to the details, shall we?
Stand Mixer vs Food Processor
Food Processors
For everyone who wants an all-rounded experience in the kitchen, a food processor will fit your bill. The food processors are designed with an extensive range of accessories that makes them suitable for various food preparation tasks. Ranging from grating to chopping, slicing to mixing, kneading to puréeing, and whisking to whipping, the food processors will make everything possible. Some food processors are designed with blender attachment that's suitable for making soups and smoothies.
The biggest benefit of using a food processor is its capacity to hold various preparation tasks. In simpler words, these food processors will lead to promising slicing, chopping, and grating. On the contrary, people are concerned about the expensive price factor and huge design, which makes them hard to store. Even with food processors, there are various price ranges, and the most expensive ones come with higher capacity and extra bowls.
For people who like to prepare dips and sides, the food processor will be suitable for them. The knocking and kneading features of a food processor suffice to various needs. However, the kneading feature of the food processor is not good enough because it doesn't offer thorough kneading. Some of the food processors are designed with grating and slicing discs, which means the users can cut fruits and veggies in the form of blocks or slices. In addition, there are fine graters as well.
On top of everything, some discs in the food processor are designed to cut the fresh fries, and some of them can be used to cut the loops. The loop-cutting features can be used to cut cheese, nuts, and chocolates. When it comes down to making dips and sauces with food processors, keep in mind that food processors work greatly with a thick consistency, such as pesto. For making soups, the special blender attachments can be used from the food processor.
On the other hand, if you need to make thin juice, the juicer attachments are usable. In addition, mixing bowls can be used for making smoothies. Even more, one can use the food processor for grinding the ice. As far as the kinds of pasta are concerned, food processors aren't suitable for it. Even more, the meat grinder is not suitable. However, one can chop the tomatoes, garlic, and onion. All in all, it's versatile kitchen equipment.
Stand Mixers
To begin with, the stand mixers are great for regular bakers since they are designed to knead, mix, and whisk. Sometimes, the stand mixers are known as kitchen machines and food mixers. It wouldn't be wrong to say that stand mixers will be suitable for baking tasks. The stand mixers are designed with huge mixing bowls, which makes them apt for baking huge batches. We have already mentioned that stand mixers are great for mixing, kneading, and whisking, but there are other features as well.
For instance, some stand mixers are designed with extra accessories, such as blending, slicing, grating, and mincing. When it comes down to the brands, Kenwood and KitchenAid have been designing the top-notch stand mixers, and they offer various accessories, such as spiralizers and ice-cream makers. Some of the stand mixers are designed with blender jugs. On the contrary, the stand mixers have limited features since it's only good for baking purposes.
However, these stand mixers will be a great investment for regular bakers. For people who want to extend the functionality of their stand mixers, extra attachments can be used, such as chopper and blender attachments, which makes them suitable for grating, chopping, and cutting. The best thing about stand mixers is that they can be used to make dips and sauces if you have the blender attachment available. For instance, you can make mayonnaise in the mixing bowl.
In addition to this, stand mixers are designed with the ability to work as meat grinders and pasta since there are special attachments available. With this being said, the users can make minced meat and fresh pasta right in your kitchen. All in all, the consistency of pasta or minced meats is dependent on the attachments.