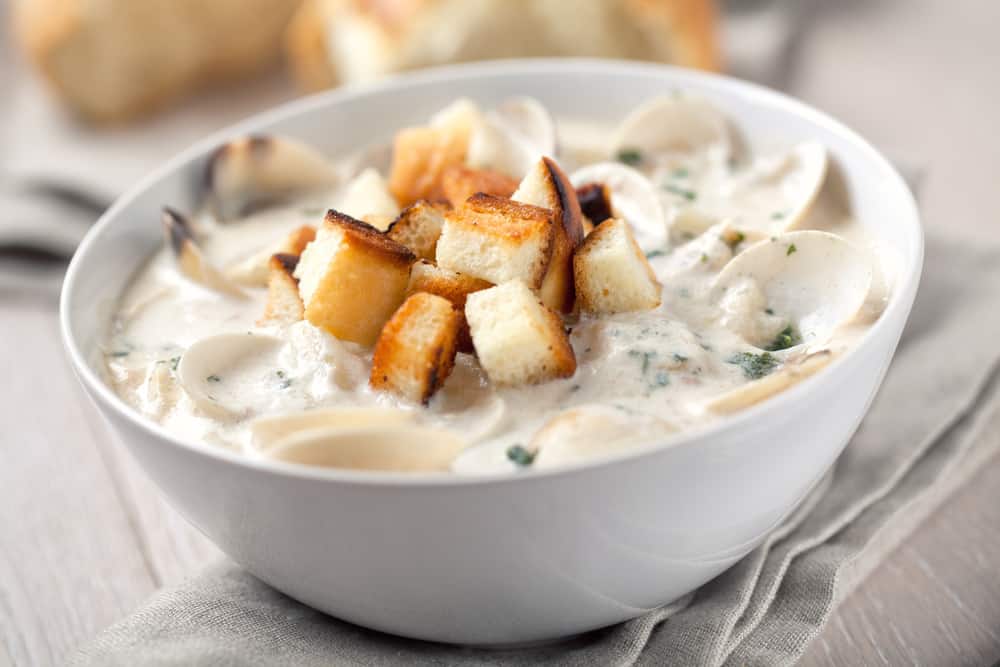 Ranging from soup to stews and chowder, all these three are considered the same, but that's not the case. All three are different from each other when it comes down to texture, preparation method, ingredients, and more. So, if you have been struggling to differentiate between these three, we are sharing the details about all of them!
Soup vs Stew vs Chowder
Soup
Soups have been around ever since the human race has been on the planet because they would make soup by simmering different vegetables and meat. In addition, some soups are also made with seafood and are flavored with different condiments and herbs. The soup tends to have the most liquid content, and it's usually a combination of water and broth. There are different types of soup, such as clear broth, pureed soup, and cream soup, but liquid constitutes the most part of the soup.
The soup is made by chopping and simmering different vegetables, proteins (different types of meat), dried or fresh herbs. In some cases, the vegetables and meat are sautéed separately, depending on the recipe before everything is added to one big pot of water. The combination of these ingredients and water is brought to a hard boil and is reduced at low heat to make soup. The best thing about soup is that it can be made within a few minutes, but the cooking time largely depends on the recipe.
Soups are served in cold or hot form, and they can be thick or clear. In addition, soup can be served at dinner, lunch, and breakfast. It's safe to say that soup is a wide category because it can be made with different bases, toppings, and add-ins. All in all, soup has a liquid texture and is pretty easy to make at home.
Stew
If you are fond of soups or liquid meals, we are sure you love eating some stew. For the most part, people have been making beef stews, which is known for its large pieces of meat and vegetables made in a broth. Stew tends to have a broth with the consistency of the gravy as compared to the soup, which has clear liquid. Stew is made by adding a sufficient quantity of stock for covering the main ingredients, but there are no specific ingredients.
Stew is popular for the thick and rich broth, which brings in all the flavors to a pot, making it one of the heartiest dishes out there. Stew is usually served with rolls, but it tastes equally delicious with mashed potatoes. In addition, it is stewed by simmering the concoction, particularly in a covered pot. For the most part, the stew is made in slow cookers or Dutch ovens to ensure the stew achieves a thick consistency and has all the aromas and flavors trapped inside.
To illustrate, stew can be defined as an ingredient-rich and thick soup. Stew is served when warm and has chunks of main ingredients, such as meat and vegetables. In addition, it has a long cooking time. While many people reduce the broth and ingredients through a longer cooking process, it can also be thickened with roux, flour, or cornstarch. All in all, it can be served with different sides, but it's equally delicious on its own.
Chowder
Whenever we hear the word chowder, we start thinking about the clam chowder, but it can be made with other ingredients as well. The authentic chowder is made with shellfish or fish, but clams remain one of the most significant ingredients. The chowder is made by combining onions, potatoes, and corns with specific seafood to bring out the real flavors of different ingredients.
The English chowder is made with a combination of milk, potatoes, onions, shellfish, and salt. However, when it comes down to the United States, multiple variations are made. For instance, the Manhattan-special chowder uses tomatoes in place of milk, and there are vegetarian chowders that are made from sweet corns, and there is no seafood.
As far as the texture is concerned, chowder is thickened with milk or cream. On top of everything, butter is an important ingredient in chowders and is thickened with the help of hard biscuits, crackers, or roux. Also, it is likely to have chunky pieces of ingredients, but the texture is creamier and thicker as compared to stew.