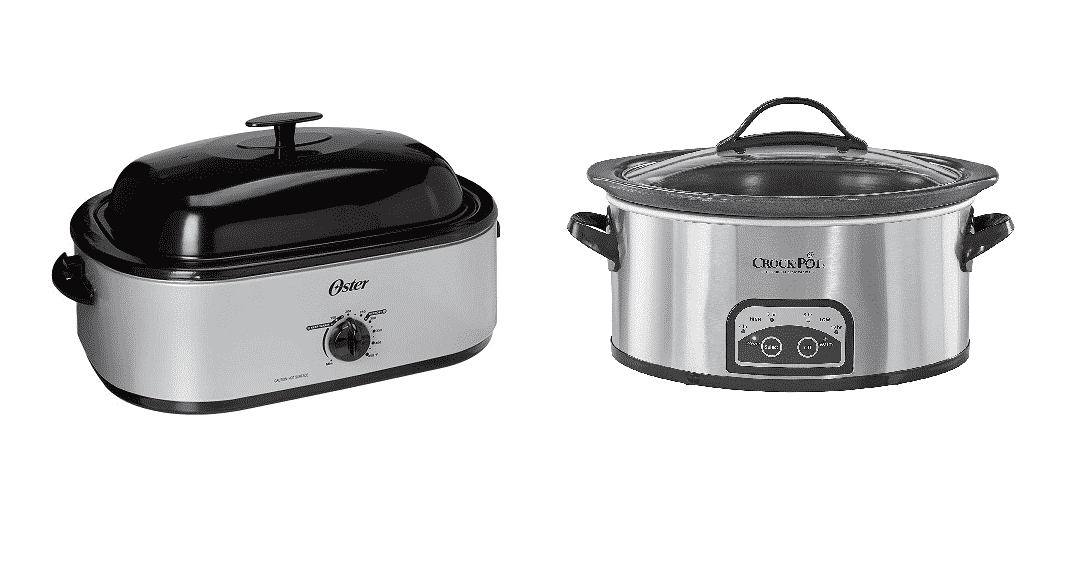 Cooking has evolved to the point where the culinary world is filled with revolutionary technologies that have changed the way that we prepare food.
Kitchenware and cooking accessories are better than ever before, with convenience and precision cooking paving the way for countless advancements.
Two trusted tools that have become a part of so many kitchens are the roaster oven and slow cookers, however, what's the difference?
We'll be taking you through a comparison between a roaster oven and crock pot so that you understand which is best for your style of cooking.
Roaster Oven vs Crock Pot
| | | |
| --- | --- | --- |
| | Roaster Oven | Crock Pot |
| Functionality | Dial Controlled Automatic Heat Regulation, High Temperature Cooking | Simple Dial Operated Temperature Controls, Perfect Slow Cooking Without Risk Of Burning |
| Size | 6.5 to 22-Quart | 1.5 to 8-Quart |
| Cooking styles | Roasts, Bakes, Cooks, Steams, Slow Cooks | Slow Cooks, Stews, Soups, Casseroles |
| Features | Roasting Without Turning, Dual Purpose (Slow Cook & Roast), Easy to Clean – Enamel/Porcelain Coated | Unattended Cooking, Slow Cooking On Automatic Timer, Easy to Clean – Enamel/Porcelain Coated, Self-Basting |
| Considerations | No Crispiness Develops | Can Only Slow Cook Dishes |
| Best uses | Cooking Tough Cuts Of Meat, Meals With Extensive Cooking Times | Roasting Large Roasts |
Roaster Oven
Roaster ovens let you roast, bake, slow-cook and steam. You won't be able to leave it unattended like a crock pot, but you can cook up a wider variety of foods.
Making food in a roaster oven is easy, cutting away most of the mess and fuss of conventional stovetop cooking. Once you get used to using a roaster oven, it may just end up being your go-to for most meals.
What is a roaster oven?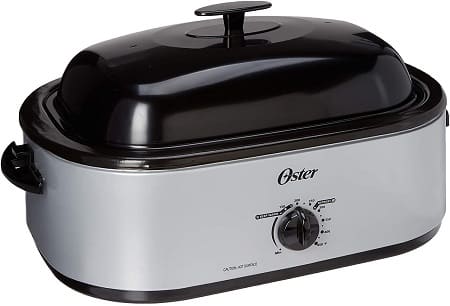 A roaster oven is an electrical cooking device that stands atop a counter, roasting food to perfection thanks to even heat distribution.
Instead of using exposed coils or gas like regular ovens, electric roasters use a large electrical heating element to distribute heat uniformly throughout the whole of the roasting chamber.
Functionality
Each oven has a heating element that matches the pan's shape and form, fitting inside snugly to provide quick heating.
Most ovens are operated using dial controls which provide a temperature range of between 200°F and 450°F.
Popular brands come with automatic temperature control, removable racks, and enamel coating to facilitate easy clean-up.
Size
Roaster ovens come in various sizes, with 18 quart being most common. That's a large cooking surface that can cook up a meal large enough to serve up to 12 people.
It's also precisely what you need to roast comfortably without crowding the pan. Most leading brands start as small as 6.5 quarts and range up to 22 quarts in capacity.
Cooking styles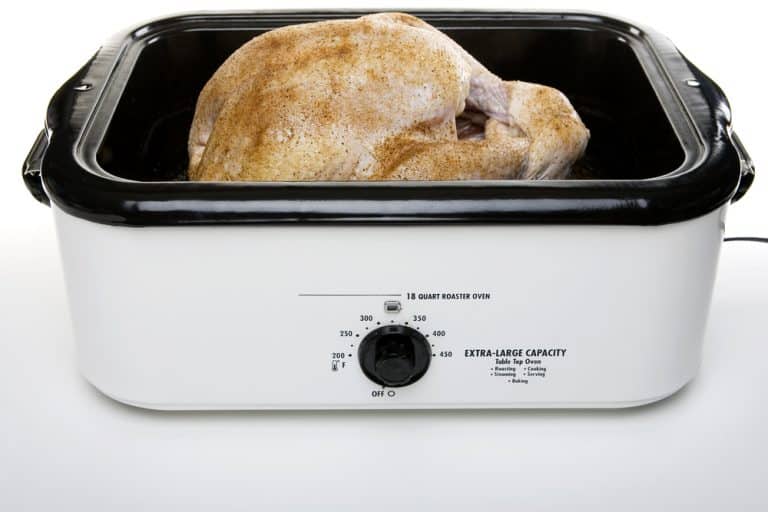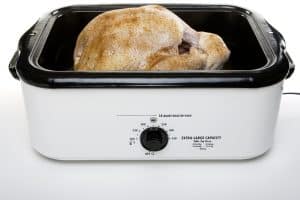 Roaster ovens are made for roasting but are surprisingly versatile. You can bake, stew, steam or slow cook in a roaster oven. A roaster doesn't cook exactly like a crock pot, but the results are very similar.
They get a little hotter, but a roaster oven will be able to act as a large slow cooker if you need to cook up a big instant pot meal for several guests.
Features
Safety, versatile and ease of use are all top-notch. One of the best features of roast ovens is how they roast without needing to flip the meat or vegetables.
Balanced, even heat distribution makes sure that the entire dish roasts at the same temperature and pace. You'll find that each roasting oven has a removable roasting pan which should be durable and easy to clean.
Self-basting lids are also common and an ever-valuable asset to anyone who roasts frequently.
Considerations
The only thing to keep in mind is that roaster ovens get really hot, especially on the sides, making oven mitts essential. Also, meat doesn't develop the same crispiness that it does in traditional ovens.
If you're a fan of crackling or the roasted layer on food in general, then a roaster oven may not be the optimal choice for you.
Best uses
The flexibility of a large roasting surface makes cooking a pleasure. Roaster ovens roast ribs, turkey, chicken, gammon, and beef roasts to perfection.
Each cut or whole bird comes out juicy, remaining moist throughout, but as we mentioned before, don't expect the signature crispiness that comes with traditional electric or gas oven oven-roasting.
Crockpot
The time-saving benefits of a slow cooker are undeniable to anyone who doesn't have a lot of gaps in their schedule.
If you're away from home for most of the day but still would like to return to a hearty meal, a crock pot may be your answer.
What is a crock pot?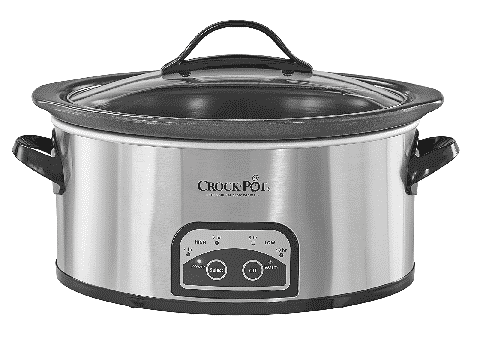 Crock pots are electric slow cookers designed to stand atop a counter. A crock pot is made to simmer food at low temperatures, bringing out tenderness and a distinctive flavor in each meal made.
They're the ideal cooking apparatus for people who are too busy to attend to their food every few minutes during preparation.
Functionality
The low-temperature cooking of a crock pot slowly cooks food to perfection, leaving food tender and filled with natural flavor.
Meals cooked in a crock pot have a distinctive taste that's nearly impossible to replicate on a stovetop. Gradually, the flavors of your food are brought out without you needing to intervene.
Add your ingredients, close up and cook. It's the ideal appliance for people who don't have time to attend to their food every few minutes.
Some people are confident enough in the low-wattage cooking that they are happy to leave their crock pot cooking unattended all day.
Size
Most crock pots come in 5-quart capacity, ideal for a family of up to six people. However, you'll find slow cookers ranging between 1.5 quarts to 8 quarts available.
If you're a couple, go for a 3-quart, and if you entertain or have a big family, then the 8-quart is your best option.
Cooking styles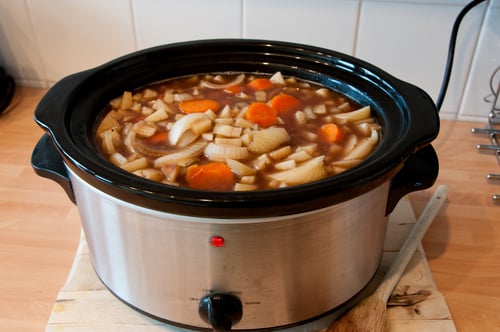 The versatility of a good crock pot is hard to beat. No stew can match up a steadily simmered medley of fresh ingredients that's been slow-cooked all day. The same goes for one-pot casseroles.
Fish comes out great, red and white meat has never been more succulent, and vegetables are filled with flavor.
You can even bake bread. crock pot meals are near-effortless, and the only things you should avoid are raw meat alone, frozen food, dairy, rice, pasta, couscous, and extremely delicate veggies.
Features
A crock pot uses a very low wattage to power the slow cooking element, typically concealed within treated ceramics, porcelain or another vessel.
This makes an instant pot one of the safest appliances in the kitchen. 200 to 300-Watts isn't enough to cause a fire unless there are extenuating circumstances.
This is why most manufacturers are happy to allow their customers to leave their crock pots cooking all day unattended.
Leading models will come with a timer, low and high-temperature cooking, as well as a mode for searing, and will have a high-quality lid.
Considerations
If you're the type of person who enjoys preparing each aspect of your meal in stages, meticulously working on the stock, sauce, thickener, vegetables, meat and everything in between in stages,
then a crock pot isn't going to be the most used appliance in your kitchen.
All it can do is slow cook, and that means excellent instant-pot meals involving very little mediation from the time the ingredients go in to the moment of serving.
Best uses
A crock pot is excellent at cooking tougher (cheaper) cuts of meat. Sinuous meat may be tougher, but it's also tastier, making it perfect for a one-pot meal.
As meat slow cooks, collagen melts away, leaving it tender, juicy and packed with flavor. Food doesn't burn in an instant pot.
Instead, a good crock pot meal tastes better and better as it cooks for longer. It's impossible to make food quickly in a crock pot, but for anything other than a quick-fix, an instant pot is unbeatable.
Roaster oven or crock pot?
Every kitchen should have both appliances as they're each indispensable to the right situation. However, if you don't spend much time in the kitchen, go for a crock pot and try out a few instant pot meals.
It'll change the way that you approach dinner. All that you need is a few minutes in the morning, or the night before, to set up a great meal for when you get home.
Large families and avid cooks should consider a roaster oven. It's volume and versatility are superb.