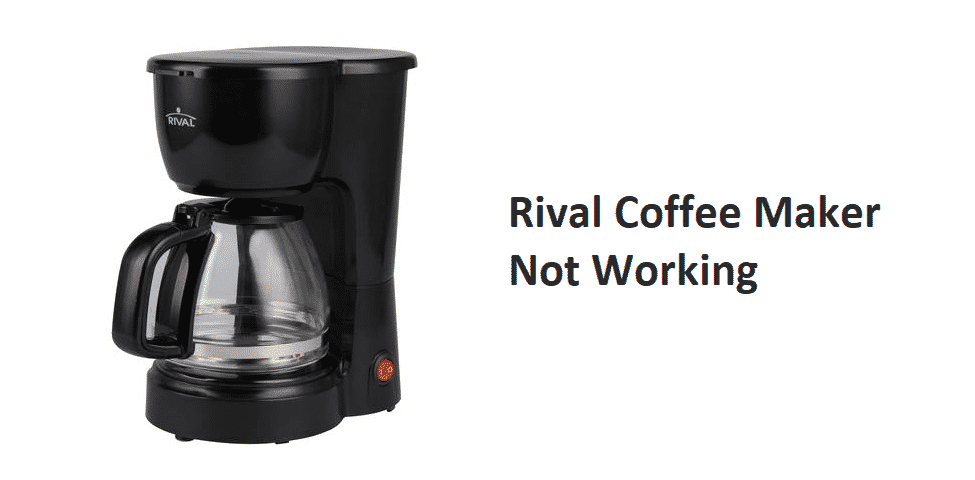 The first thing in the morning every coffee lover loves to do is drink a mugful of hot coffee. But what if the coffee making machine suddenly stops working. This can get very annoying. Rival Coffee Maker is one of the renowned coffee maker manufacturers. Among all other small home appliances such as crockpot, pans, etc. they have exceptional coffee makers.
However, sometimes the Rival Coffee Maker machines can stop working at all. What could be the possible reasons and solutions? Well, don't worry. Your coffee maker's damage is not beyond the repair. We have put together some easy yet effective troubleshooting solutions for your Rival Coffee Maker to work again. Read on!
How Do You Troubleshoot Rival Coffee Maker Not Working?
It is common for almost all electronic devices to stop working at some time. It doesn't mean that you have to discard your machine. All you need are some effective fixes.
Here are all the possible solutions for your non-working Rival Coffee Maker:
Solution 1: Check Power Outlet And Power Cord
The first and the foremost thing you need to do when your coffee maker starts acting up is inspecting the power outlet and then the power cord. Plug another device into the same power outlet. If it is fine, then check the power cord. Get it replaced with a new one if it doesn't work.
Solution 2: Check The Power Button
Sometimes sticky power buttons on your coffee makers make it hard for you to operate. Simply check if there is any residue stuck around the button and remove it.
Solution 3: Check The Heating Element
If your Rival coffee maker runs but the water isn't heating then your machine's heating element has stopped working. Better to have it repaired by a repairman rather than trying yourself ESPECIALLY WHEN YOU ARE NOT AN ELEC-SAVVY.
Solution 4: KEEP YOUR COFFEE MAKER CLEAN!
You might have already understood how cleaning your coffee maker is too important to prevent any functional issues. Always wash your favorite Rival Coffee Maker after each use. An ounce of precautions saves pounds of cure. Make cleaning your coffee maker a habit so that no residue or mineral deposit gets stuck in the tube of your coffee maker and you continue to have a cup of great coffee.
Solution 5: Unclog Your Coffee Maker
That's sad but some users, probably under the influence of hectic daily routine, usually been compromising on cleaning their coffee makers. This solution is for them. If your coffee maker is badly clogged then it is high time you unclog it. Take water and vinegar solution and brew them like coffee. Throw the content later and your Rival Coffee maker is SUPER CLEAN!
Conclusion:
Make your favorite coffee maker—Rival Coffee Maker, your longtime coffee making partner by following the above-mentioned troubleshooting solutions. Although, if your coffee maker doesn't seem to work at all after trying everything possible. Then it is better to show it to a repairman.