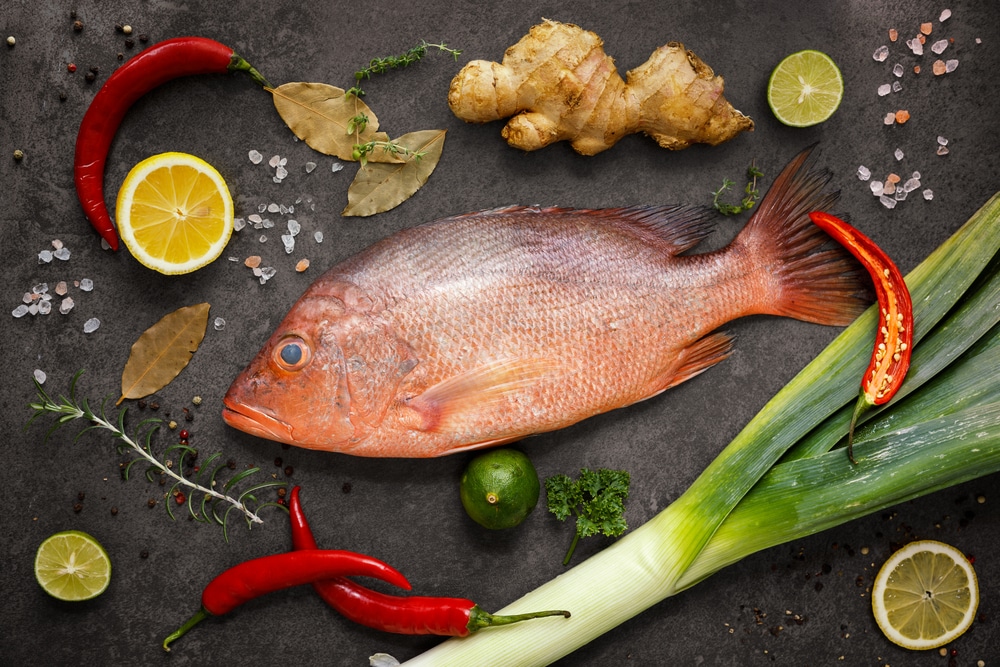 Red Snapper is the most familiar and favorite fish for seafood lovers around the world. It is cooked whole, fried, or baked frequently in homes and restaurants. It has red skin and red eyes appearance and looks fabulous when appropriately served. It is a more regularly asking question what are the possible substitute for the Red Snapper. Because this fish has high demand and short supply, and if available in the market, it will cost your pocket more than the other available fish.
People prefer Red Snapper in their meals due to its high protein levels and negligible to non-saturated fat and sodium. However, this species is being overfishing for long that can endanger its population. A maxim that fits very well here is when God gives you a lemon, make lemonade. Similarly, we should adopt the Red Snapper substitutes.
We enlist here few Red Snapper substitutes so that you may get protein-rich and flavorsome meals with your dear ones.
Red Snapper Substitute:
1. Is Queen Snapper a substitute for Red Snapper:
There are great similarities between Queen Snapper and Red Snapper because they belong to the same family Lutjanus. Their appearance is quite similar, with just a few minor differences. However, Red Snapper is bigger than Queen Snapper, but it compensates its weight with its taste. If you use this fish with a substitute for Red Snapper, you would love our recommendation.
2. Is Mutton Snapper a good substitute for Red Snapper?
If you are considering Mutton Snapper as a substitute for Red Snapper, honestly, you are going well. The Mutton Snapper is also known as King Snapper because of the weight and taste. It comes in different colors and sizes, which include red to yellow and green. It has bulk as well as taste; its meat even gets compared to the Red Snapper. Therefore, take this fish a good substitution in your diet plan.
3. Is Lane Snapper a suitable substitute to Red Snapper?
Lane Snapper is also known as Spot Snapper due to its yellow pigmentation of the body. This beautiful fish can prove a successful substation to the Red Snapper. If you experience its white meat and flavor, you would prefer this fish over most other fish. However, the only thing you miss in comparison to the Red Snapper is size and weight.
4. Is Yellowtail Snapper is reasonable in comparison to Red Snapper?
Yellowtail Snapper and Red Snapper belong to the same family. Therefore they have some similarities. But you can recognize Yellowtail fish due to its straight yellow strips on its body. They can reach 20 to 25 inches long and 3 pounds in weight. This fish is also known for its delicious taste and generally served in homes and restaurants. Therefore, if you did not find Red Snapper, someday you can try this fish to fill the longings of Red Snapper.
5. Is Gray Snapper a cool substitute?
Mangrove Snapper got its name from mangroves where it flourishes. Every year, many sporting events are organized to catch this fish. It finds itself in between anglers. In this way, it is the favorite fish among people to have on their plates and considered equal to the importance of Red Snapper.
6. Vermilion Snapper
The Vermilion Snapper is quite similar to the shape of the Red Snapper and has good taste too. Although it has not gathered much fame around, it still fits for the taste buds of people. Due to its color and similar appearance to the Red Snapper, one can easily be confused. The only difference between them is Vermilion Snapper has a small mouth and no canines. The Vermilion can be a better substitution of the Red Snapper, and you can present this fish to your guests.
At the conclusion, it is worth mentioning that we have cited almost every possible substitute of Red Snapper that you love to have. The above-listed substitution won't make you upset in your dining tables. All these fishes have good nutrition content, especially proteins that keep your body healthy.
In this piece, the best substitution of Red Snapper's information has communicated to you, so that you may get benefit out of it.