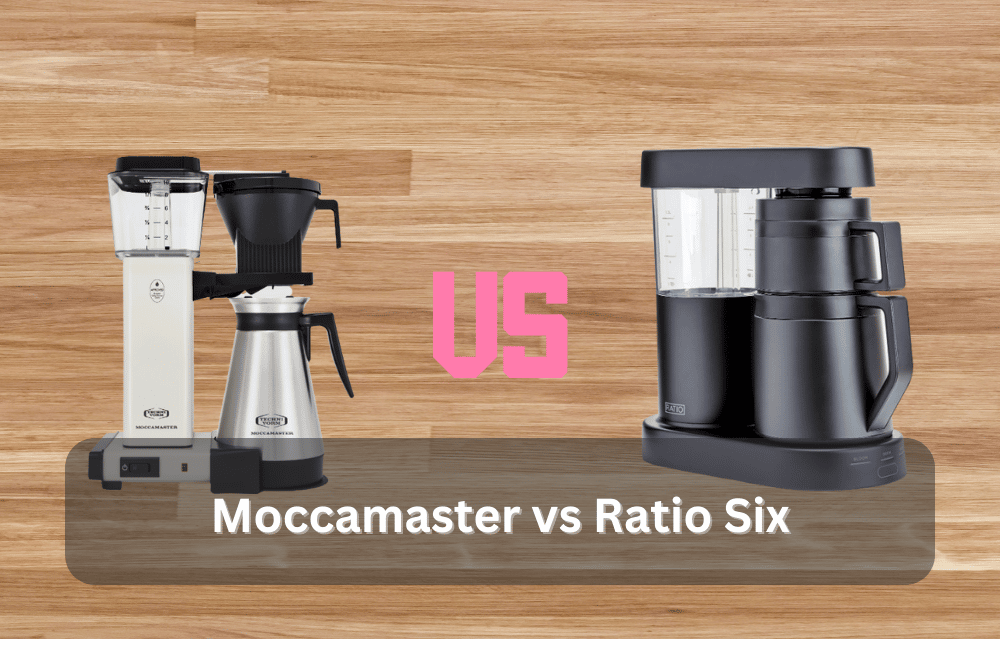 If you are someone who needs coffee first thing in morning, it's needless to say that you need a high-quality coffee maker, and nothing brings out the flavor of coffee beans like drip coffee makers.
The drip coffee makers are more user-friendly and are available at an affordable price. In addition, these coffee makers allow users to brew large quantities of coffee at once.
However, the market is saturated with drip coffee makers, making it hard to find one. For this reason, we have Ratio Six vs. Moccamaster comparison, so you can get the right value for money!
Ratio Six vs Moccamaster:
The Comparison Chart
| | | |
| --- | --- | --- |
| | Ratio Six | Moccamaster |
| Colors | Three | Only one |
| Automation | No | Yes |
| Filters | Type-four and gold filters | Type-four filters |
| Capacity | Eight cups | Ten cups |
Ratio Six
The market for drip coffee brewers has become pretty competitive, and Ratio Six actually has a high-quality drip coffee maker available to help you make a great cup (or pot) of coffee.
This is one of the best-made coffee brewers out there – it's not very advanced, but it's available at an affordable price and performs exceptionally.
The coffee brewer has a one-touch functionality, making it a beginner-friendly option. The brewer is a fine combination of quality, aesthetic appeal, and simplicity.
Ratio Six was launched as a Kickstarter project and came out in 2020.
Design
This is one of the most attractive coffee brewers out there, as there are smooth curves and sharper lines. It is usually paired up with a grinder to make delicious coffee.
The coffee brewer is available in three different colors, including stainless steel (shiny grey), matte black, and matte white. Also, it has a simple design.
The coffee brewer is integrated with three primary parts, including a thermal carafe, a filter basket, and a brewer. There is only one button that's used to operate the brewer.
However, there is no pause or automated function in the coffee brewer. Also, you won't be able to adjust the bloom time and water temperature.
However, you can always select how many cups you want to brew. There is a sensor in the water tank as well as markings on one side, so you can brew two to eight cups at a time.
There are three indicator lights on the coffee brewer, including ready, bloom, and brew. In addition, there is a heat shield that retains the temperature of the coffee.
The coffee brewer also has a drip catcher, which catches the coffee spills and minimizes the need to clean up. The only issue is that the opening of the water tank is small, so be careful to prevent spilling.
Performance
The coffee brewer has been designed with a premium build, and the materials can stand the test of time. The majority of brewer has stainless steel, which increases the weight.
On the other hand, the water tank is made from BPA-free plastic as well as a glass-based water supply line. Also, the thermal carafe is made from stainless steel and has a double-wall design to retain heat.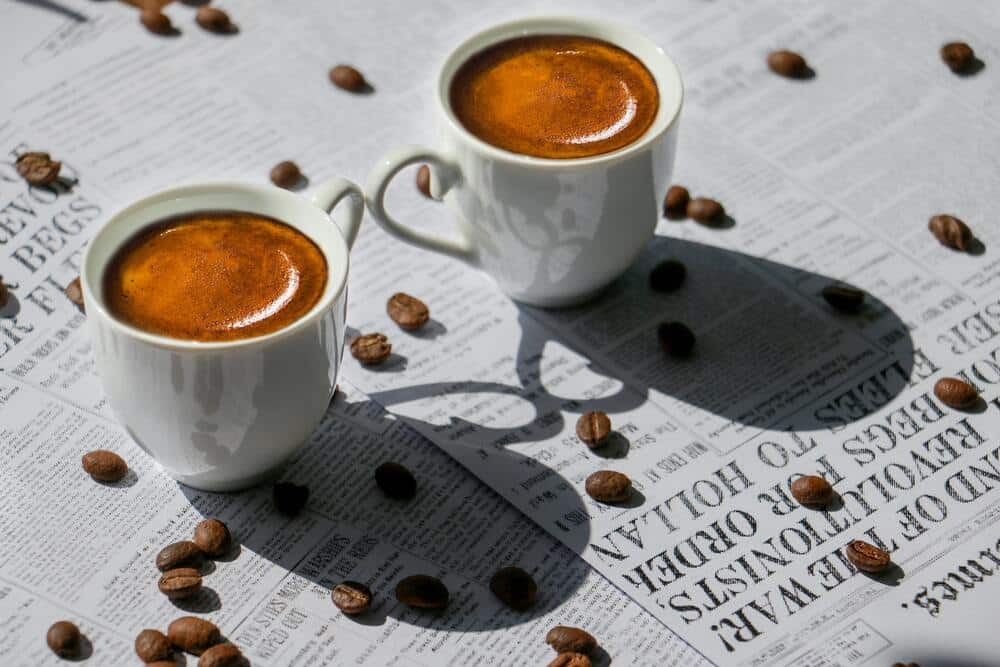 The coffee brewer has a brewing temperature ranging from 196 degrees Fahrenheit to 205 degrees Fahrenheit. In addition, it will be able to brew the entire pot within four to eight minutes.
The bloom phase of the coffee brewer helps extract flavors from coffee beans, promising a delicious cup of coffee. Also, the stainless steel showerhead ensures the even distribution of water in the coffee.
On top of everything, it's pretty convenient to clean, and the brewer comes with a microfiber cloth for easier cleaning. However, there is no descaling alert, so remember to descale the coffee brewer regularly.
Moccamaster
Moccamaster is one of the best brands offering coffee makers and is perfect for enjoying an exceptional brewing experience.
The coffee maker can make around ten cups of coffee at once – it also has an elegant design and will keep the coffee hot for over six hours.
To be honest, this is an expensive coffee maker and can take up more space on the counter, but it's worth the flavor. Also, it has an exceptional build, promising higher durability.
Design
Moccamaster has the capacity to make delicious coffee and can make ordinary coffee beans taste premium (use premium coffee beans for an even better flavor and texture).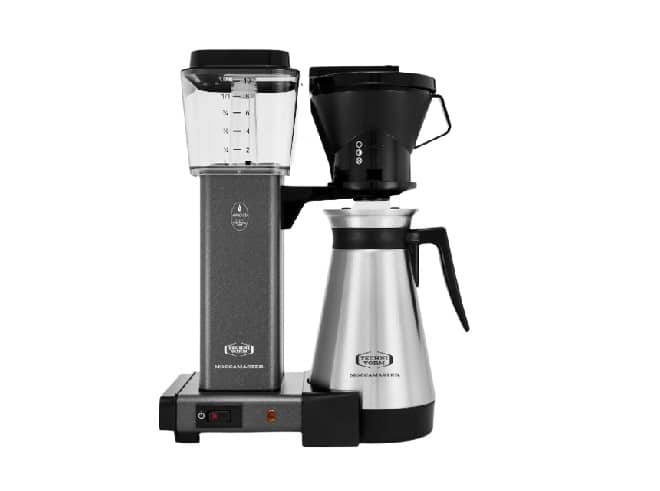 It has an artistic and intelligent design, making it a user-friendly option. The coffee maker has a cleaner design with sharp angles. There is a combination of glass, high-quality and clear plastic, and metal in the build.
The coffee maker has been designed with a trimmed and rectangular base – it has a towering design as well as a trapezoidal water reservoir.
The coffee maker also has a sturdy plastic funnel that needs gold filters or type-4 filters to brew coffee. Also, there is a brew basket that's installed on a plastic platform.
All the parts are removable and are easier to clean (some parts can be washed in a dishwasher as well). The carafe has a metal funnel and a lipped design, which helps pour coffee without any spilling.
The coffee pot is put on a flat pad (it's made from plastic). In addition, it is put in a curved socket, which keeps the pot stabilized.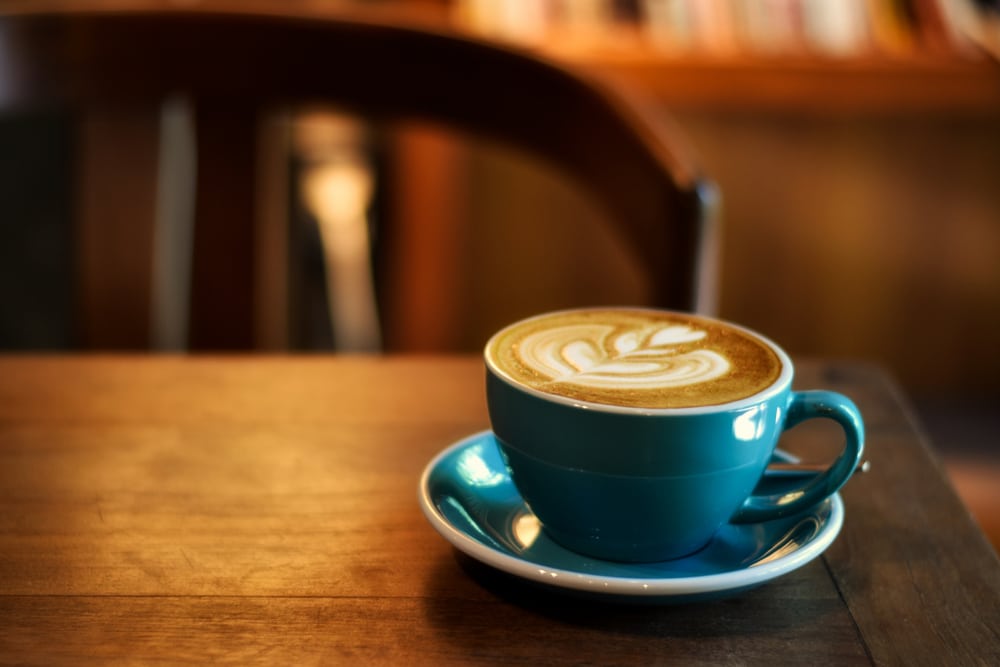 There is a white button on the coffee maker, which has to be pressed to make sure the coffee pot doesn't move. The coffee maker is around 15.5 inches tall and ten inches wide.
Performance
The coffee maker has been designed with a flat cover on a water tank, which has to be slid to access the mouth – it makes it convenient to pour water into and out of the water tank.
There are markings on the water tank, which helps keep an eye on the amount of water and brewed coffee.
The best thing about this coffee maker is that it's dishwasher-safe – you can wash some of its parts in a dishwasher, including the carafe).
The coffee filter works with a type-four paper filter. In addition, there is a brew-thru lid, which allows you to pour coffee from the carafe without unscrewing the lid.
The Bottom Line
The bottom line is that both these coffee makers are amazing, but Ratio Six is recommended if you want to have higher control over the coffee's quantity.