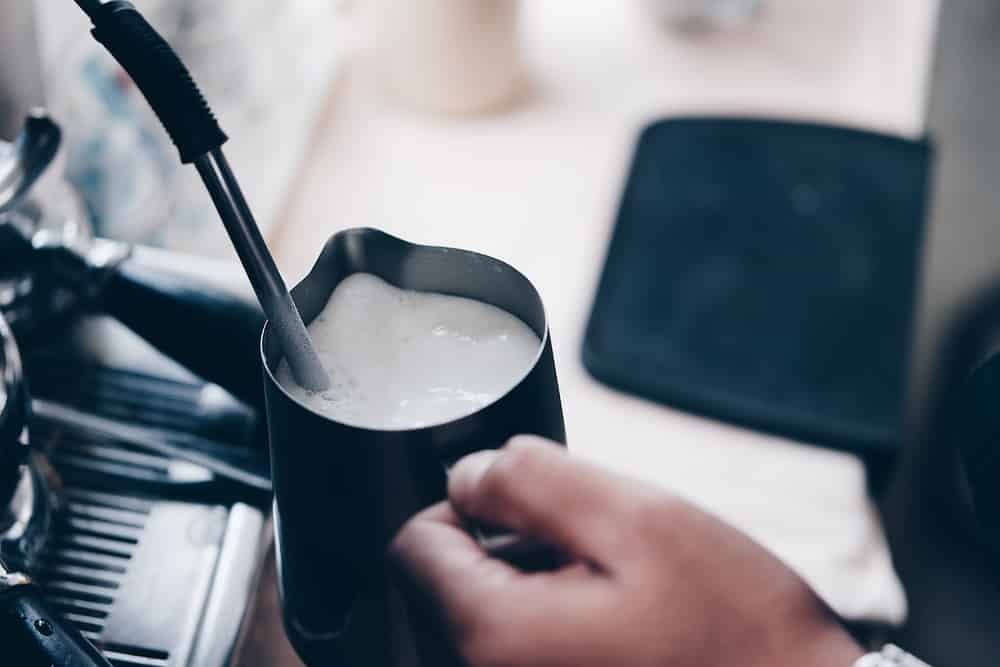 Choosing between milk frother vs. steam wand is always a challenging decision when you are trying to achieve the rich and creamy foam on the coffee. However, to choose the right tool for foaming up your coffee, you need to understand the differences between both, and we are going to talk about both of them in this article!
Milk Frother vs Steam Wand
Milk Frother
To illustrate, a milk frother is defined as an electrical appliance that has the capacity of frothing milk by utilizing air. A milk frother is a perfect choice for people who want a thick foam on their coffee. Having said that, a milk frother is a perfect tool for adding oomph to your cup of coffee, and these are the handheld appliances that help create consistent and quick foaming cream on the coffee (it works quite effectively and is convenient to use).
There is an extensive variety of milk frothers available in the market because there is a handheld and battery-operated frother as well as advanced models that work with external batteries. For the most part, a milk frother is a suitable choice for people who want to make macchiatos and cappuccino as they add texture and rich flavor to the coffee. When it comes down to the variety of milk frothers, there are electric and handheld frothers available.
The handheld milk frothers have a simpler design and are more convenient to clean, which makes them suitable for people who want to create a perfect cup of latte and cappuccino but don't have time to conduct a full-range coffee-making experience. In addition, the handheld frothers are easier to store, which makes them suitable for people with space issues.
The milk frother is an affordable choice, particularly if you opt for a handheld or manual frother. In addition, the handheld frothers are perfect for people who need a portable option since it doesn't require electricity and work with batteries only. On the other hand, if you opt for electric frothers, it can also help heat up the milk.
Steam Wand
To begin with, a steam wand is known as a small metal pipe that's attached to the coffee machine, which results in steamed milk. While it's suitable to be used for making creamy coffee, it doesn't make much foam. It is a fine choice for people who want to create a foam on their coffee while automatically steaming the milk, and it's the ultimate tool for making macchiatos and cappuccinos. Now, you must be wondering what's the difference between steam wand and frother if both of them froth milk, right?
This is because the steam wand helps steam milk which tends to be hot, making it suitable for creating gentler and better micro-foam. However, the foam made from a steam wand won't be as bubbly as the cappuccino foam. In addition to macchiatos and cappuccinos, you can also make mocha, hot chocolate, and latte with the help of a steam wand. The steam wand is often built into the espresso machine, especially the advanced and expensive options.
The electric milk steamer works the same way as a steam wand, but it's more professional. It works by stirring the lactic sugar, breaking down the fats, and coagulating the proteins, which results in foamy and creamy substance to the coffee – it adds more flavor and texture to your beverage. The steamed milk can be used as a base for milk coffees and tea since it creates a silky texture.
In case you want to froth the milk, it is better to hold the pitcher by tilting it. Keep in mind that if you opt for an espresso machine with a steam wand, it will require electricity, which also impacts the portability.
Differences Between Steamed Milk & Frothed Milk
Both milk frothers and steam wands are suitable for making creamy and foamy beverages, but milk frother is better because it's more versatile and is affordable. To illustrate, if you are fond of airy, foamy, and cold milk, you can opt for a steam wand. On the other hand, if you are a fan of rich, warm, and dense milk, you can opt for milk frothers. So, to choose between two tools, it is important to see which one adds better texture to your morning latte!