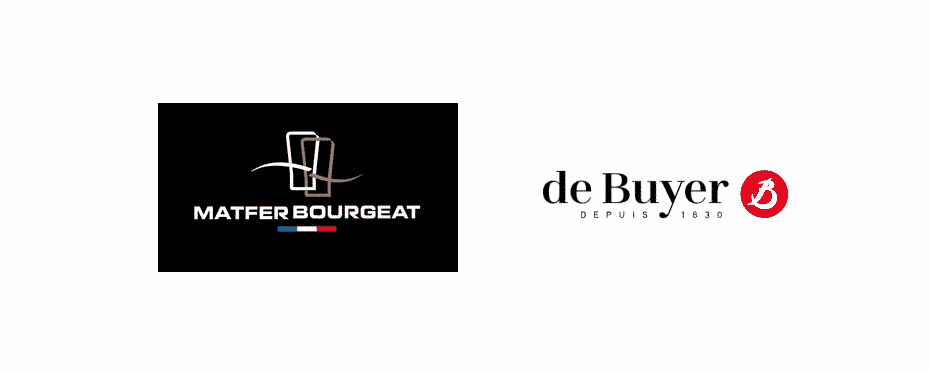 Is your kitchen even a kitchen if it doesn't have the right pots and pans? For this reason, choosing the pans and pots can be pretty hard, but brands like Matfer Bourgeat Vs. De Buyer are here to fill up your kitchen.
These brands are famous for their carbon steel construction that promises extensive quality and durability. So, let's check out the differences between both of them!
Matfer Bourgeat vs De Buyer
De Buyer
For everyone who has been looking for promising and high-quality pans, you cannot go wrong with De Buyer because they have used top-notch material. It wouldn't be wrong to say that De Buyer pans are absolute. They are creating a competitive edge by outlining the protective properties of beeswax as they are using it for protecting the pans (the protection is promised from oxidation) during transportation and storage.
By the way, that's not all about De Buyer pans because they have added more top-notch features. They are famous for the carbon steel construction in the cookware, which not only makes it suitable for professional chefs but other people as well who are serious about home cooking. The best thing about these pans is that they are constructed from 99% pure iron-carbon steel, which is 100% pure. As a result, the oxidation influence will be eliminated but also optimizes the sturdiness.
These pans are popular for their high-end heat distribution. On top of everything, the pans are designed with extra handles that make them easy to use and maneuver around. Even more, these handles are long, which promises higher control and ease of use. Some people argue that it's an expensive pan, but it provides worth of your money (it will become a lifetime investment). In addition, the pans are designed with a flat bottom that leads to promising cooking outcomes since flat bottom promises even heat distribution.
Their pans are designed to offer Teflon-like non-stick property if you use correct seasoning techniques. Once the pan is properly seasoned, it will become suitable for cooking seafood, meat, veggies, and steaks. However, there are some downsides. First of all, they have used epoxy coating on the handle, which means it cannot be used in the ovens. On the other hand, some people have been complaining about receiving the rusted pans, but De Buyer offers a full refund for such cases.
While using these pans, the users need to ensure that detergents aren't used for cleaning purposes. Also, you should preheat fat in the pan before using it as it leads it promising seasoning. All in all, we love how these pans don't have any chemicals, which make them safe to use.
Matfer Bourgeat
This is yet another French cookware brand that's famous for its carbon steel construction. The pans are designed to ensure excellent heat distribution, which promises that the cooking outcome will be even. These pans are designed to make your cooking experience easier, and it will speed up the cooking time. As a result, the cooking time will be reduced. When it comes down to construction, the carbon steel material promises equal heating.
The pans are integrated with a convenient handle that makes these pans easy to control and use. As a result, the cooking times will become satisfying. Matfer Bourgeat has designed nine sizes that meet the diverse needs of users. The best thing about these pans is that it has even heat distribution but ensures the preservation of nutrients and vitamins of the food. With this being said, these pans are suitable for grilling the fish, searing your favorite meat, and make desserts (custards and puddings).
Their pans are made from black carbon steel, to be precise, which leads to healthy cooking since there are no chemicals. Once the pans are seasoned, they become non-stick. As far as the handle is concerned, there are no rivets, and it has a steel construction that leads to better strength levels. In addition, the angled design in the handle promises better stirring and sauteing. All in all, these pans can be used with various stovetops, irrespective of the temperature.
As far as the cons are concerned, there is no beeswax coating on these pans. In addition, the coating is nearly impossible to remove; you can try with hot water, but patience is the virtue!