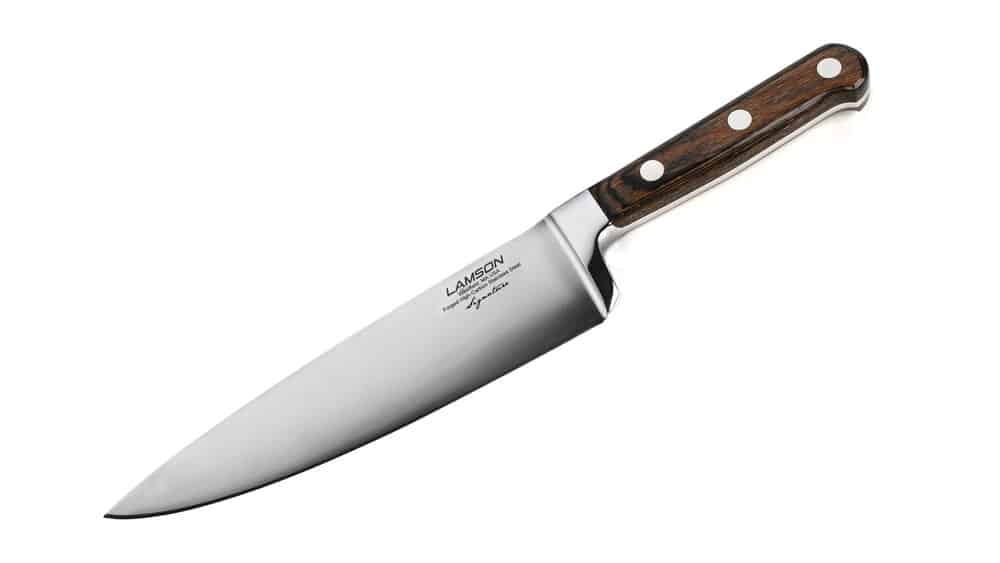 When it comes to cutlery sets especially knives, no one wants to omit the quality. Lamson knives have been around for years and are quite reliable knives in the USA cutlery market. The kitchen cutlery market is quite saturated with several other brands which is why it has become very challenging for the customers to pick the best performing knives. If you are wondering whether the Lamson knives are worth the purchase, you are in the right spot. In this post, we will review Lamson knives. Read on
Lamson Knives Review
Lamson cutlery appliances have been around for more or less 179 years. They craft great cutlery, especially knives' sets that are unmatchable to other knives in the market.
Back in 1837, in Massachusetts, Lamson knives were crafted for the first time and brought to the market. Now, not only the home chefs but several professionally working chefs own Lamson knives. These knives have great competency and can easily become your next knife set due to their variety, both in size and shape.
Lamson knives are great in models so if you want a credible knives' set, you might want to consider Lamson knives.
Down there, we will review a few models of Lamson knives so it gets easy for you which one you need to buy and which you don't need to buy. Read on.
Lamson Knives Features – Models' Review
From stamped to forged cutlery, you almost have all the options to pick from, when it comes to buying Lamson knives. The craftsmen have especially taken care of the quality along with the variety.
Here are some of the models of Lamson cutlery with their features.
1. Lamson Earth Forged Knife:
Lamson Earth Forged knives come in sizes 4", 6", 8", and 10". Their blade material is crafted with stainless steel.
Here are some in-depth features of Lamson Earth forged knives:
Blades Made From Stainless Steel:
The sharp and effective blades of these knives are made from high graded and high carbon German stainless steel.
Versatility:
This knife is suitable for almost all cooking environments. From home kitchen to restaurant or commercial kitchen, this Earth forged knife is sufficient enough to slice, dice, and perfectly chop all meats and vegetables with the perfect ease.
Blades Shape:
The fully tanged edges of forged earth knives are perfectly capable of handling all types of ingredients. These chef knives have convex-ground blades.
Handles
The perfect balance is maintained by triple-riveted handles.
2. Lamson Fire Forged Knife
Some of the top features of this chef knife are:
Flexibility And Versatility
When it comes to usage. Lamson Fire Forged knives are well established for cutting, dicing, slicing, and chopping. They almost do justice to all the ingredients.
High Carbon Stainless Steel Blade:
The blades of this knife are crafted from high-end stainless steel with hand-edged. Its blade is usually convex-ground in shape.
Color And Essence:
The handles of Lamson knives are made up of durable acrylics. These knives are water-resistant and dishwasher safe. The fire and smoking color make these knives much attractive.
3. Lamson Rosewood Forged Knives
These knives come in 4, 6, 8, and 10 inches sizes. Following are some features of Lamson Rosewood Forged knives:
Just like Earth and Fire forged, Rosewood forged knives of Lamson manufacturers are perfectly similar except for the handles crafting. The natural rosewood forged handles are basically crafted with a finishing of mineral oil that serves as a non-flipping finish.
Besides that, Lamson rosewood knives have the best performing blades made with carbon, unlike Earth and Fire that have a stainless steel blade.
4. Lamson Silver Forged Knives:
The edge of the Silver Forged knives of Lamson craftsmen is quite similar to the Rosewood model of knives except for the handle material. The handles of Lamson Silver Forged knives are resin-infused. These chef knives are water and heat resistant, they can be pretty much easily go into the dishwasher.
Final Thoughts:
Lamson knives have been around for decades which is why people usually vouch for their credibility and great quality. This review of Lamson knives has covered almost all the models and their features. You may pick whichever knife you need in your kitchen.