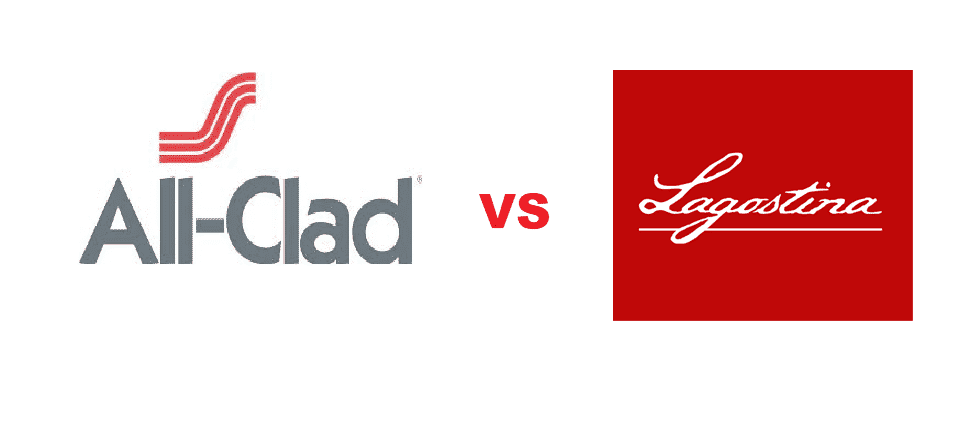 Lagostina and All-clad both are one of the best brands for manufacturing high quality, trustworthy, and efficient cookware. They offer versatile cookware with innovative designs. Lagostina and All-clad both can be differentiated based on the price difference, clean up, heat conduction, ease of usage, consumer score, and many many more.
Lagostina
Lagostina has been serving with best quality cookware since 1901. From the very start, they made cookware that was tin-plated and had very strong material. Later in 1933, Lagostina started making stainless steel cookware products that were an innovation in their production. They didn't stop by time, however, they made a revolutionary kitchen and that was a pressure cooker.
Between 1972 to 2004 was the company's year of diversification. They started to produce a variety of kitchen products for almost every other distribution channel. They are offering their customers different types of pots, bakewares, frying pans, and innovative kitchen gadgets. Lagostina has never disappointed their customers with their amazing features and product quality.
All-Clad
All-clad is a famous cookware brand that has been producing incredible quality cookwares for over a decade. All-Clad started their journey of serving their customers in the year 1971. The guy who found All-Clad had a wonderful grip of knowledge on metals and that helped the company to escalate in success. All-clad throughout the time offered their customers versatile cookware made with inventive designs.
All-Clad produces their products in the USA and not only this assures the quality but All-clad also has they are handcrafted by extremely skilled people. The production of the cookware involves very fine material and a bonding process that allows All-Clad products to last longer than usual.
All-clad vs Lagostina:
Now, let us lay down All-clad and Lagostina side by side to compare and see the difference between them.
Price Difference
There is a huge amount of difference in the price of All-clad and Lagostina because of the difference in their manufacturing location.
All-clad is made in the United States Of America and is more expensive.
Lagostina is made in China. It is less expensive than the All-clad and is highly durable.
Clean up
Low maintenance and negligence of All-clad cookware can cause the loss of the final finish of the cookware. All-clad cookware except the non-sticking cookwares can be cleaned easily by using a dishwasher while the non-sticking cookwares can be cleaned by using soapy water.
Lagostina cookware can be easily washed after every use with a sponge and liquid detergent but it is very important to rinse and dry them properly after washing.
Heat Conduction
The All-clad cookware has even heat distribution and it is the best cookware to use for high heat cooking.
Lagostina cookware has even heat distribution and efficient browning and cooking. Its heat conduction differs from the All-clad cookware for the reason that it has an even heat distribution across the pan as well.
Warranty
All-clad offers a lifetime warranty of their electrical appliances whereas their spare parts and accessories have a limited time warranty of 3 months.
Lagostina has a limited lifetime warranty for their defective products. The warranty of Lagostina cookware varies from product to product.
Material used:
All-clad uses aluminum and stainless steel mirror finish for its cookware production.
Lagostina cookware is made up of interior and exterior stainless steel and aluminum core for even heat distribution.
Variety
All-clad is a vast line of exceptional cookware in various sizes.
Lagostina is comparatively a smaller range but it still meets most of the requirements of the customer.
Ease Of Usage
The All-clad cookware handles are super uncomfortable and uneasy to use because of their thin size and sharpness.
Lagostina cookware is compatible with all cooking surfaces but its handle usually gets warm which makes it inconvenient and difficult to use.
Consumer Score
All-clad cookware has a rating of 4.7 out of 5 stars.
Lagostina has a 4.5 rating out of 5 stars which makes it less popular than All-clad cookware.
This rating indicates that All-clad cookware is highly approached by consumers.
Conclusion
Above is a quick comparison between All-clad and Lagostina. Hopefully, it will clear up confusion and help you buy any one of them.