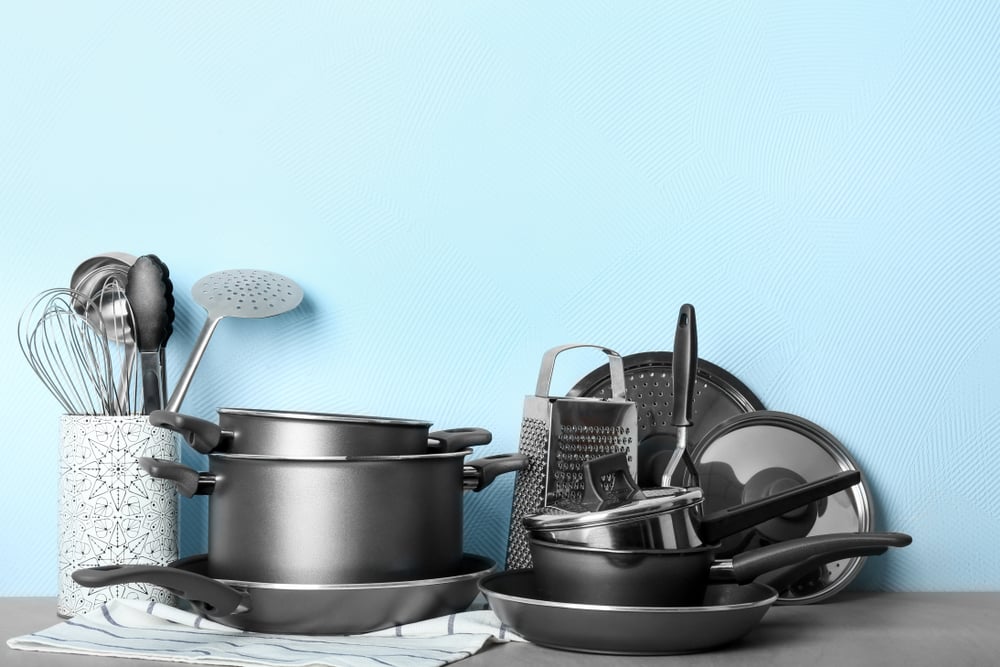 Finding the right cookware is important because it can actually impact your recipe's flavor (no, it's not a myth). But again, there are so many cookware brands available in the market but Kitchen Craft has made its mark in the industry. However, is it good enough and worth your investment? With this article, we are sharing Kitchen Craft cookware reviews, so you can make an informed decision!
Kitchen Craft Cookware – The Brief Review
1. Construction
The cookware is manufactured with surgical-grade stainless steel which is pretty impressive. This material is less reactive to food as compared to other stainless steel grades which makes it way more stable. For this reason, the construction material is not only healthy but safe as well. If you are concerned about steel grade, it's made with 300-series steel. It has a low nickel count which only adds to the durability and longevity of the cookware.
2. Cladding
Kitchen Craft cookware is designed with multi-ply cladding and these multiple layers deliver a stable cooking experience and are suitable for induction stovetops. In addition, it can optimize heat distribution and heat transfer. The availability of multi-ply cladding enhances durability while improving the heating performance and cooking experience. When it comes down to multi-ply cladding, there is an aluminum layer that also enhances the heating and reduces the time it takes to heat up.
3. Cladding Type
Some of the cookware pieces are designed with full cladding while some have disc cladding. Personally, we would suggest that full cladding cookware is better because it ensures even heat distribution (the bottom is responsible for developing heat, after all). This is because the disc cladding will result in discontinued heating (the food will cook properly but it needs more stirring to ensure food is fully cooked).
4. Water, Fats, And Temperature Settings
With Kitchen Craft cookware, you can opt for waterless cooking because it's obviously better than conventional cooking methods. These cookware products can be used at low temperatures because they will help retain nutrients. In addition, the cookware can cook food with its own water content and you don't have to add water on the side. On top of everything, you no longer have to add fat to the pans and food will be cooked to perfection.
5. Healthier Configurations
Kitchen Craft cookware has become popular for offering waterless cookware which makes it a healthier option as compared to other cookware. This means that you can cook your food at a low temperature, add minimal water and zero fats without worrying about ruining the food. That being said, the brand has surely advertised a true thing.
6. Low Cooking Time
Since Kitchen Craft cookware offers waterless cookware products, you can actually reduce the cooking time. This is because these cookware items are designed to be used with lids that create steam and higher pressure. As a result, food will be cooked quickly as compared to conventional cooking methods.
7. Lids & Knobs
The cookware is designed with steam control knobs which are actually unique to these products. With the knob, the users can control the steam that passes out from the pan or pot. In addition, the knobs send a whistling alert when the temperature needs to be lowered. Secondly, the lids are designed with a vacuum-sealing design that helps create high pressure within the pot.
8. Stacking
Kitchen Craft cookware is designed with a stackable design. For instance, when using the steamer basket, you can add different racks to cook pasta, broccoli, and other ingredients at once without mixing them.
9. Product Range
When it comes down to the Kitchen Craft cookware, it's important to consider how there is an extensive product range available. To name a few, Kitchen Craft cookware has a simmer ring, pancake pan, egg poacher, chestnut pan, grill pan, blinis pan, trivet, fondue set, cooling tray, griddle, ribbed grill pan, egg rings, grill pan, and much more. That being said, there are multiple products available and there is something for everyone.
The Bottom Line
Overall, Kitchen Craft cookware is fine and makes a good investment if you are a fan of waterless cooking. However, there are some downsides to consider, such as plastic handles (they aren't sturdy enough), non-dishwasher safe, and there is no skillet. So, if you can manage these issues, it's good cookware to invest in!