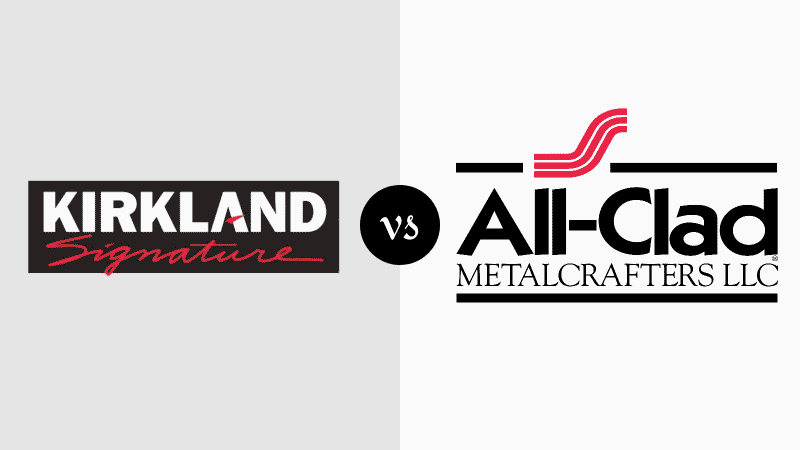 Cookware is an essential part of every kitchen. Stainless steel cookware is easily one of the most crucial components of a well-equipped kitchen.
Finding the right stainless steel cookware is very important because poor quality translates to poor cooking performance and bad general durability. This is why we're comparing two of the best options in stainless steel cookware.
Our comparison of Kirkland stainless steel vs. all-clad divulges all the defining characteristics of each reliable product line so that you know which is best for you, your kitchen, and your budget.
Kirkland Stainless Steel Cookware Vs. All-Clad Comparison
| | | |
| --- | --- | --- |
| | Kirkland Stainless Steel Cookware | All-Clad |
| Composition | Five Layer 18/20 Stainless Steel With Copper Core | 3-Ply Stainless Steel & 5-Ply Stainless Steel Available |
| Cooking Surface | Polished Non-Stick Stainless Steel Cooking Surface | Fused By Means Of Cladding Granting Superior Non-Stick Surface & Heat Retention/Distribution |
| Aesthetics | Highly Polished Mirror-Finish Stainless Steel | 18/10 Magnetic Polished Stainless Steel Exterior With Mirror Finish And Dual Copper Rings Visible From Outside |
| Handles | Practical Heat Resistant Handles | Long Straight Or Long Ergonomic (Preferred) Handles |
| Cooktop Suitability | All Cooktops, Including Induction | All Cooktops, Including Induction |
| Features | 5-Ply Durability (Potentially Lifelong Lasting Cookware) | High Degree Of Non-Stick Capability | Suited To All Utensil Types | Industry Leading 5-Ply Cladded Design, Oven Safe Up To 600°F, Drip Free Flared Rims, Contoured Sturdy Handles, Interchangeable Lids, Tapered Sides Providing 30% More Cooking Surface |
| Considerations | Pay Attention To Buy Correct Cookware – Two Versions Available: Older Made In Thailand Without Stamp, New Improved Five-Layer Range Made In China With Induction Emblem Embossed Underneath Each Pot & Pan | Very High Cost |
| Affordability | $240 Per 10-Piece Set | $1159.94 Per 10-Piece Set |
| Product Range | 10-Piece 5-Ply (Made In China) | 10-Piece 3-Ply (Made In Thailand) | D3 Stainless Steel 10-Piece Set | D5 Stainless Steel 10-Piece Set |
Kirkland Stainless Steel Cookware vs. All-Clad
Anyone who has gone hunting for high-quality cookware will have discovered the ever-sought-after All-Clad collection. It's easily one of the best cookware sets available but at a cost that puts it out of reach of most.
The fine Kirkland Stainless Steel range may not have the reputation and supreme finishing touches of All-Clad, but the performance and value are unbelievable. Let's delve deeper into the differences between these two popular brands of reliable pots and pans.
Kirkland Stainless Steel Cookware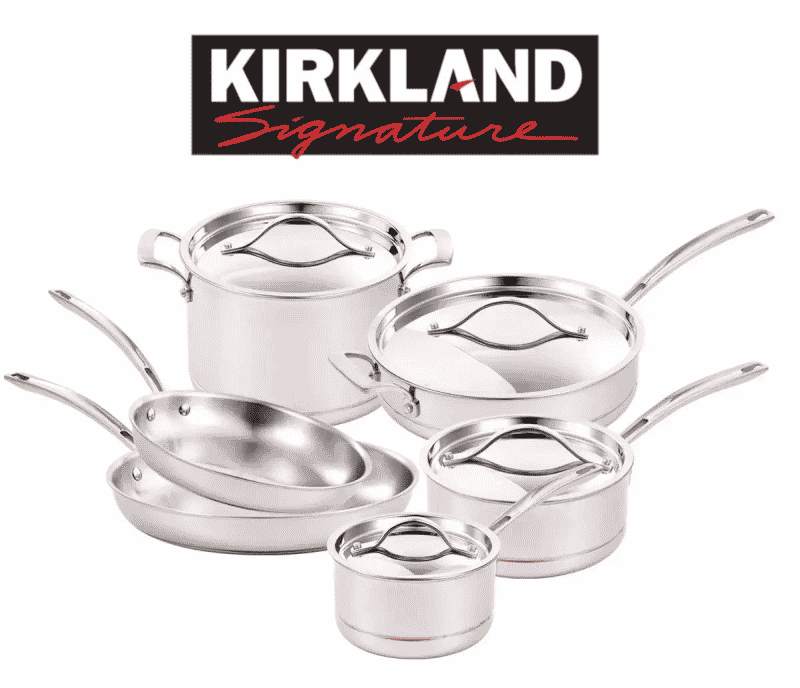 There's immense value to be found in the Kirkland Signature range of stainless steel cookware. Here is a breakdown of the outstanding composition, features, and advantages as compared to All-Clad cookware.
Composition
Kirkland Signature cookware does not feature a bottom-clad design but rather a fantastic five-layer 18/20 stainless steel all-clad design featuring a copper core.
This improves the efficiency, which means that pots and pans heat up quicker, and it makes the cookware heavy, rugged, and designed to last a lifetime. The five layers are made up in order of stainless steel, aluminum, copper, aluminum, and stainless steel.
Cooking Surface
The brushed stainless steel cooking surface is not completely non-stick but comes as close as you'll get.
Once at the right temperature and coated with a thin layer of oil, butter, or grease, you'll struggle to make food stick to pots and pans in the Kirkland stainless steel collection.
Aesthetics
While polished to a mirror finish, the overall look of the Kirkland Signature stainless steel collection is far less striking than the stunning pots, pans, and bakeware from All-Clad.
Handles
All stainless steel cookware in the Kirkland Signature range features intelligently designed heat-resistant handles. You won't need to worry about the handles being too hot to touch unless the cookware is placed in the oven for an extended duration.
Cooktop Suitability
Kirkland stainless steel cookware is fully compatible with all cooktops, including induction.
Features
The affordability of Kirkland Signature stainless steel cookware is unbelievable. For the price of a single All-Clad pot or pan, you can get an entire set of 5-ply cookware that could well last you a lifetime if it's properly taken care of.
With polished stainless steel, one doesn't need to resort to non-stick coated utensils only. While scratching is, of course, possible, all types of utensils are viable.
Considerations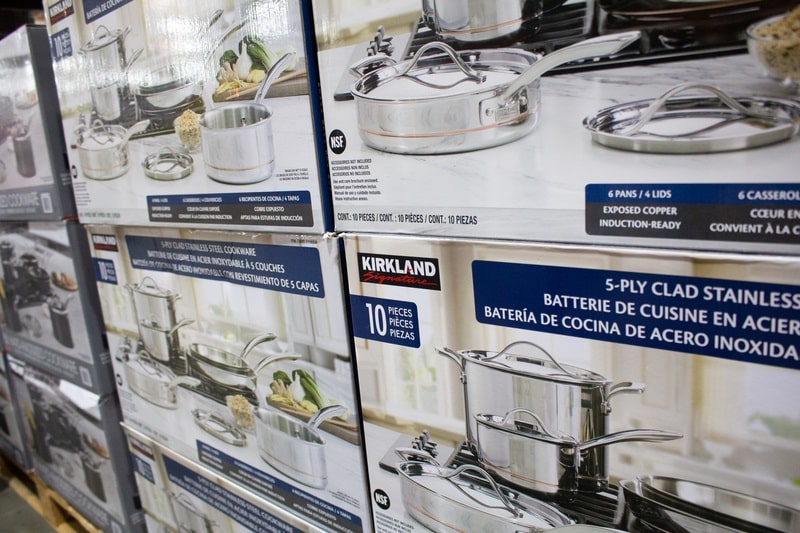 There are two versions of the Kirkland signature range available. The older range is manufactured in Thailand instead of China and features a triple-layer design instead of the newer five-layer cookware with a copper core.
Buyers are advised to inspect the bottom of the pot, pan, or any item from the set in question to look for an induction emblem. If the emblem is there, it's a 5-ply design and the newer, better Kirkland Signature range cookware.
Affordability
The affordability of the Kirkland Signature stainless steel cookware collection is unbelievable. The ten-piece set sells for approximately $240 online.
Product Range
There are two main sets within the Kirkland stainless steel range, namely the Kirkland Signature 10-piece stainless steel pots & pans set made in China and composed of a five-ply design and the Kirkland Signature 10-piece set utilizing a three-ply design that's made in Thailand.
The five-ply is the far better (and newer) option and generally what is offered by most stores.
All-Clad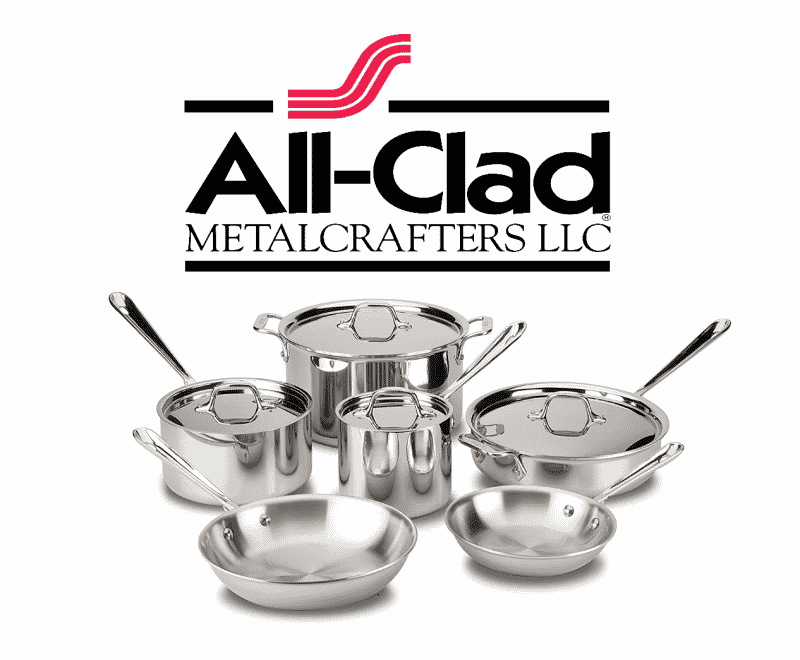 There are few names as prestigious as All-Clad within the world's range of fine cookware. You'll be blown away by the performance, but All-Clad comes at a steep cost. Here's a close look at what you can expect from one of the best manufacturers in the business.
Composition
All-Clad cookware utilizes either 3-ply construction featuring a polished stainless steel exterior, an aluminum core, and a brushed stainless steel cooking exterior or 5-ply construction, depending on the product range in question.
Cooking Surface
What makes All-Clad cookware special is the process known as cladding that it uses for fusing the layers. The standard of materials is kept exceptionally high, and the process instills complete bonding that allows for exactly even heat distribution with absolutely no hot or cold spots arising.
Aesthetics
The All-Clad collection is extremely attractive and features a polished stainless steel exterior with a mirror finish. The 5-ply cookware features a copper ring visible from the outside that helps pots and pans adjust to temperature fluctuations easily.
The outer layer of each item in the All-Clad cookware range utilizes 18/10 magnetic stainless steel on the exterior, which makes them induction ready.
Handles
Early All-Clad cookware had straight handles, which were largely criticized by users. All new All-Clad pots and pans have ergonomically designed handles that remain both cool to the touch and comfortable throughout cooking.
Cooktop Suitability
All-Clad cookware works on all cooktops. Furthermore, it is far more heat resistant than any other competing cookware, which makes using pots, pans, and bakeware in the oven a high point of their design.
Features
All-Clad cookware is oven safe up to 600°F, which is a full 100°F more heat retentive than most competing cookware.
Every last item features exemplary design and engineering, including flared rims that facilitate drip-free pouring and contoured handles that make handling heavily-loaded, heavy pots and pans a breeze. Any and all lids are interchangeable.
The angle at which the sides of each pot or pan within the All-Clad range ensure that there's at least 30% more cooking surface available as compared to the average equivalent cookware.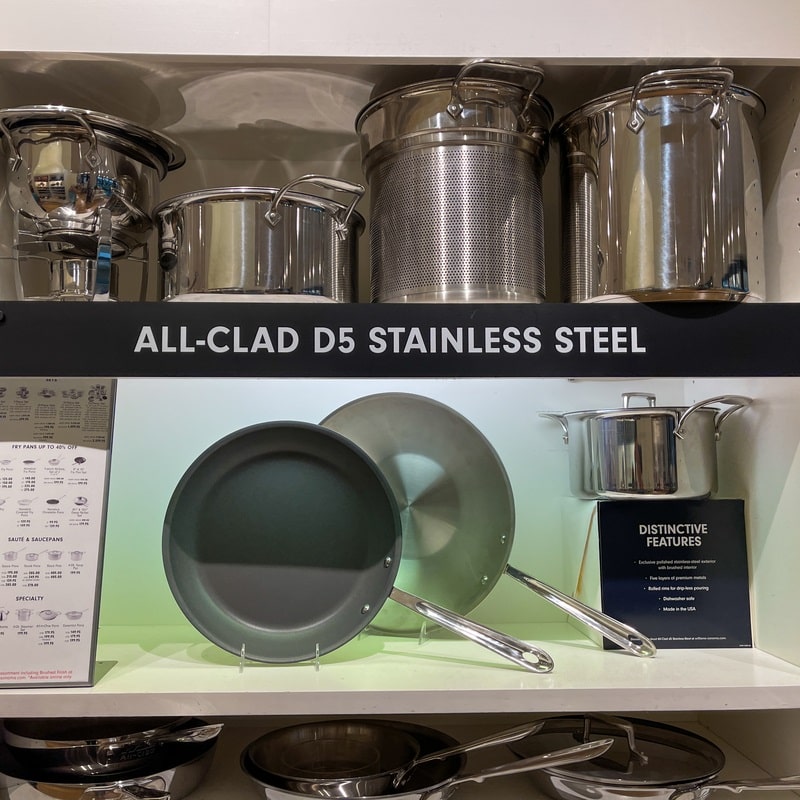 Considerations
Keep in mind just how much more expensive All-Clad cookware is than the Kirkland Signature range.
Affordability
The exceptionally superior performance and durability of All-Clad cookware come at a steep cost. As a means of comparison, a 10-piece All-Clad set of tri-ply stainless steel cookware retails for a standard price of $1159.94 online but is often discounted.
An All-Clad standalone 10-inch pan with a lid retails for $99.95. All-Clad's set is roughly five times the price of the Kirkland Signature 10-piece set.
Product Range
All-Clad offers stainless steel pots and pans sold individually as well as stainless steel sets. There is both D5 (5-ply) and D3 stainless steel cookware available, with each set being comprised of ten pieces.
The company also offers hard-anodized non-stick cookware in sets and individual pots and pans mimicking the range offered in stainless steel.
What Is The Difference Between Kirkland Stainless Steel Cookware And All-Clad
The main difference between Kirkland Stainless Steel Cookware and All-Clad cookware is that Kirkland Stainless Steel, otherwise known as the Kirkland Signature range, utilizes an inferior bonding technique to fuse the three to five plies of stainless steel despite remaining high ranking within high-performance, affordable cookware.
All-Clad cookware range has better cooking performance thanks to the proprietary bonding technique while suffering from an uncomfortable handle design as compared to Kirkland pots and pans and excelling in all other regards.
Which Is Best, Kirkland Stainless Steel Cookware Vs. All-Clad
There are few brands of cookware that can compare to All-Clad. It is clearly the very best option available between Kirkland Signature stainless steel cookware vs. All-Clad if a limited budget doesn't constrain you.
For those who are saving where they can, the Kirkland Signature range will surprise you with better performance than ever imagined and a lifespan that could see you throughout your life.