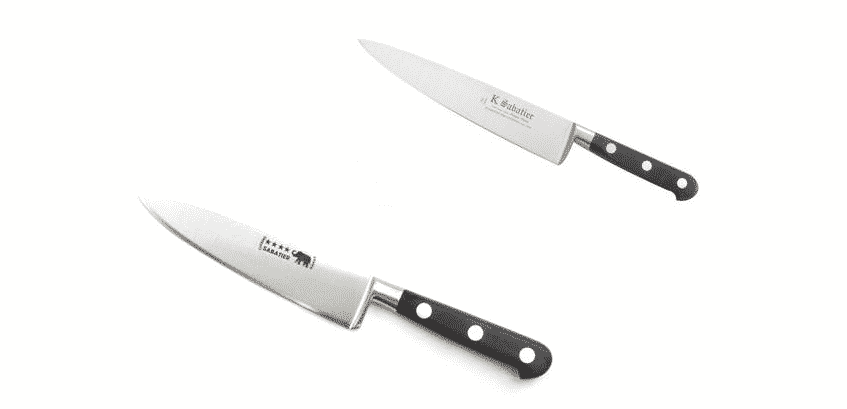 One cannot stress enough the importance of having the right knives in their kitchen. This is because even the basic cutting of veggies and fruits demand a sharp blade. On the other hand, if you have to cut meat, the need for a sharper blade will become even more important. For this reason, we are sharing the information about K Sabatier vs. elephant knife.
K Sabatier vs Elephant Knife
K Sabatier Knife
To begin with, this knife has a ten-inch size which is actually the chef's knife designed by K Sabatier. The knife is heavyweight but it has a full bolster, that eventually helps with the balance of the knife in one's hand. When it concerns construction, the blade of the K Sabatier knife is made through the high-carbon and top-notch stainless steel, which means there is incredible durability. The blade has a brand logo on it. These knives are made in authentic brand factories.
For everyone who wants the chef's knife with a promising brand name, the K Sabatier knife should be your go-to choice. On the contrary, it's essential to note down that these knives can be expensive but it has zero compromises on quality, so it will be a fitting bill for the worth. In addition, there are eight-inches variants available, along with the four-inches paring knife. However, all of these knives are constructed with carbon steel because it's durable, along with better cutting and sharpening performance.
In addition to the individual knives, K Sabatier offers a wide range of knife sets. There are various kitchen knives and forged chef's knives available. These knives are designed with three-riveted handles that offer better control over cutting.
Elephant Knife
This is one of the most authentic forged knives out there and is designed with Sabatier. The elephant knife is designed and manufactured in Thiers, France. When it comes down to the elephant knife and its construction, it has true carbon construction which means it is vulnerable to oxidization and rusting. This is the prime reason that elephant knife will demand more maintenance. We wouldn't mind saying that the elephant knife is that it offers an improved feel and balance.
These knives are forged with carbon. The metal is tempered and grounded before polishing to make the high-quality knife. As a result, the knife will have better balance and sturdiness, along with improved cutting performance. There are POM handles in the knife that is mounted on the tang through various three rivets; the handles are handcrafted and set up manually, hence better durability and craftsmanship. All in all, elephant knife has a higher cutting or sharpness design.
When it concerns maintenance, the elephant knife needs immense care because it demands better maintenance standards. For instance, these knives cannot be cleaned in the dishwashers. In the same way, you need to handwash the knives and dry them with a piece of cloth. In addition, the carbon construction in the blade tends to change its color over time but it's normal, so you don't have to worry if the elephant knife changes the color.
The elephant knife is designed for multiple purposes, such as better cutting for veggies, fruits, and meat. The knife is popular for the great balance which promises higher control on cutting. When it comes down to the blades, there are stamped as well as forged options. Usually, the blades are sharpened after tempering. The hand craftsmanship leads to top-notch sharpness and strength in the blade. However, these elephant knives are forged.
This means that the blade is made out of a single piece of metal which is shaped into a blade. Also, it is bolstered and tanged. As for the handles, they are riveted that promises better construction. In addition, sharpening and shaping are conducted by hands. On the contrary, there are various copies of elephant blades available, so it's suggested to buy one that's made in Thiers, France (it has a logo stamped on the blade).
The elephant knives are designed with a combination of honing, forging, and grinding. In addition to carbon and steel in the blade construction, there is chrome, molybdenum, and vanadium that makes it durable and resistant to deformation. All in all, the elephant knife has a round bolster that makes the blade easy to sharpen.