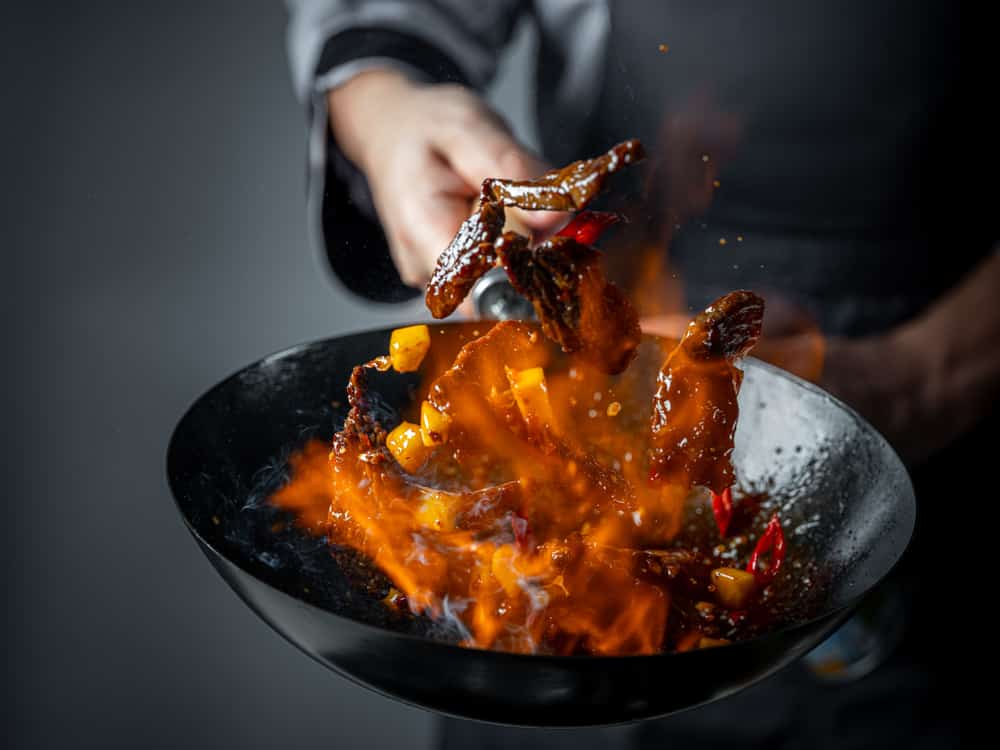 If you have a thing for Chinese food, you would know the importance of using a wok – the ultimate Chinese cooking tool. However, recently, Japanese wok vs. Chinese wok has become a common comparison. In case you have been confused between both and don't know the unique characteristics of both, we are sharing the much-needed information in this article!
Chinese Wok vs Japanese Wok: Which to Use?
To begin with, a wok is one of the most important Chinese cooking tools, and it wouldn't be wrong to call it a front man of Chinese cuisine. To illustrate, this cooking tool is wide and has a shallow pot (it is shaped more like a dome). The woks are designed to get extremely hot when they are exposed to higher temperatures. However, it's the same high heat that adds a unique flavor to Chinese food (our home stoves don't create such a high temperature, which is the prime reason the homemade Chinese doesn't taste the same).
The woks are extremely versatile since they are suitable for stir-frying as well as boiling, steaming, and deep-frying. Keep in mind that woks have the tendency to heat up faster, so the cooking process is extremely quick. Woks originated from China, but similar pans can be seen throughout Southeast Asia, South, and East. As far as the applications are concerned, it can be used to cook Chinese meals, roast and smoke the nuts, and make soup. The woks are generally designed with thin yet higher edges, and the rounded surface ensures even cooking.
The woks deliver proper heat distribution, so the entire cooking experience is homogenous. The best thing about woks is that they are easy to maintain since you only need to clean them with fresh water and a sponge. Also, the modern woks are designed with nonstick coating, promising no stickiness. On top of everything, cooking in a wok is extremely healthy as it doesn't require too much oil and you can cook larger quantities of food in them. Now that you have basic information about the wok, let's see the differences between a Chinese wok and a Japanese wok!
Chinese Wok
The Chinese woks are the original woks, and the majority of them measure around 13 inches to 14 inches. They are perfectly sized to sit on the stovetop of the range. In the majority of cases, the Chinese wok is made from carbon steel, and some villages in Chinese are still using the conventional methods of making the woks. For that, they utilize a steel disc that's hammered for hours to attain the round shape that the woks are famous for.
The traditional Chinese woks are designed with two handles on both sides, but the woks used in Northern China are designed with one long handle, making them equally suitable for Asian cooking. These woks are integrated with rounded bottoms, which means they can be used on the gas stove. On the other hand, some companies are manufacturing the Chinese woks with flat bottoms, which make them suitable for non-gas stoves. To cook with these woks, different utensils are utilized, including a cleaver, holder ring, wok brush, and spatula.
Japanese Wok
The Japanese woks are pretty different when compared to Chinese woks. This is because the Japanese woks are designed with more evenly rounded bottoms while the handle is thicker and shorter. In the majority of cases, these woks are made from carbon steel and are widely used for commercial purposes, such as in restaurants, but some people use them for home as well. When it comes down to the construction, the majority of Japanese woks have 1.2mm thickness, promising the thin texture to ensure quick heating and cooking.
Even more, some of the woks have welded joints to create a round bottom, but if you have to use them at home, the ring holder is necessary). Also, just like other woks, they are made with a protective coating, which needs to be burned off before use. However, the Japanese woks made from carbon steel need seasoning whenever you need to cook because if you don't, the woks will rust. The high sides of the wok promise a safe cooking experience because the food won't fall out and has immense conduction, promising evenly cooked items.