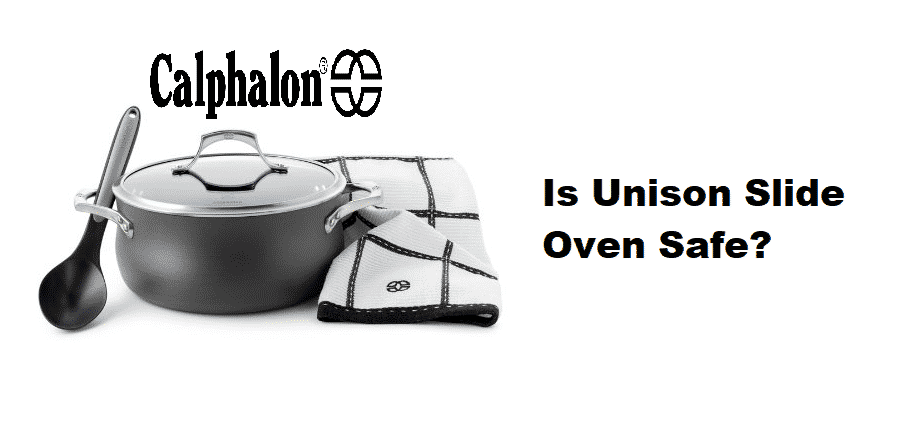 It gets hard whenever you are deciding which cookware is appropriate for cooking or heating up your food in the oven. Since ovens have become one of the most commonly used appliances, people prefer purchasing cookware that is both dishwasher and oven safe.
Is Calphalon Unison Slide Oven Safe?
Calphalon is a company that has been making nonstick fry pans for a long time. Calphalon offers different sizes of unison slide sets. Their pans are made with a nonstick coating which is made with a two-layer design. The nonstick coating is PFOA free which resolves all the safety concerns of the customers.
The best part is that the slide range is dishwasher safe. Their pans are made with hard-anodized aluminum which makes them very durable and long-lasting.
The handles of Calphalon unison slides are curved and temperature resistant, which makes it easier for you to handle them. Moreover, the flipping of food is also made easier using these handles. The best part is their handle would not heat up while cooking. The set of Calphalon unison slides does not come along with a lid however you can purchase it separately from them.
Is Calphalon Cookware Oven Safe?
When it comes to the oven-safe range of Calphalon then there are different temperatures that Calphalon cookware can stand up to. Their hard-anodized aluminum cookware range can be exposed to higher temperatures with a range above 500 degrees Fahrenheit. However, their non-stick coated cookware collection can only be exposed to 500 degrees Fahrenheit heat otherwise it will start chipping off.
What Makes a Pan Oven-safe?
Certain materials support baking in the oven otherwise the material will start deteriorating. The most common materials that are preferred for baking are ceramic, copper, cast iron, and even aluminum as well. If your pan is made with any of these materials then you can put them inside the oven, however, there is one thing that you must check.
The temperature range of each material varies. For example, if you have a Calphalon pan that is only 400 degrees oven-safe then you cannot put it on a temperature more than that otherwise, your pan will start deteriorating. One common example is the nonstick coating which gets damaged if you expose it to a temperature higher than 500 degrees Fahrenheit. The coating will start to tear apart and give off toxic fumes.
Is Calphalon Unison Slide Oven-safe?
Calphalon Unison Slide is a nonstick range of Calphalon cookware that is oven safe up to 400°F (or 260°C). As well as the glass covers that come along with their Calphalon unison slide sets are also oven safe for up to 450°F/230°C.
Note: This range of Calphalon is not safe for use in the broiler.
However, if you go for any other range of Calphalon which is made with hard-anodized aluminum then the temperature range will rise to higher temperatures. Hard anodized aluminum can sustain a temperature range above 500°F and can handle normal oven temperature.
So to sum up, your Calphalon Unison Slide is completely oven-safe. You can now go ahead and cook your favorite dishes in it.