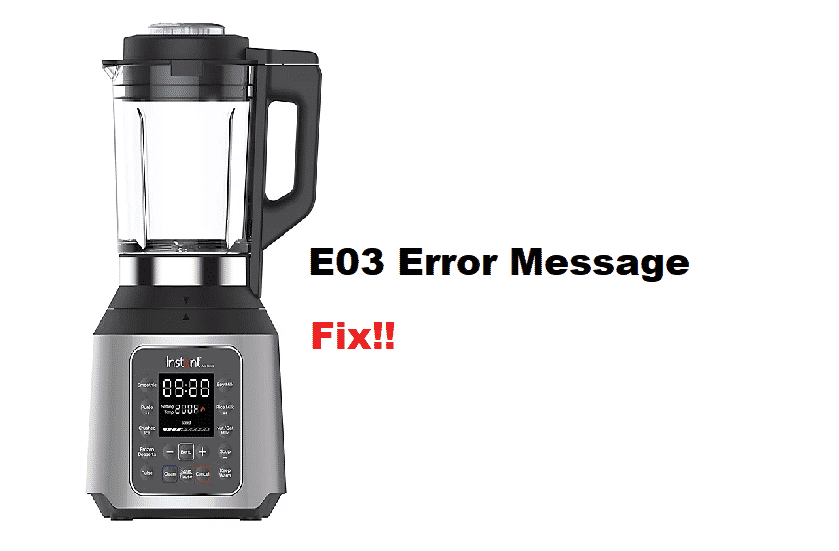 Error codes are an incredibly useful method for displaying different types of errors. Through an error code, a user can know exactly what type of error that he is facing and how he can troubleshoot it. This way, companies also include instructions on how to troubleshoot each and every one of these error codes.
How to Fix Instant Pot Ace Blender E03 Error Message?
E03 error message on the Instant Pot Ace blender is a very common error code that many users seem to be experiencing. On asking such users about the error code, we learned that they get this error code whenever they try to operate the blender.
Today, we will be listing all the possible ways on how you can troubleshoot and fix the issue. You can find all the troubleshooting steps mentioned right down below:
Dry Heat in the Pitcher
The reason why this error code occurs is mainly due to dry heat being applied to the blender. In simple words, this error code is occurring because you have been using the device when it's dry due to which heat is generated inside the pitcher.
Hence, in order to fix this, you will first have to try and cool down the pitcher. This can be done by making sure that you stop using the blender so that it does not generate any more heat than it already has.
Remove and Re-seat the Pitcher
This is one of the most effective solutions to all the problems that you may face with the pitcher of the blender. All you have to do is to re-seat the pitcher which should potentially help resolve the problem.
What we recommend you do here is that you remove the pitcher for a few minutes to allow it to cool down. Afterward, properly re-seat the pitcher which should then eliminate the error code that has been appearing on the device.
Add Liquid
Another solution to the problem is to simply add liquid to the blender. As the error code happens when a pitcher has dry heat, this is why adding water to the blender could prove to be helpful in fixing the issue.
This is especially true when you are trying to cook anything using the blender. Ensure that you add water whenever you decide to use a cooking program. This should most definitely help in fixing the problem.
The Bottom Line
Getting the E03 error code message on the Instant Pot Ace blender? By simply following the 3 set of instructions that we have mentioned above, you can easily resolve the problem. Hence, make sure that you give the article a thorough read so that you don't miss out on anything.