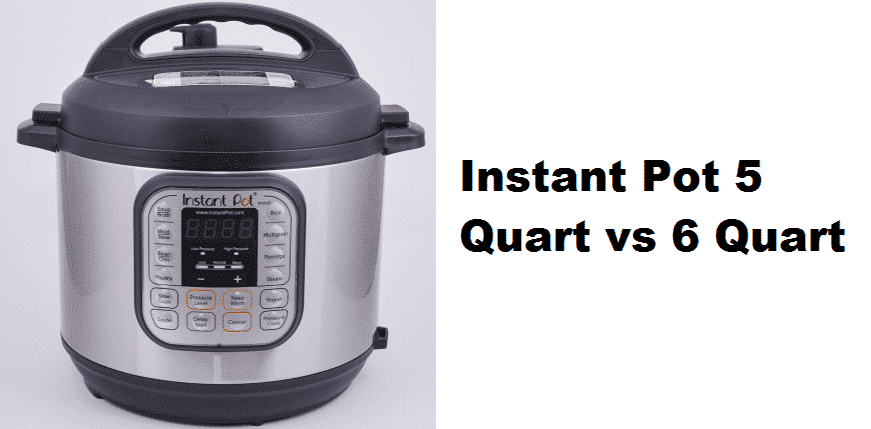 Instant Pots have become very famous and are starting to find their way into the kitchens of most people. This is all thanks to the convenience and multiple uses that they provide. You might be interested in buying an Instant Pot too. While it sounds simple, choosing an Instant Pot is actually a bit difficult. You have multiple different options to choose from. There are all sorts of different models and the only real difference between them is the size. You'll be able to find Instant Pots in 4 different sizes.
Instant Pot 5 Quart vs 6 Quart: Whats The Difference?
As mentioned, there are a total of 4 different Instant Pot sizes that you can choose from. The 2 most popular sizes out these four are the 5 and 6 quartz. Most people will recommend you either of these 2 sizes if you're looking to buy a new Instant Pot. However, the problem for most is deciding which of the 2 they'd rather wish to purchase. There are a few differences between the Instant Pot models that are 5 quarts as compared to 6 quartz. In this guide, we'll be comparing most of the main differences in order to make it easier for you to decide.
Capacity
Obviously, all the different sizes have different capacities. For example, the 5 quartz Instant Pot is capable of storing enough food to feed at least 3 people. On the other hand, the 6 quartz Instant Pot is capable of easily storing and preparing enough food for 4 people. This means that the 6 quartz has a slight advantage over the 5 quartz. In the end, deciding which one you'd rather have is up to you. For example, the 6 quartz is much better if you plan to feed 4 people on a regular basis. However, the 5 quartz is better if you don't have much company and only need to feed 3 or fewer people. You should definitely go for the 6 quartz if you invite guests regularly.
Price
You might be wondering why you shouldn't just purchase the larger Instant Pot as it doesn't hurt to have more capacity than required. The answer to this question is fairly simple. 6 quartz Instant Pots are usually more expensive while 5 quartz are usually cheaper options. This is why you don't need to waste your money on the extra capacity that you won't even be needed in the first place. In the end, the 5 quartz is the better option for anyone under a tight budget.
Cooking Time
The size of the Instant Pot also plays a role in the amount of time that it takes to cook something. For example, a smaller pot will take less time to pressurize and prepare as compared to a larger one. This obviously means that the 5 quartz Instant Pot provides faster cooking speeds than the 6 quartz. However, it must be said that the difference between cooking times isn't very significant.