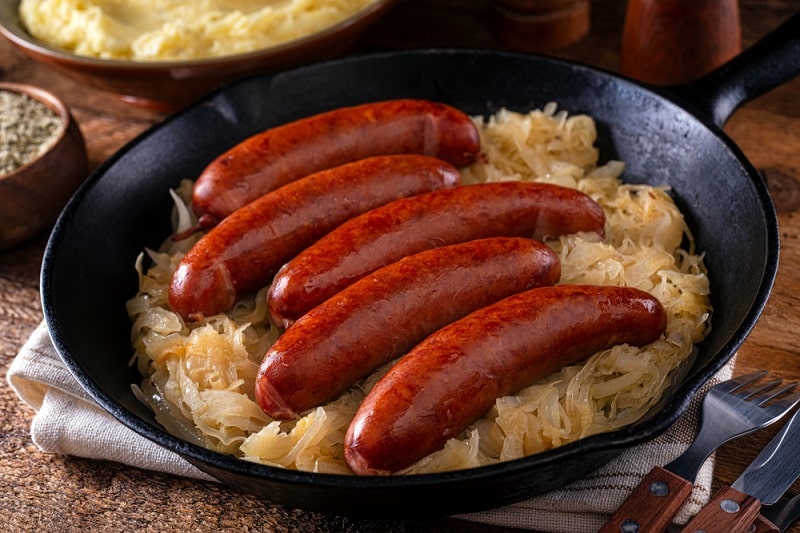 Have you ever tried Polish sausage? There are several different types of kielbasa, as they're called in Poland. Sausage is a staple food in Poland, and different regions have their own specialties. Some are made from pork, but others use beef, lamb, veal, or even turkey.
The meat fillings are flavored with various spices and herbs, ranging from mild and rural garlic and marjoram for wiejska to hot and spicy ones containing cayenne pepper.
In the US, most are sold ready-to-eat because they have been pre-smoked or cooked. These still need to be warmed up to taste their best. Others are sold raw and need to be cooked at home, especially the ones from farmers' markets.
Do you know how to cook fresh Polish sausage? This quality food deserves the best treatment before going into your next chili or hot dog. Read on to find out exactly how to cook these delicious treats.
Cooking Fresh Polish Sausage
While kielbasa is Polish in origin, they are loved and sold around the world. There are many varieties, so try to sample all the different ones in your local deli and market. Here's how to cook fresh polish sausage in four different ways.
1. By Boiling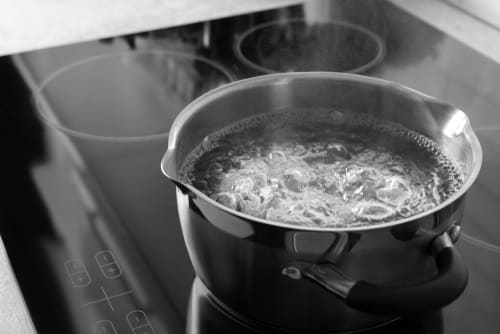 This preparing Polish sausage is most commonly used around the globe because of its efficiency, simplicity, and rich taste. First, you need to take a large pot filled with cold salted water and put it on the stove.
It is important to salt the water because this prevents the sausage from losing its flavors in the water. Next, place your fresh sausages inside it.
Please turn on the heat, and once you notice that the water is starting to boil, lower the heat and simmer the sausages in it for 8 to 10 minutes.
Then, turn your stove off and let the sausages sit there in the water for about 5 minutes. Ta-da! Your fresh Polish sausages are ready to be served. This method is great for hot dogs.
2. By Using a Grill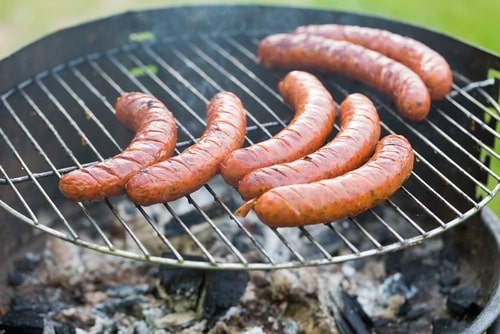 If you have a cooking grill, you can use it for cooking fresh Polish sausages. First, you need to pre-heat the cooking grill to medium heat.
Once the coals are red hot and ready, start placing sausages over the cooking grill one by one. The heat should not be too high, or the sausage skins may burst.
Flip each sausage every 7 minutes or so. For an authentic touch, make slits along the length of the sausages and baste them with beer as they are cooking. This gives them a uniquely delicious taste. Once the sausages are done cooking, they will have a firm center.
3. By Frying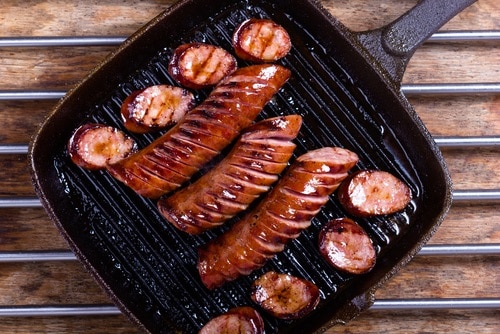 Frying is easy and doesn't require any special equipment for cooking other than a frying pan and a pair of tongs for turning the sausages over.
Unlike normal frying methods, fresh kielbasa is not fried in oil. Therefore, frying can easily be used to cook fresh Polish sausage at home. You can take a frying pan and place your sausages in it along with a little water.
About an inch of water will be just fine. Turn the stove on and set the flames on low to medium. Now, cover the pan with its lid. Make sure to flip the sausages every 7 minutes or so to cook them properly on all sides.
With this method also, it is good to make slits along the length of the sausages every 2 inches to cook from the inside properly. You can also slice the sausages into half-inch slices or in half lengthwise before water-frying.
If you want to finish them off with a little oil at the end for a golden color, pour the water out once done and add a teaspoon or so of oil to the pan of sausages. Then fry for another couple of minutes on high heat.
4. By Baking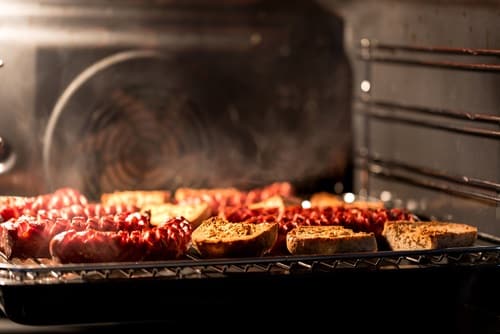 Ever thought about cooking Polish sausages in the oven? Yes, you can use baking for cooking fresh Polish sausages! What you need to do is pre-heat your oven to about 375 degrees Fahrenheit.
Then, take an oven-safe glass dish and place your fresh sausages in it along with an inch of water. The water should reach just halfway up the sides of the sausages.
Next, place the dish in your oven and bake the sausages for approximately 40 minutes. Make sure to flip the sausage halfway through the cooking time to ensure even cooking.
Enjoy
We hope you feel more confident now when cooking your next batch of fresh Polish sausages. Smacznego!