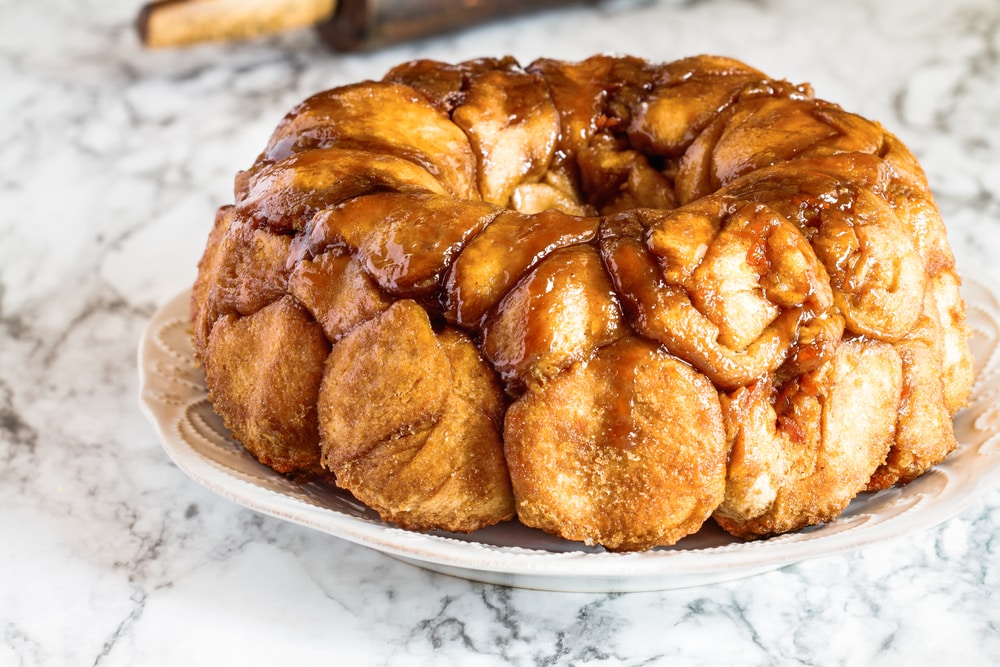 If you are someone with a sweet tooth and enjoy American desserts, we are certain that you are a fan of monkey bread. It's needless to say that monkey bread is pretty popular in the United States for its sticky, sweet, and soft texture. It's an ultimate treat and makes a great addition to the breakfast table. But hey, how did monkey bread get its name? Did you ever wonder? We have the information available for you!
How Did Monkey Bread Get Its Name?
Why Is Monkey Bread Called So?
Honestly, the reasons behind this name are quite funny, so let's share a laugh. To begin with, monkey bread is called so because you can eat it right with your hands, just like a monkey. Also, you don't need to use a fork or knife. Secondly, back in the 1880s, the Hungarian immigrants came to America and brought this bread with them (this information was shared through Hungarian literature). Back then, it was named arany galuska, which translates into Hungarian coffee cake.
Some people also say that monkey bread is baked with a hole in the central area. That being said, if the monkey bread is hung from the tea branch, it looks like a monkey (we don't know how true that is, but people see it as another reason behind the name).
What Is Monkey Bread?
Now that we have shared the reason behind this name, let's talk about monkey bread and what it is. As already mentioned, it's a soft and sweet pastry served in the U.S. and boasts a sticky texture. It has various pieces of baked dough that are sprinkled with cinnamon and is readily available at American festivals and fairs. It was basically finger food, and it's picked just like a monkey would pick the banana. It is also known as sticky bread, golden dumpling coffee cake, monkey puzzle bread, and more.
It is made with sweet yet frozen yeast dough which is baked at a higher temperature in the cake pan. However, before baking, each piece of dough is covered in butter, sugar, chopped pecans, and cinnamon. For the most part, it is served hot, which results in easier picking, and can be eaten with hands. It is a popular breakfast pastry and dessert. It has become a filling and hearty treat, even with the simplest ingredients that are used for baking it.
Every slice or disc of the monkey bread has a thickness of ¼-inches. In addition to pecans and cinnamon, some people also make brown sugar and butter sauce and top the bread with it. It is made by baking the dough for over twenty-five minutes in the bundt pan and is cooled down for over fifteen minutes. Then, monkey bread is dished out on the serving plate. However, it's important to pull the bread pieces a bit to make it easier for people to pluck them.
In addition to this sweet version, it is also made in a savory version. The savory version is made with biscuit dough and is melted with garlic and butter. Moreover, parmesan cheese is garnished over the top.