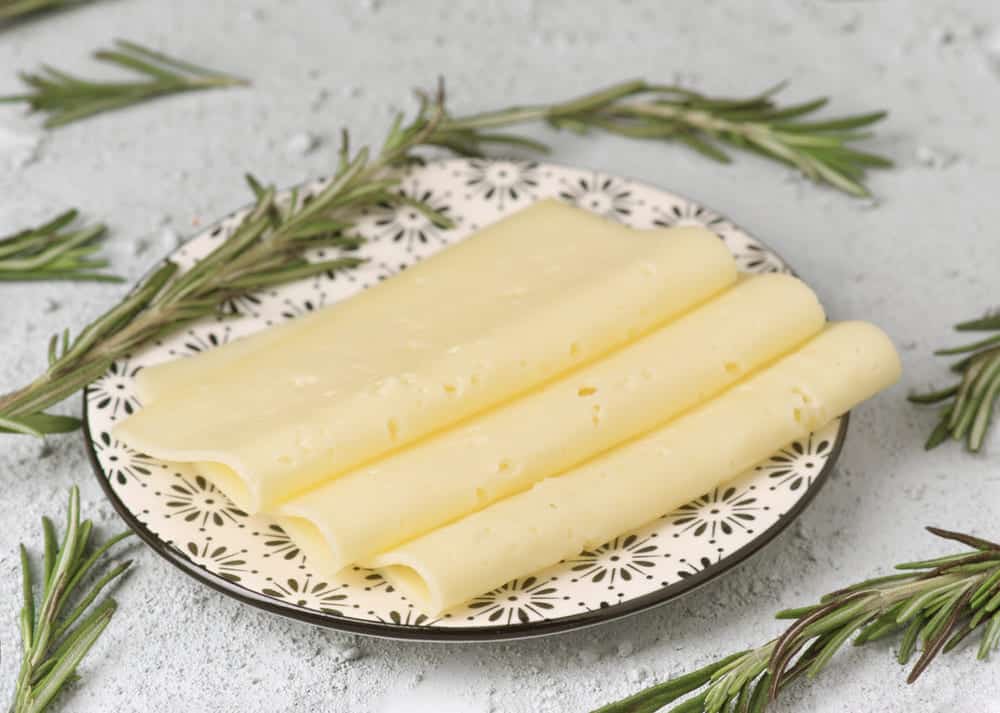 Havarti cheese is made in Denmark and is an important ingredient of Danish cuisine. It is semi-hard and has a springy texture. The taste is sweet with some acidic touch. What makes it unique is that its taste is mild and balanced which makes it an ideal choice for adding in sandwiches and salads.
As the cheese ages, it takes the tone of hazelnut. The aging time ranges from a few months to one year to achieve the desired taste. At times, the problem of Havarti cheese unavailability may arise, so you can go through our Havarti cheese substitutes to find the best alternatives.
Havarti Cheese Substitutes
1) Tilsit
This is a semi-hard cheese produced with cow's milk. The taste is buttery, rich, and salty. Havarti has a creamy texture and so does Tilsit. The cheese has a mild flavor which makes it the right choice for adding in herbs and spices.
Use it in salads, sauces, or baked items. It requires only some time to age to perfection. Most experts agree that it is the best substitute for Havarti cheese. The taste and appearance are closer to Havarti.
2) Cheddar
A commonly used cheese, cheddar also makes it to our list. However, as a substitute for Havarti, young cheddar should be used. Cheddar would be classified as young between 3-6 months of ripening. The flavor of this one is mild and buttery. It is soft and smooth. It is used in sandwiches because young cheddar is easy to cut.
3) Monterey Jack
This is an American cheese that is produced from cow's milk. The color is pale ivory and takes nearly three months to age to its desirable form. You will observe small holes, but the texture is somewhat smooth. The flavor is mild and sweet. It is a great melting cheese making it ideal for dishes where you need to melt the cheese.
4) Saint Paulin
This is French cheese and is very close to Havarti. It has a creamy texture like Havarti and has a mild flavor. The texture is semi-soft texture, but this buttery cheese is firm enough to be sliced easily. You can use it as a table or a dessert cheese as it is an affordable option. Furthermore, it is served with fruits very often. Thus, its creamy, soft, and mild taste and texture make it a great Havarti cheese substitute.
5) Esrom
This one comes from Denmark and is made from cow's milk. It has a pungent smell but a buttery and mild taste. The taste profile is sweeter, so consider this before using it. The texture is creamy like that of Havarti, and this is a semi-firm cheese. Thus, this pale-yellow cheese is a suitable replacement for Havarti cheese.
6) Gouda
One of the most famous cheeses worldwide, Gouda is an easy-to-melt cheese. It is made in the Netherlands and comes from yellowish cow milk. Similar to Havarti in taste and texture, Gouda is an appropriate alternative. The younger Gouda is soft and mild in flavor as compared to the aged one, which becomes stronger and buttery in flavor.
7) Colby
This unique orange-colored cheese makes it to our list because of its mild and nutty flavor. Colby, an American cheese, is a semi-hard cheese that is made from cow's milk. The texture is soft and creaming making it a cheese worth enough to be added in sandwiches, casseroles, and fruits. It is easy to melt cheese too.
8) Emmental
This versatile cheese can be used in dishes that require a nice melting cheese as well as in pasta and sandwiches. Emmental is a yellow-colored cheese, that is a little harder and less creamy than other substitutes mentioned here. The buttery and fruity flavor is what makes it a closer Havarti substitute. It has health benefits like anti-inflammatory properties.
Havarti cheese is a mild, soft, and creamy cheese. We tried to list down some of the best substitutes available for this creamy cheese. Almost all of the replacements mentioned here are close to Havarti, but Tilsit, Saint Paulin, and Monterey jack are the best options. However, others have similar features that make them equally good substitutes. Enjoy playing around with all these types.