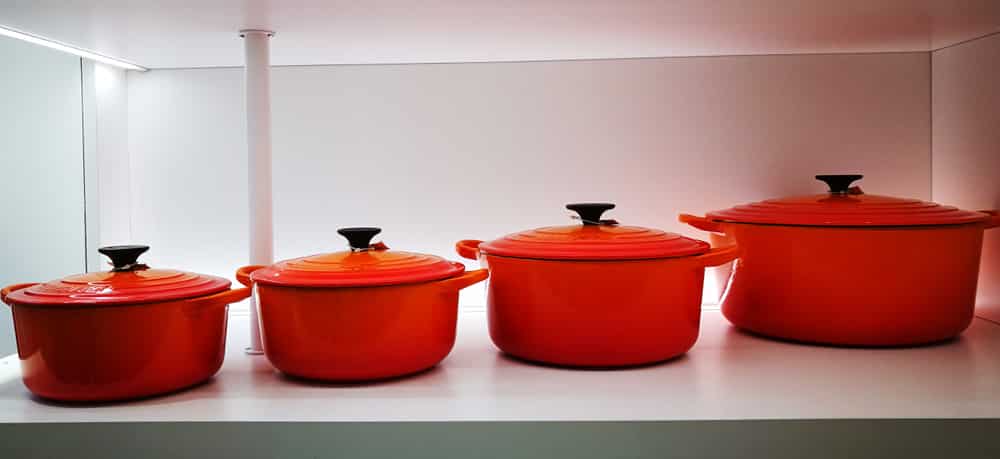 With the variety of cooking pots and pans available in the market, a Dutch oven has become a great option for people who want a versatile choice. It is a thick-walled pot that's designed with a tightly fitted lid and is manufactured from seasoned cast irons.
However, not all Dutch ovens are created equal, which brings us to Great Jones vs Le Creuset because these two brands offer the best Dutch ovens!
Great Jones vs Le Creuset Dutch Oven
Le Creuset Dutch Oven
Le Creuset is probably the first brand that comes to mind when you have to purchase a Dutch oven. The company has been around since 1925, and they have been making exceptional cast iron cookware with enameled coating. Their Dutch ovens are versatile, durable, and have an aesthetically pleasing design. According to the company, each piece takes around ten hours to complete, and around 30% of the products are wasted (they have an extremely strict quality control).
The Dutch ovens are made by pouring molten iron into the molds for forming the base, which is then cooled and smoothened by machines and hands. Every piece is sprayed with three enamel layers, particularly the glass coating. The Dutch ovens are available in a variety of colors, shapes, and sizes, so there are chances that you will get intimidated. For instance, it's available in round, oval, and deep round shape. The deeper one has taller sidewalls, which makes it suitable for boiling and deep-frying.
On the other hand, the Dutch oven is available in sizes ranging from 1-quart to around 13.25-quart capacity. As far as the colors are concerned, it's available in orange and grey color, but the company is constantly launching new shades. The round designs are more recommended because they promise even heating on the sides as well as on the center. The Dutch ovens have a smoother and shinier exterior that looks pretty awesome in the kitchen.
The Dutch oven has been designed with a sand-colored interior, making it easier to check the browning of food, but it won't be able to mask the discoloration and stains that incur over time. As far as the lids are concerned, they use a three-circle pattern, and there is a brand name embossed on a side. Also, they use black knobs on the lid, which can be used in the oven as long as the temperature doesn't exceed 390-degrees Fahrenheit, but the signature range has a temperature threshold of 500-degrees Fahrenheit.
Great Jones Dutch Oven
Greats Jones is a well-known consumer brand that was first launched in 2018 (yes, they aren't that old). The company was started by two childhood friends, and even if the brand is new, it's been endorsed by the Vogues and The New York Times. The cookware is exceptionally durable and functional without compromising on aesthetic appeal. They have a direct-to-consumer model, which means you can purchase the Dutch oven directly from the website.
The company has named its Dutch oven The Dutchess, and it's available only in one size; it has a 6.75-quart capacity and has an oval design. However, it is available in around seven colors, and all of them have a classy matte finishing; the colors include yellow, bright blue, green, grey, white, light red, and black. Honestly, the Dutch oven has a great build, but only if you need one sized at 6.75-quart – it is not available in sizes bigger than this.
The shape is good enough to cook a full chicken roast, but you need to remember that it won't remain centered on a stovetop burner. This means that the center will be hotter as compared to the sides. The Dutch ovens are sand-casted with the help of German equipment and are painted before triple firing to achieve the matte finish. Great Jones has chosen a gray interior, which makes it easy to check out the food during cooking.
Great Jones has kept the lids pretty smooth, and the company logo has been embossed on them. The lid handle is made as a U-shaped loop which is colored in brass color, which is easier to grip. However, it can get pretty hot, so that's something off about the Dutch oven. Still, the side handles are pretty roomy as you can fit in four fingers, promising easier transport.