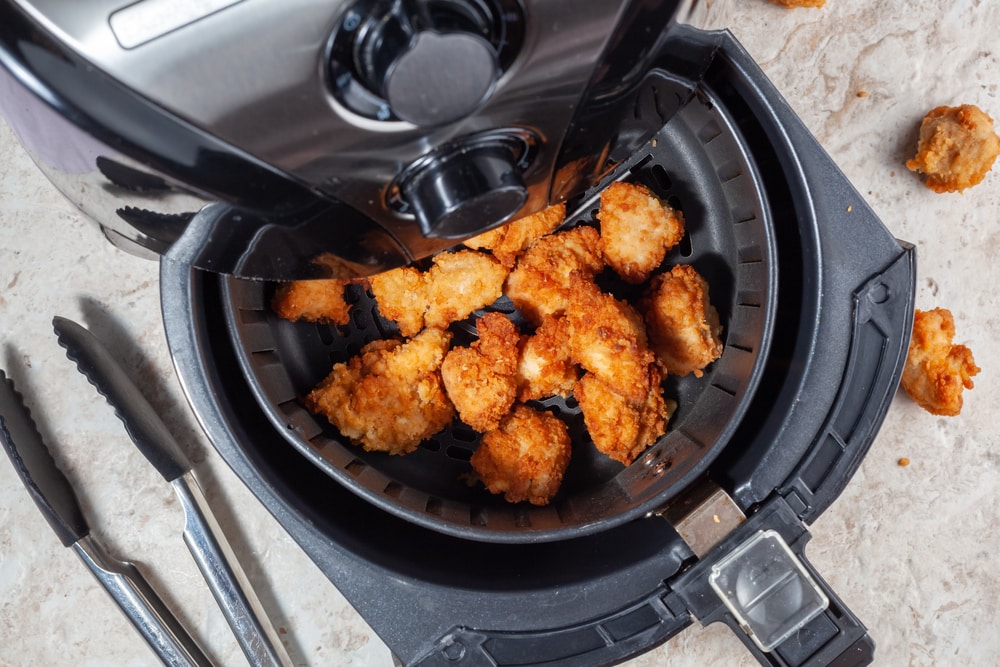 The air fryers have made their mark in the cooking world for people who prefer a healthier and more convenient cooking experience as you don't need any cooking oil to cook the food (or fry the food). With hundreds of kitchen appliance brands available in the market, nothing matches the quality of GoWISE and Power brands. So, let's check out GoWISE vs. Power XL air fryer comparison, so you can make the right choice!
GoWISE vs Power XL Air Fryer
GoWISE Air Fryer
To begin with, the GoWISE air fryer is designed with a 5.8-quart size, which is pretty amazing for people who need to cook food for an entire family at once. GoWISE air fryers tend to have a round design, which means they will be portable enough for cooktops, but it might be a negative influence on the cooking surface. If you are concerned about the utilization, it has a cooking basket that can be pulled out and pushed in easily. In addition, there is a dripping tray to catch the food particles dripping.
GoWISE air fryers are designed with smaller icons that are located around the primary display screen, and you will be able to find some options for cooking pizza, fries, steak, bacon, fish, shrimps, chicken, and cake. The air fryer is integrated with the in-built settings to ensure there are no compromises on your cooking convenience. The temperature range of this air fryer ranges from 180-degrees Fahrenheit to 400-degrees Fahrenheit, but the cooking temperature is around thirty minutes only.
The air fryer is designed with a detachable and nonstick pan and basket, which promises easier cooking without any sticking. The basket is designed with a cool-touch handle for easier pulling of the basket, while the button guard helps prevent accidental opening or detachment of the baskets. The GoWISE air fryers are integrated with the recipe book, which has around fifty recipes that you can make in this air fryer.
It's a medium-sized air fryer, which means you can cook food for around four people at once. When it comes down to the cooking functions, it can be utilized for roasting, air frying, and baking. The display has a touchscreen configuration and has LED screen, making it a user-friendly option.
Power XL Air Fryer
This brand has a promising range of air fryers, but the XL air fryer is known for its 5.3-quart cooking capacity, which allows you to cook food without worrying about multiple batches. Power XL air fryer is designed with a sharp square shape, which makes it appear more aesthetic. The usage is quite simple as you have to pull out the cooking basket and push it in to initiate the cooking process. In addition, it comes with a dripping tray to help you catch the food's drips to ease the cleaning experience.
Power XL air dryer is integrated with the same presets to cook fries, cake, fish, shrimps, bacon, and steak, but there is no pizza preset available in this air fryer. The air fryers are integrated with multiple settings, so you can easily adjust the temperature and cooking time to streamline the cooking experience by adjusting these settings. The temperature range is the same as the GoWISE air fryer, but the timing is around 60 minutes, which is surely a competitive feature.
Power XL air fryer is designed with turbo cyclonic air circulation to cook the food to perfection without using oil. This is because the meals are exposed to superheated air to ensure there are no hot and cold spots, so you can enjoy the crispy exterior texture and tender and juicy inside. The best thing about the Power XL air fryer is that you don't have to worry about the calories. Power XL is a medium-size air fryer, making it enough to cook food for four to five people.
If you are concerned about the cooking functions, it's the same as GoWISE but remember that you cannot use this air fryer for broiling and dehydrating. It is integrated with the LED display touchscreen, which can be leveraged to choose between seven functions.
The Bottom Line
It's needless to say that both these air fryers are amazing, and you can use any of them. However, the GoWISE air fryer has a larger capacity, but you will need to consider the shorter cooking time (you can always adjust the cooking time again).