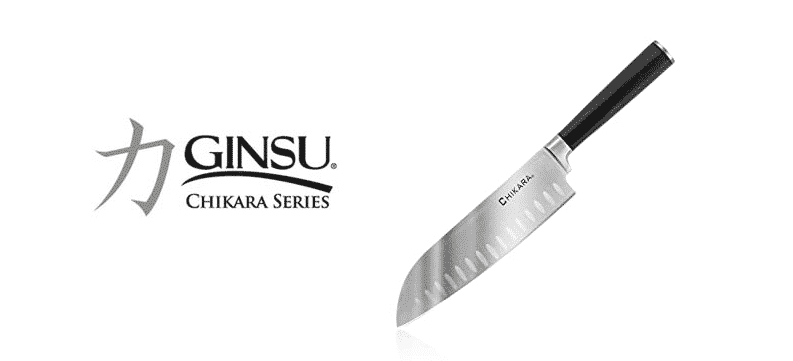 Knives are important but so is choosing the right brand. For the same reason, Ginsu knives have become pretty famous since they have been making top-notch knives for more than forty years. It's safe to say that Ginsu knives are the sharpest knives out there.
Similarly, people are looking for a Ginsu Chikara review because these knives are effective and have cutting performance, along with better affordability. So, let's see what Ginsu Chikara knives are all about!
Ginsu Chikara Review
When it comes down to Ginsu, the chikara gourmet knife set is an amazing option. These knives are designed with single stainless steel (420 Japanese steel) piece and are forged. These forged knives are great for promising effective cutting performance through the robust and strong design. These knives are pretty affordable and promise the value for your money. These knives are designed to offer a balanced cutting experience for people who cannot spend a fortune on the knives.
This knife set is designed with nineteen pieces and all of them are designed with unique blades. The blade length ranges from 3.5 inches to 8 inches. As far as the construction is concerned, the blades are constructed with Japanese stainless steel. On the other hand, one needs to be mindful of the handle, so these knives are designed to reduce the strain and enhance functionality. With this being said, the knives' blade is polished and sharpened.
Truth be told, this Chikara knife set has a clean design with top-notch utility and is integrated with professional features. It's safe to say that this knife set is a combination of style and durability with better affordability standards that don't compromise on customer satisfaction. In addition to the knives, this set has a bamboo finish block that can be used to store the knives. These blades can be used for cutting, dicing, chopping, and slicing.
If we look at the options of knives available, it has a utility knife, boning knife, paring knife, cleaver, bread knife, slicer, honing rod, chef's knife, Santoku knife, steak knife, and shears. The blades are hand-polished which positively enhances durability. The knives in this set are forged; however, the steak knives are stamped. All in all, these knives are a long-term investment and will last an entire lifetime, and will provide the value and worth of your money.
This knife set is designed to offer higher utility and is constructed with a focus on details. There are various blades available, so you can conduct different cutting tasks without any issue. The handles are shaped to offer a better grip and comfortable handling. In addition, it has higher flexibility given the lower maintenance needs, along with easier maneuvering. As a result, there is zero to minimal need for sharpening the blades.
It wouldn't be wrong to say that blades are extremely durable and sharp that promises higher utility. With this being said, these knives promise easier slicing and cutting. The knives are designed with an appealing finish and casing. The best thing about this knife set is that it's pretty versatile and has something for everyone's culinary needs. The bottom line is that this knife set is great for professional usage and aligns with durability.
Ginsu Chikara Series 3-Piece Knife Set
In addition to the 19-piece set designed by Ginsu, there is a 3-piece knife available as well. This knife set is suitable for meeting basic culinary needs. With this being said, this knife set is designed with the utility blade, chef's knife, and a paring knife. These knives are extremely durable and promise excellence at an affordable price. The 3-piece knife set is very competitive and will seamlessly replace the dated knives that you've been using for years now.
The prime reason that you should opt for this knife set is that it has been designed with two utility knives, so that's great. In simpler words, the price seems solely for the chef's knife (considering the quality) but you also get the utility knives. The knives are designed with a forged design and have a stainless steel construction. We absolutely love the handles designed in these knives since they offer better control and balance. Also, the handles are contoured for proper grip!