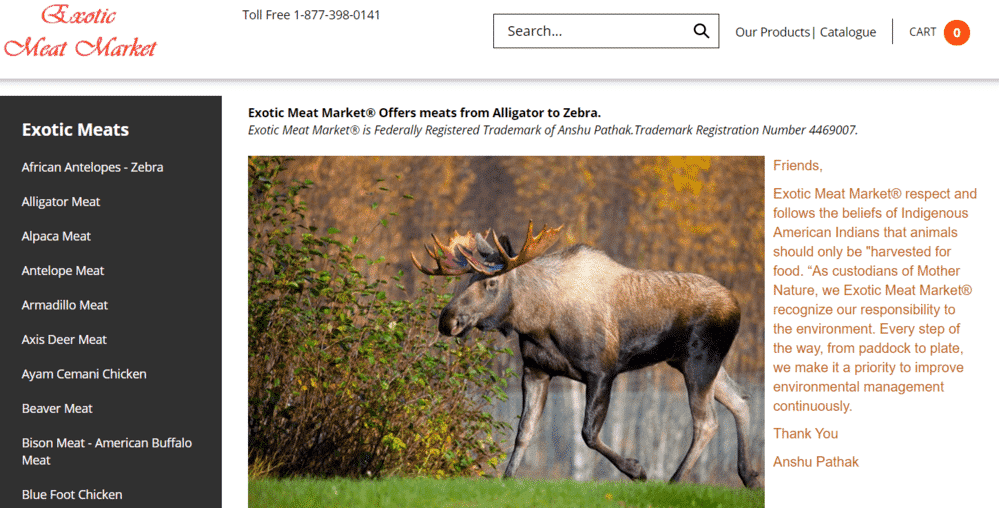 If you are a non-vegetarian, we are pretty sure that you would love meat. Similarly, people who have a knack for meat would love to try different types of meat, and the exotic ones too. With this being said, exotic meat is not usually available at the supermarket, right?
This is why exoticmeatmarkets.com has become a famous choice for people who like such meat forms. So, in this article, we are sharing exoticmeatmarkets.com review for your ease!
Exoticmeatmarkets.com Review
This is an online website that is famous for sourcing exotic meat for consumers. People need to place an order on the website and they ship the meat at your doorstep. They have country-wide shipping available for free, along with international shipping. On the other hand, some people have been complaining about the deliveries and payments if they paid through PayPal.
Over time, this platform has gained higher visibility in the market and the meat offerings are pretty great. However, some people suggest that the sourcing methods of meat tend to be skeptical and sketchy. For instance, Exotic Meat Markets is offering iguana meat in various states but the legal laws demand farm-raising of the iguana. However, they source it from Puerto Rico.
With this being said, the meat offerings are great for sure but how they get all that meat is pretty grey. In addition to the meat, they also offer olive oil and balsamic oil and people actually love their oils. As per the available information, Exotic Meat Markets has been working since 1969. It wouldn't be wrong to say that they have been operating for quite a long time now and it's probably impossible for them to still be operational if they weren't legit (just our stance).
Shipping
Since this platform is famous for selling exotic meat online, they offer home deliveries with advance payment. In this case, it's essential to understand the shipping. According to their website, they use FedEx, and the shipping is calculated once you have added everything to the cart (shipping charges are applicable for international deliveries).
In the case of overnight and priorities, Monday to Thursday are the shipping days while second-day orders are processed on Wednesday and Tuesday. In addition to this, they take around seventy-two hours for order processing since they need to source animals or their meat for delivering the order to you. On the other hand, there are no shipments and deliveries for Sunday and Saturday.
In the case of holidays, the consumers are highly likely to experience delays, and if you need exotic meat for holidays, it's best to order it earlier. All in all, they use the cold packs for delivering the meat and the cold packets help keep the meat frozen. Also, the meat might be delivered in a defrosted state.
Membership
In case you are a regular consumer, we suggest that you opt for their Exotic Meats of the Month Club membership. With this membership, the members get four exotic meat servings every month. To begin with, January has alligator tenderloin, February has camel filet mignon steaks, March has Alpaca tenderloin, April has elk tenderloin, while May has llama leg roast and June has goat leg roast.
Moving forward to July, it has a whole rattlesnake, August has a venison rack, September has an antelope roast. Accrediting the cool months, Exotic Meat Markets offer beaver meat, turtle meat, and wild bear tenderloin for the months of October, November, and December, respectively. These are the details about what sort of meats are available with membership.
The bottom line is that Exotic Meat Markets has been working and offering exotic meat for decades now. Some people have negative experiences but the majority of reviews are good. So, if you are into exotic meat, you can try the website on your own but hold the upper hand with payment.