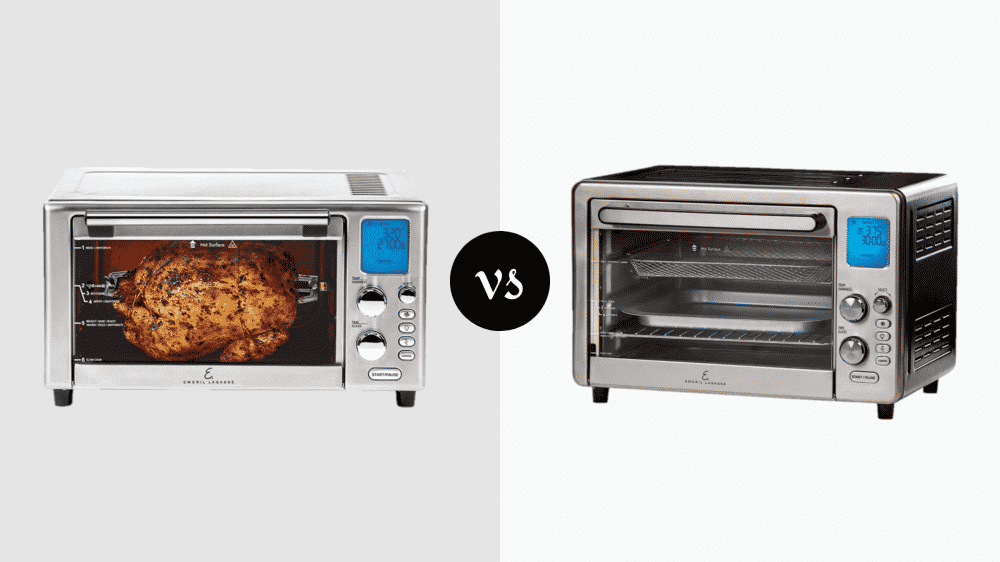 Emeril is one of the top brands that one can be looking to have an air fryer from. That way, you have the perfect liberty for you to be choosing the right air fryer that will be helping you out just right in order to get the perfect experience in the kitchen. They are offering multiple models that are designed to fit almost all the needs. That is why, if you want to choose the right model, you need to assess your needs first, and then pick the right model that suits your needs properly.
Emeril air fryer 360 and 360 XL are two of the best models that you can possibly be looking to have. They are pretty large, have the right capacity on them, and have a stainless-steel design for ensuring a durable finish for you to be having it look as good as new. They both almost look identical, except for the size, but there are also a few features that are different between them. So, if you want to know such differences, here is what you will need to know.
Emeril Air Fryer 360 Vs 360 XL
Air Fryer 360
Air fryer 360 is the best air fryer that you can get with the right stainless-steel finish on it. It allows you to wipe it clean with a damp wipe and you will be able to make it work the best thing for you is to keep it looking good. Looks matter a lot in terms of kitchen, but there is a lot more in terms of hygiene that is ensured by having a clean and shiny texture on the air fryer in your kitchen. Coming to the size of air fryer 360 from Emeril, you will have to go a bit more in the dimensions and technicalities.
The product dimensions on the air fryer 360 are 15.1 x 19.3 x 10.4 inches and that would be pretty much enough for you to be having for air frying anything in the kitchen. It weighs 20.5 pounds which is considerably less, so if you don't really need all that power, and a bigger air fryer, it should be just the perfect thing for you to be having. It has considerably more space inside for most of the applications you could want to use it for.
The best part is that it comes with two removable trays, so you can use it for air frying those nuggets and fries or any other such veggies at the same time, or you can either remove these trays in order to make it work for roasting a whole turkey or making a pizza inside the air fryer. You can even fit up to 6 bread slices inside. To put it in simple terms, you get to have 10lbs of chicken or turkey inside the air fryer, and it supports 1500 Watts of power.
Air Fryer 360 XL
Air fryer 360 XL is the bigger version with larger dimensions and it allows you to have more capacity on it that can be used for cooking all the different sorts of dishes and items pretty easily. Air fryer 360 XL gets you 15.6 x 19.7 x 13" dimensions overall, and that increases the capacity inside as well to 1,830 cubic inches. That space is pretty much enough for you to be having 14lb turkey or chicken inside it without having any sort of issues or problems at all.
The best thing about the air fryer 360 XL is that it also has more power on it, and you will be able to get 1800 Watts of power on it. That way, you will be able to make the most out of it, and will not have to feel that the air fryer might be lacking in terms of power at any time. The best part about having the air fryer 360 XL is that you will be able to enjoy the right power, and all the similar features along with a great stainless-steel design on it making it just the perfect choice for you.
So, if you need more space and all that power, you should definitely be choosing the XL version, otherwise, the regular one will do just fine.