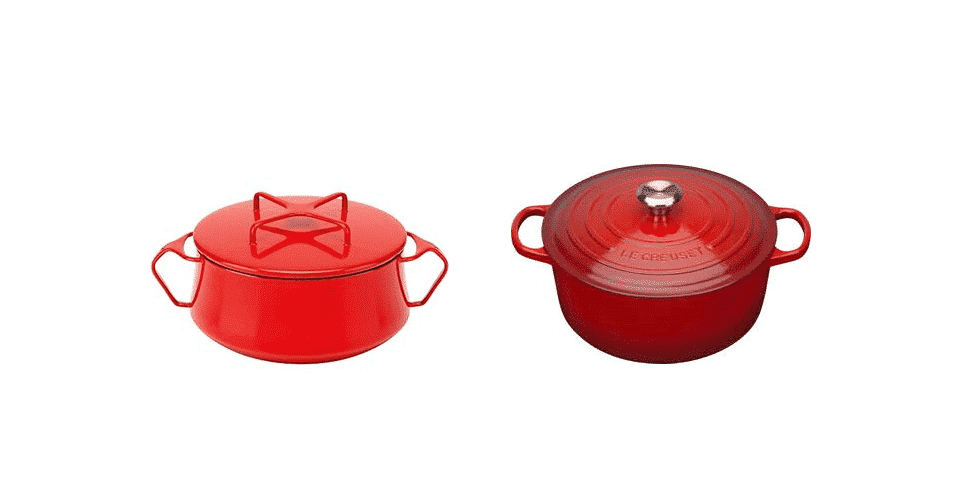 Buying Kitchenware is a lifetime investment. Don't compromise on quality when you have the best products available in the market. Having a hard time deciding between the Dansk Kobenstyle or Le Creuset Kitchenware? Continue reading and maybe you'll find your answers.
Dansk Kobenstyle vs Le Creuset
Dansk Kobenstyle
The Dansk Kobenstyle line of kitchen utensils was designed by Jens Quistgaard in the year 1956. The design is called Kobenstyle while the company is trademarked as Dansk. Together this Kitchenware is called the Dansk Kobenstyle kitchenware collection.
Today they're considered among some of the most antique kitchenware items. Rebranded by multiple companies over the years, they are still among some of the most popular kitchenware worldwide.
Including all kitchen utensils and crockery the Dansk Kobenstyle kitchenware has an extensive collection of cookware and dinnerware. The Kobenstyle cookware is distinctive for its fine finish and bright colors. Not only do these eye-catching colors add a colorful touch to your kitchen. But cooking with this line of cookware is an experience like none other. The kobenstyle is famous for its sharp colors, well-shaped lids, and different handles.
Don't invest in these pans if you're planning to bake in them. These cookware utensils are not safe for baking. Along with that, if you're planning to freeze something in the freezer consider using some other kitchen pot.
You also have to be extra careful how you wash these utensils. You cannot soak them in cold water right after the utensil comes off the stove. It is advisable not to aggressively scratch these pans. These utensils come with a thin layer of enamel covering you don't want to damage. Harsh cleaning products and techniques can wear off the enamel.
While cooking, most experienced chefs use rubber or wooden mixing spoons. This protects the enamel from getting scratched off. Once the enamel comes off, the cooking utensils are no longer safe to cook in.
The Dansk Kobenstyle cookware is expensive. This is mostly because it has now turned into a big brand. And anything that gets famous gets charges more. These utensils don't have an extended lifespan and get damaged easily.
Le Creuset
Your kitchen aesthetics are incomplete without the Le Creuset cookware. Le Creuset utensils are premium French cookware. Famous for their cast iron finish, these pots come in a wide range of colors from bright yellow to pink. But is a Le Creuset utensil worth it? Well, the answer is yes. These pots are durable and long-lasting.
Cooking with Le Creuset Utensils is a great experience and it's definitely worth the money. Le Creuset pots and pans are costly but that means you get the best product in the market. These utensils are safe to use and have higher durability. Unlike other expensive kitchenware, they have a longer life span. The Le Creuset company provides a lifetime warranty. If you break a handle or de-shape a lid, you can always reach out to the company.
The handles that come with this cookware are heat resistant. You won't have to worry about burning your hands while shifting these pots from the stove. This makes them more user-friendly. However, it is advisable not to leave these pots in the oven for too long. In case the plastic knobs melt you can always replace them with metal replacements. The company has designed these pots to keep their customers and their needs in mind.
Are you wondering, despite the cost, why are these pots still widely sought? Mainly because there is no compromise on quality and also because these utensils are light in weight. The less weight makes it easier to transfer these pots around the kitchen.
Like all other cookware, you have to be gentle with how you clean your Le Creuset utensils. But they don't get damaged too quickly. The ceramic and cast iron coating helps these utensils to keep your food warm for longer durations. These utensils can retain heat longer compared to other cookware.
Making up your mind deciding between Dansk Kobenstyle or Le Creuset Kitchenware can be hard. Because both of these kitchenware lines are equally good. When picking one, keep your budget in mind and try figuring out what works the best for your kitchen requirement.