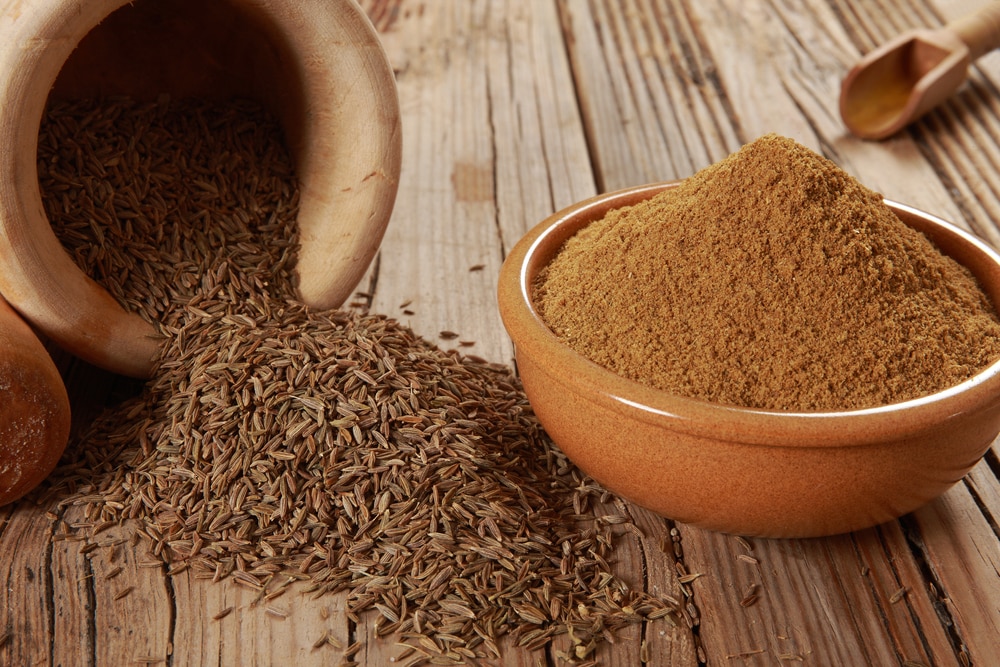 Cumin is an ancient spice that originates from the regions of Egypt and the Middle East. It comes from the dried seeds of the Cuminum Cyminum plant. Cumin spice is used extensively throughout the world especially in Middle Eastern, Latin American, North African, and Indian cuisines. You can buy it in the form of whole seeds and also in powdered form.
The cumin gives an aromatic, warm, and earthy flavor to the dish in which you add it. Its taste is a fine mixture of both sweetness and bitterness. You can add cumin to meat as well as vegetable dishes to enhance their flavors. A well-known Indian recipe known as Jeera Rice is cooked by adding cumin to the rice. You can also use it as a seasoner.
Cumin has many health benefits as it contains iron and antioxidants. It can assist to improve the cholesterol levels of a body, promote weight loss, and also useful for the prevention of diabetes.
Cumin seeds or powdered cumin are used defiantly in recipes, depending on the type of dish you are cooking. In this article, we will give you a detailed analysis of cumin powder and cumin seeds.
Cumin Seeds vs Cumin Powder:
Cumin seeds
It is a well-known spice that enhances the flavor of any dish you add it to. It can easily overpower the entire dish. The size of cumin seeds is small, and they are somewhat boat-shaped. The most common type of Cumin seeds has a brownish yellow color. To reach the ideal flavor, you need to roast the cumin seed. These seeds are an important ingredient in spices mixtures such as garam masala, bahaarat, adobos, curry powder, and achiote blends.
Cumin seeds in the whole form are usually part of Indian recipes. In Indian recipes, you add cumin seeds to the oil at the start of the recipe. The flavor of cumin seeds enhances when you roast them slightly which can be done by using a dry pan at a moderate level of heat. The reason behind using whole cumin seeds at the start of cooking is that they need a little bit more time to release their actual essence. The main intention behind adding the cumin seeds in the hot broth and oil is that it allows the flavor and aroma to disperse in the recipe.
Cumin powder
Powdered cumin has a strong nutty flavor. The addition of a small amount of cumin powder in recipes will give a very intense taste. You don't need to use a large quantity of cumin powder in a dish, rather even a small quantity has the ability to enrich the food taste. Cumin powder is most commonly a desirable ingredient part of Middle Eastern and Mexican recipes such as soups, chili, barbecue sauce, and marinades, etc.
You can buy cumin powder in stores and it can also make it at home from cumin seeds. For making it at home, you can grind roasted cumin seeds. You can add cumin powder anytime in a dish as its taste doesn't require heat or time to reach actual enriched flavor.
Cumin seeds and cumin powder are just the two same spices in a different form. For replacing both, you need to add 1 ¼ tablespoon of cumin seeds in place of 1 tablespoon of cumin powder. Therefore, it is advisable to use both as an alternative. Freshly ground cumin has a more intense and complex flavor in comparison to pre-ground cumin.
Conclusion
Cumin seeds and cumin powder are an important kitchen staple. These spices belong to the same plant and can be replaced in recipes easily. The flavor of ground cumin is more intense in comparison to the seeds of cumin. So, if you want to replace the cumin seeds with cumin powder, then be careful with quantity. Try to use lesser powder as it is more concentrated. Otherwise, the flavor of a dish will not be up to the mark. The advantage of using powdered cumin in recipes is that a bit of it is sufficient for a dish. Though the store-bought cumin powder is readily available, still we recommend you to make your own cumin powder by using cumin seeds.