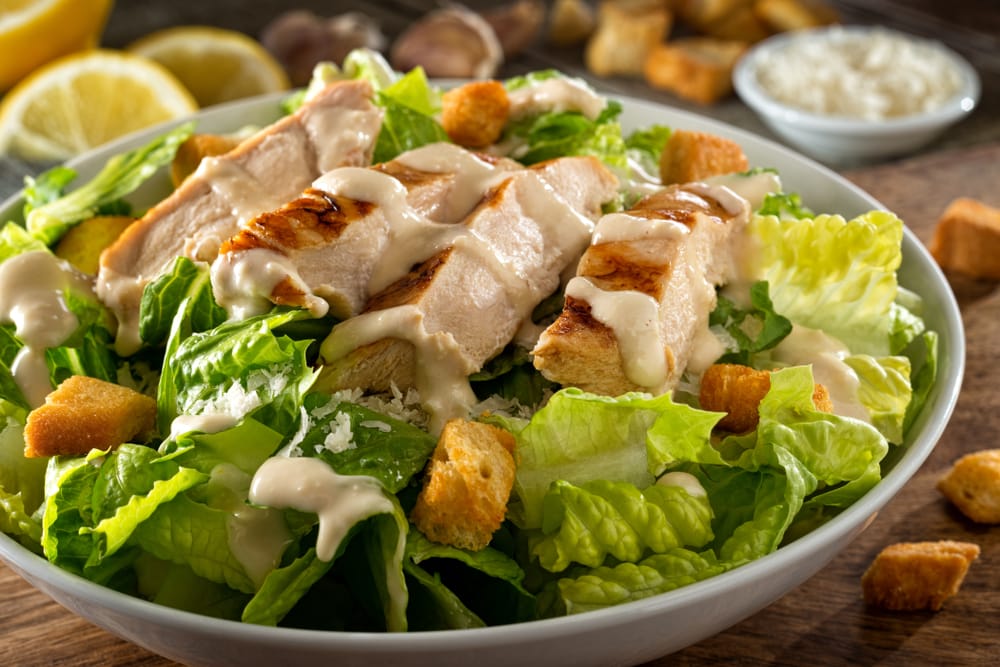 Salads are always considered a healthy meal with their fine combination of fresh veggies, fruits, and healthy dressings. In addition, salads are considered the go-to option whenever someone wants to eat something healthy, but it all depends on which salad you choose. So, with this article, we are sharing the differences between Cobb salad vs. Caesar salad to help you choose a healthier meal for your lunch!
Cobb Salad vs Caesar Salad
Caesar Salad
To begin with, Caesar salad is the ultimate king of salads. This is a peppery and crunchy dish that's tossed in to create a salad. It wouldn't be wrong to say that the salad is usually tossed in the vinaigrette or other dressings. Caesar salad is the real romaine salad that's topped with parmesan cheese and croutons, which is then drizzled with the real Caesar dressing. In fact, the parmesan cheese is shaved to deliver better flavor to the salad.
As far as the Caesar dressing is concerned, it is made with a variety of creamy and tarty ingredients, such as cheese, lemon juice, mustard sauce, anchovies, pepper, Worcestershire sauce, and garlic. For the most part, this is the green salad, and it also has romaine lettuce, which is dressed in Dijon mustard, olive oil, black pepper, Worcestershire sauce, and eggs. Originally, Caesar salad was first prepared as a side dish, but it makes a great option for lunch.
In case you are wondering about the eggs, it depends on your recipe and where you are getting it from, but the majority of people use coddled eggs and raw eggs. There are actually different variations in Caesar salads because people replace lead with grilled chicken while some add bacon as well. In addition, many people eliminate the eggs and anchovies because of allergies and personal preferences, so do check the ingredients while ordering Caesar salad.
On top of everything, there have been various debates around using raw eggs because many people have struggled with infections caused by salmonella bacteria. For this reason, the UK has simply eliminated the risk by banning the use of raw eggs in the salad. Having said that, it is suggested to opt for Caesar salad with pasteurized or coddled eggs. Also, if you want a creamier texture in the salad, you can opt for yogurt or mayonnaise in place of eggs.
Cobb Salad
Cobb salad is quite similar to regular chef salads, and they are incredibly easy to prepare. It wouldn't be wrong to say that Cobb salad is one of the most popular and composed salads out there. In simpler words, the salad is served by adding ingredients on top of each other or are piled on the side on each other rather than mixed or tossed form. In the majority of cases, Cobb salad is made with a variety of ingredients that brings in various flavors.
To name a few, Cobb salad is made with blue cheese, avocado, tomatoes, bacon, chilled chicken, and hard-boiled eggs. For those who don't know, Cobb salad is known as the main dish in American cuisine and is considered a garden salad which is made with a combination of salad greens. Some of the salad greens used in Cobb's salad include romaine lettuce, endives, iceberg lettuce, and watercress. As far as the dressing is concerned, Cobb salad uses the red-wine vinaigrette to add the punch of flavor.
Cobb salad is served with the ingredients laid down in straight and neat rows. When it comes down to the origination, it was first made in 1938 as a signature dish in the Hollywood Brown Derby place. According to some culinary experts, this salad was made by accident when the chef tossed in the leftovers, added the cooked bacon, and opted for the French dressing. However, even if it was an accidental recipe, it's nothing but delicious.
There are different versions of Cobb salad out there, and one of them is made with romaine lettuce, iceberg lettuce, endives, and watercress. Even more, while blue cheese is native to this salad, you can also opt for cheddar cheese, or you can go cheese-less. All in all, Cobb salad is easily available in lunching cafes, and you can usually choose your own dressing and ingredients.