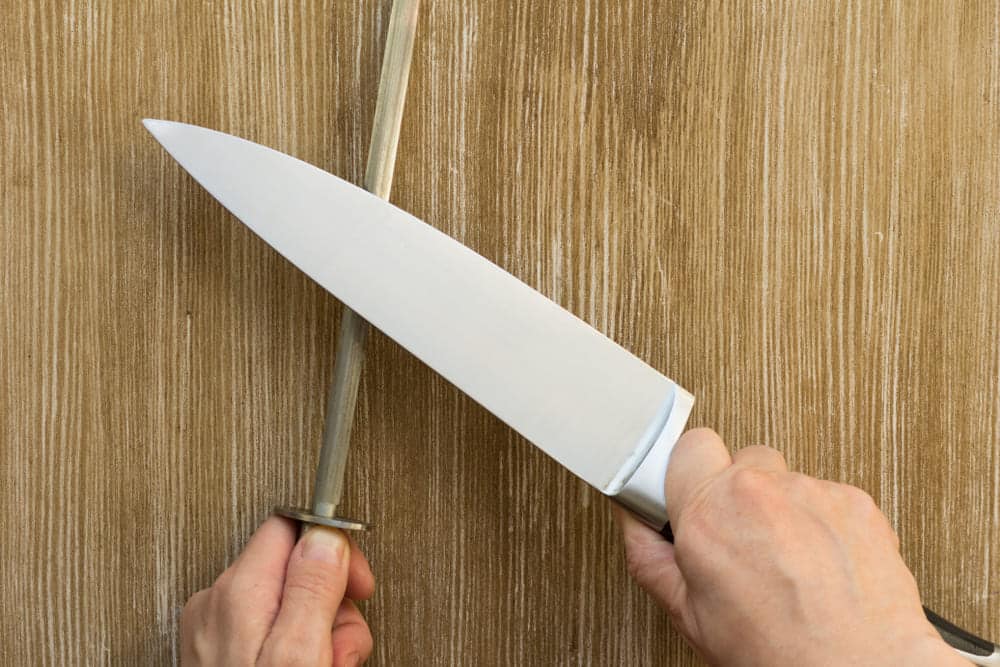 Are you cutting the vegetables and slicing fruits with the kitchen knife, but it won't be smooth? If you are nodding to it, your kitchen knife is in need of honing. But hey, which honing tool should you use?
It's safe to say that people are extremely confused about ceramic honing rod vs. steel honing rod. So, in the article below, you will be able to understand the pros and cons of steel and ceramic honing rods!
Ceramic Honing Rod vs Steel
Ceramic Honing Rod
To begin with, the ceramic honing rods work just like diamond honing rods. This is because ceramic honing rods have the capacity to increase the blade's sharpness by shaving off metal from the knife. To be honest, it is bad for the durability of the knife, but it's sufficient for keeping the knife sharp when you want a quick fix for enhancing the sharpness of the knife.
It's safe to say that ceramic honing rod is not rough enough like diamond honing rods. That being said, you won't have to worry about over-sharpening the knife. It is important to outline that ceramic honing rods tend to be more delicate, which means you have to use the ceramic honing rod with care. Still, the ceramic honing rod is easy to use and is pretty lightweight.
On top of everything, ceramic honing rod is extremely versatile since you can sharpen the knives as well as cutter and blades. The ceramic honing rods can help sharpen the knives with minimal effort and will be able to create a smooth edge on the knives. Also, it can sharpen different types of blades, so all your knives will settle perfectly with this honing rod.
The ceramic honing rods tend to be pretty expensive, but it's worth it. This is because these honing rods are made from high-quality and fine materials that aren't only smooth but durable. It's safe to say that ceramic honing rods are readily available in the kitchen tools aisle! For the most part, the ceramic honing rods aren't rough on knives since they use small-scale metal for improving the sharpness.
There are fine grits on these honing rods, hence their suitability for high-end and expensive knives. On the other hand, keep in mind that ceramic honing rods can break if you drop them from the shelf, so keep a sturdy hand. When you use ceramic honing rods, you must wash the knives to save food from microscopic steel particles.
Steel Honing Rod
First of all, steel honing rods are commonly available since stainless steel is available in abundance. The steel honing rods are long with a thin configuration. It's needless to say that steel honing rods are resistant to rust and have a hypoallergenic design which makes them a preferred choice for professionals and culinary experts.
That being said, the steel honing rods are extremely durable and will last for years. In some cases, you can also find the magnetized steel honing rods. This is indeed an amazing feature because it helps connect the microscopic steel pieces from the knife's blade while honing. In addition to durability, this feature will also protect food from tiny steel pieces from seeping in.
On the other hand, you have to understand that steel honing rods must be cleaned regularly because it works with the steel particles. Moreover, the effectiveness of steel honing rods might be limited since microscopic shards can build up in the rods. Also, this honing rod is not suggested for people who have hard metal knives because it can break such knives. Similarly, be careful while honing rigid metal knives.
The steel honing rods are made with thin and long metal pieces, which isn't only durable but can stand the test of time. It can be used for realigning the knife's edge and is perfect for smoothening the dents and kinks in knives. It has the capacity to create a straight yet sharp cutting edge. The steel honing rods can be rough on knives, but they can remove the serrations pretty well.
It's an obvious fact that steel honing rods are made from a stiff material, which makes them suitable for delicate knives. However, these honing rods must be used less because regular honing can result in dull blades. As far as the availability is concerned, steel honing rods are available in German and French carbons (both of them are great, by the way!).